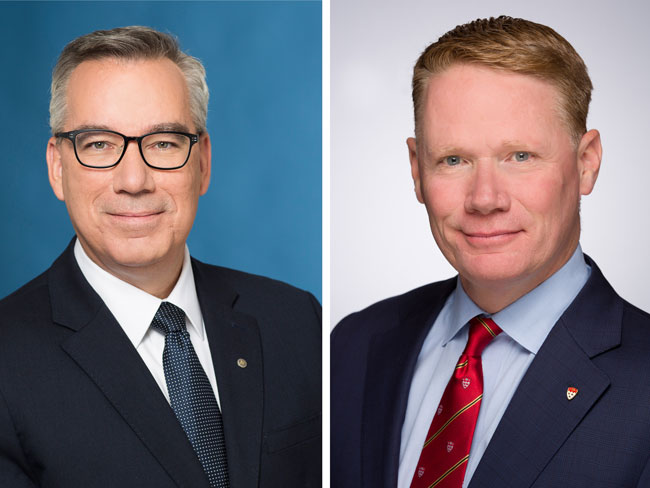 Louis Arseneault, BA, MA
Drawing upon his strong expertise and experience in strategic and marketing communications, public affairs, government and media relations, and issues management, Mr. Arseneault's focus as McGill's VP of Communications and External Relations is on government relations, community engagement and the University's overall communications portfolio.
Prior to joining McGill, Mr. Arseneault served 11 years with Montréal International, an economic development agency, first as Communications Director and more recently as Vice-President (Talent Attraction, Promotion and Communications). In this capacity, he spearheaded the development of a new department dedicated to attracting international skilled workers. He also established Contact MTL, an international network of Montréal ambassadors promoting the city around the world. His extensive background in communications also includes seven years as Senior Director of Corporate Communications at Bell Canada, and five years as Assistant Director of Public Affairs at CAA-Québec.
A native of Quebec, Mr. Arseneault holds a bachelor's degree in Communications from the Université du Québec à Montréal and a master's degree in Sociology (Information and Communications) from the Université Paris VII. Passionate about his profession and engaged in the community, he serves on the boards of directors of Opéra de Montréal and the United Nations Association in Canada of Greater Montreal. He is vice-chairman of Les Fourchettes de l'espoir, honorary president of Visages d'Outremer, and a member of various professional associations.
Yves Beauchamp, BEng, MScA, PhD
With a long and distinguished career in higher education in Quebec, Prof. Beauchamp brings a wealth of experience and expertise in academia, administration, government and institutional relations, and project development.
He served two terms as Director General of École de technologie supérieure (ÉTS), and was a member of the Department of Mechanical Engineering faculty. Under Prof. Beauchamp's decade of leadership, ÉTS experienced extraordinary growth in terms of student enrolment (more than doubled), contracts and research grants (nearly five-fold increase), and number of staff (almost doubled), with a major campus expansion and renovation. It was during his tenure that ÉTS initiated the Quartier de l'innovation partnership with McGill University. Most recently, he lent his expertise to a major development project at the Université de Montréal – the new Site Outremont satellite campus and its Science and Engineering Complex.
Prof. Beauchamp holds a PhD in Industrial Engineering from West Virginia University, and a BEng and an MScA from the Université du Québec à Trois-Rivières. He is a Fellow of the Canadian Academy of Engineering and a Knight (CQ) of the National Order of Quebec.
Founded in 1821, McGill ranks among the best universities worldwide. It has earned an outstanding reputation for the quality of its education, for its research contributions and for its service to the community.