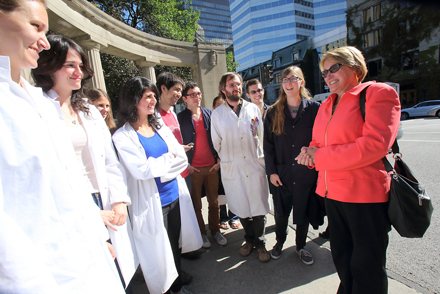 Chemistry students greet "one of their own" at Roddick Gates
By Neale McDevitt
Starting a new job can be stressful enough without having to worry whether or not people will like you. Suzanne Fortier can scratch that worry off her list as she got a round of applause from a group of chemistry students when she walked through the Roddick Gates yesterday morning, Sept. 5 – her first day as McGill's new Principal.
"She is a chemist and studied chemistry here, so we felt it was the right thing to do for us to welcome her," said Amélie Tessier, currently in her second year of a Master's of Science.
Fortier stopped and spoke with the students, decked out in lab coats, discussing, among other things, physical and quantum chemistry and the inspiration Fortier got from meeting luminaries from the world of chemistry like Nobel Prize winner Linus Pauling while she was studying at McGill.
"She also said how nice it was to see that McGill is so bilingual," said Tessier.
Further up the road, Fortier was greeted with a different kind of welcome message – a three-dimensional sign made out of recycled material that spelled out "Bienvenue Suzanne" staked out in the Visitor's Garden in front of the James Administration Building.
Organized by the McGill Office of Sustainability (MOOS), the sign is made up of odds and ends gleaned from the McGill sustainability community, including Teaching and Learning Services; Reboot McGill; the Macdonald Apicultural Association and McGill Food and Dining Services. The materials range from recycled bicycle rims and mesh from beekeeper helmets to broken plates and repurposed computer parts.
"We've heard such great things about her and we really wanted to make her feel welcome," said Lilith Wyatt, Sustainability Officer at MOOS. "And we wanted to do something that would highlight the breadth of McGill's sustainability community."