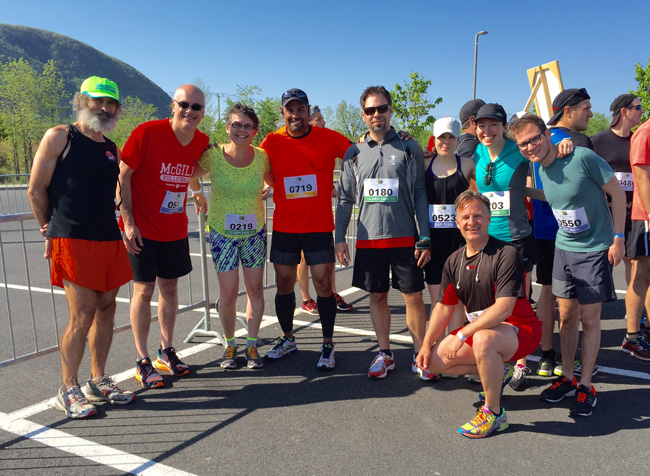 SLL staffers run to support the Honoré-Mercier Hospital
By David Syncox
McGillians have always been up for a challenge and this was evident when staff members from Student Life and Learning (SLL) embraced a new adventure and participated in the 2016 Tour de la Montagne on May 23. Proceeds raised at the annual event help support the Honoré-Mercier Hospital and other community health institutions.
Taking on the challenge meant getting up early, driving out to Mont St-Hilaire and running in one of the various road races (5km, 10km, or half-marathon). Staff members had different motivations to participate, including getting out to do some exercise with friends and colleagues; participating in a community event that gives back; representing SLL; and connecting with the Gault Reserve campus.
The University's recent focus on health and wellness encouraged us to have fun and explore how exercise can encourage wellness. The Tour provided connections for all of those things including a family focused event with prizes – and good snacks at the end of the race.
The McGill team was comprised of seven staff members from four of the seven units from SLL (Enrolment Services; Student Housing and Hospitality Services; Teaching and Learning Services; and Student Services).
On June 13, the larger SLL group came together for the unveiling of the new SLL vision, mission and values statements. One of the underlying messages within these statements was the importance of raising awareness of the importance of health and wellness among staff and students. We hope that the willingness and enthusiasm among SLL staff members to participate in the Tour de la Montagne will be infectious and mark the start of a great new tradition.
David Syncox is Graduate Education Officer, Teaching and Learning Services.