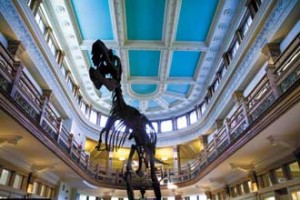 The evolution of Darwin
Charles Darwin knew a lot. A real lot. He knew enough to lay the foundation of modern biology by changing our views on science, evolution and, in many cases, God. But, according to title of today's lecture at the Redpath Museum, Darwin didn't know it all.
Moderated by the Redpath's Director, David Green, "What Darwin Didn't Know" will feature presentations by four evolutionary biologists active at the museum today: Graham Bell, Robert L. Carroll, Hans Larsson and Virginie Millien. The four researchers will look at, pardon the pun, the evolution of Darwin's original theory since the publication of his seminal On the Origins of the Species 150 years ago.
What Darwin Didn't Know, Thursday, Feb. 19, 2009, 6 p.m. to 7 p.m.; Redpath Museum Auditorium, 859 Sherbrooke St. West. Free, everyone welcome. Doors open at 5 p.m. No reservations.
Big bangs and supervolcanoes
Aside from their cataclysmic and the-end-of-the-world-as- we-know-it power, what's not to love about supervolcanoes? They're big, brash and bubbling over with enough lava and ash to obliterate a continent or two while wiping out species in one magma-spewing belch. Luckily for us, these brooding giants only wake once every millennium or so.
But that's not to say they're not out there. Yellowstone National Park is perched atop a subterranean chamber of molten rock and gasses so massive that many experts consider it to be one of the largest active volcanoes in the world. Though best known for its geysers, its last major eruption some 640,000 years ago, ejected 8,000 times the lava and ash of the Mount St. Helens eruption in 1980.
Tomorrow, as part of the Redpath Museum's Freaky Friday series, John Stix, Department of Earth and Planetary Sciences, will explain the process that can turn ordinary eruptions into global climatic disasters.
Big Bangs and Supervolcanoes; Feb. 20, 4 p.m. Redpath Museum, Auditorium, 859 Sherbrooke St. West. Admission is free but seating is limited. For more information, contact Ingrid Birker, 514-398-4086 (ext. 4092).
Overnight at the museum
Experience the night when February becomes March from inside the walls of the darkened Redpath Museum. Follow the student guides from the Redpath Museum Club as they take you on a flashlight tour of the museum's secret spots and special exhibits after a historical introduction in the Victorian Lecture Hall.
Before the flashlight tours, from 8 p.m. to10 p.m., Les amis de la montagne invite you to discover the hidden facets of Mount Royal's historic and natural heritage with a slide-video presentation in the Lecture Hall.
Nuit blanche at the Redpath Museum: Saturday, Feb. 28- Sunday, Mar. 1, 8 p.m. to Mar. 1, 2009 – 4 p.m. Redpath Museum, Auditorium, 859 Sherbrooke St. West. Flashlight tours are scheduled for 12 midnight, 2 a.m. and 4 a.m. Suggested contribution: $5 adult / $2 for student or seniors. For more information, contact Ingrid Birker, 514-398-4086 (ext. 4092).
Reconciling liberty and security
Much of the post-9/11 legal and political debate has centred on striking the appropriate balance between respect for individual liberties and the state's need to monitor and suppress terrorist activities. On Mar 3, Friends of the Library will welcome the Honourable Mr. Justice W. Ian Binnie of the Supreme Court of Canada to present the 19th F. R. Scott Lecture, titled "Counter-Terrorism, Civil Liberties, and the Legacy of F.R. Scott."
Mr. Justice Binnie, B.A., LL.B., LL.M., LL.D., was appointed to the Supreme Court of Canada on Jan. 8, 1998. Prior to his appointment, he was a senior partner of McCarthy Tétrault from 1986 to 1998, an Associate Deputy Minister of Justice for Canada from 1982 to 1986. He practised litigation in Toronto from 1967 to 1982.
This annual lecture is held in the honour of F.R. Scott, poet, constitutional lawyer, politician, and legendary professor of law at McGill.
19th F. R. Scott Lecture, "Counter-Terrorism, Civil Liberties, and the Legacy of F.R. Scott." Tuesday, Mar. 3 5:30 p.m., Moot Court, Chancellor Day Hall, 3644 Peel St. All are welcome. RSVP by Feb. 26 at rsvp.libraries@mcgill.ca or 514-398-4681.
Come together, academia
Transdisciplinary research is an increasingly important approach to inquiry that seeks to go beyond the boundaries of existing disciplines and bring together the natural sciences, social sciences, humanities and the arts. However, little is known about the implementation, efficacy and outcomes of such approaches. The Faculty of Education invites McGill academics to a daylong workshop that will bring together experienced presenters from the natural and social sciences, the arts, business and government that have embraced, experimented with, and reflected on, the use and misuses of transdisciplinarity, interdisciplinarity and multidisciplinarity perspectives. Presenters will be Prof. Hélène Perrault, Dean, Faculty of Education; Prof. Don McLean, Dean, Schulich School of Music; Prof. Nicholas Kasirer, Dean, Faculty of Law; Prof. Martin Krieswirth, Associate Provost, Graduate Education; Prof. Laurette Dubé of the Desautels Faculty of Management, Prof. Ross Andersen, Faculty of Education; Mr. Alain Dudoit, Associate Vice-Principal, Strategic Innovation Partnerships (McGill); Dr. Jane Aubin, Scientific Director, Institute of Musculoskeletal Health and Arthritis, CIHR; Professor Raymond Niaura, Department of Psychiatry and Human Behavior, Brown University Medical School; Dr. Stuart Harshbarger, Principal Professional Staff Member, Applied Physics Laboratory, Johns Hopkins University; Dr. Glen D. Morgan, Psychology & Behavioral Medicine, Rockville, MD; and Dr. Pierre Bilodeau, Director, Bio Industries Division, Research Partnerships Program, NSERC. Professor Anthony Masi, Provost, will chair a closing plenary discussion on lessons learned.
Transdisciplinary research and training workshop: Moving toward and sharing the experience: Friday, March 13, Faculty Club Ballroom, 3450 McTavish St., Montreal. Free and open to all McGill academics. Registration deadline is March 6. To register and to see the workshop program visit www.mcgill.ca/transdisciplinaryworkshop.