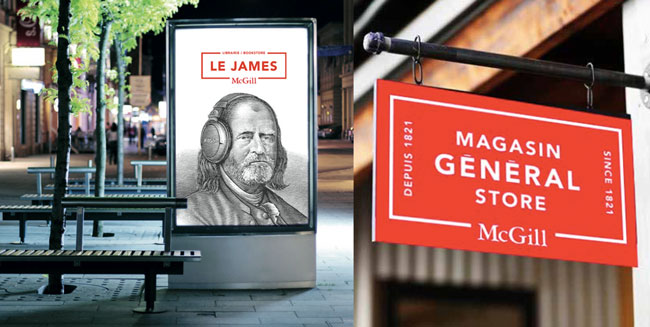 As most of you have heard, the Bookstore is going through many changes right now; we are rethinking the way that we serve the community and what our brand says about us.
One thing under consideration is our name. The current name, "Bookstore," is a description of what we were initially created to do, and it is what most universities call their store. However, we all know we do more than just sell books; we sell clothing, McGill-branded products, gifts, technology hardware and accessories, stationery, food, frames, etc. We also host events and facilitate event registration. Bottom-line: we provide many different things to our very diverse community.
So elevating the name to a brand that goes beyond books is an interesting idea. We went through a thorough process and have evaluated several options. We logo-ized them, tested them on a mock storefront, on a website, across various communication platforms, and so on.
In this process, we wanted our name to evoke our legacy and heritage, while describing a contemporary space where our community can find a variety of products and services. Our two final selections are:
MAGASIN GENERAL STORE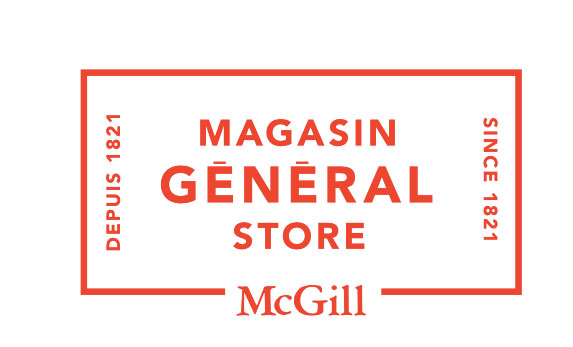 By definition, a general store is a retail store that offers a very diverse selection of goods, a place you can go to fulfill all of your immediate needs. "General Store" also leverages the tradition of another time, and evokes the concept of a gathering place, where busy members of the community would meet while shopping and take time to socialize. 
LE JAMES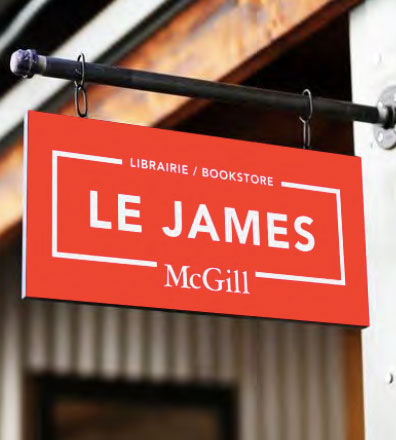 This name refers to the founder of the University and is a tribute to his importance. This enables us to put a unique name and face on the store, to tell great stories about McGill and honour all the great people who have graduated from McGill. LE JAMES proposes a name of a person rather than just describing what we are. The McGill Bookstore can genuinely own this name. The "LE" in front of "JAMES" makes the store a real place, with a nod to our identity as an English institution in a francophone province. Finally, the descriptive "Bookstore/Librairie" remains, which is the link with our current brand.
We want you to have your say, to tell us how you feel about these two options. For this purpose, we are launching a forum until Dec. 4, on the Bookstore Facebook page and website.
The entire McGill community, whether students, professors, staff, alumni, parents, etc., is invited to share their point-of-view so we can then select the best name for our new bookstore.
For more information email Jason Kack, General Manager, Bookstore