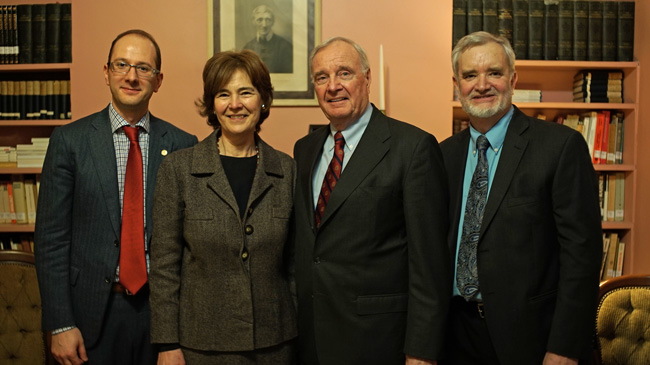 By Robert Di Pede
Last Wednesday, Feb. 17, Paul Martin Jr., former Prime Minister of Canada, took the podium at McGill in the context of a colloquium titled "Paul Martin Sr., Catholicism, and Canadian Liberalism."
The event, co-organized by the Newman Institute of Catholic Studies and Prof. Daniel Cere from the Faculty of Religious Studies, cast light on links between Paul Martin Sr.'s political career and his Catholic background and education, as well as more broadly between the influence of Catholic intellectual thought and the Canadian Liberal tradition from Wilfrid Laurier to the mid-20th century.
Martin addressed a crowd of more than 100 people in the intimate Edwardian setting of the Newman Centre on Peel St., beginning, "There can be no doubt that I was raised in a deeply Catholic family and that my father was very devout, but I am not sure about the connection between Catholicism and his political career."
Martin was responding to a lecture by Greg Donaghy, author of the groundbreaking biography Grit: The Life and Politics of Paul Martin Sr. (2015), and to a panel chaired by Daniel Cere (Interim Dean of the Faculty of Religious Studies), André Blais (Canada Research Chair in Electoral Studies), and McGill's newly appointed Dean of Arts and Professor of Political Science, Antonia Maioni, whose term begins July 1.
Offering a rich and nuanced picture of one of the most important political figures in mid-20th-century Canada, Donaghy's lecture replaced the traditional caricature of Paul Martin Sr. as a simple "parish-pump politician," driven by an obsessive (and futile) ambition to become Liberal leader and prime minister with a portrait of Martin as a younger MP, who defied his prime minister by insisting that "workers are not trash," and champing unemployment insurance, old age pensions, and family allowances.
Echoing Donaghy, Maioni highlighted Martin's work in health care, suggesting a possible Catholic influence. As minister of national health and welfare in the late 1940s and 1950s, Martin pushed through a series of programs for public health and hospital construction, a universal old age pension, and finally, in 1957, Canada's first hospital insurance plan. Not bad, joked Donaghy, for a "parish-pump politician."
Cere brought to light Martin's engagement with Jacques Maritain and Étienne Gilson, the prominent historian of medieval philosophy, whom Martin invited to address the Liberal Youth Convention in 1947. "The interplay of mid-20th century Canadian Liberalism and the Catholic intellectual tradition, especially the Catholic Church's social doctrine and its effect on the rights revolution, is a little known story, but one that deserves to be told," Cere said.
That Martin's politics and reformist instincts should have reflected his Catholic faith seems unlikely at first glance, particularly when viewed through the lens of Canadian politics, which is widely thought to be uninfluenced by religion; but this idea is a myth, according to Blais, who as President of the Canadian Political Science Association famously pointed to a "mystery" in the electoral data that shows a connection between Catholicism and the Liberal vote – a connection it has not yet been able to explain scientifically.
Martin grew up in an era when the Catholic Church, particularly the French-Canadian church from which he emerged, represented a Conservative bulwark against liberalism. But as Donaghy points out, Martin's experiences at the University of St Michael's College in the University of Toronto were steeped in progressive and liberal intellectual currents. St. Mike's president, Fr. Henry Carr, and liberal European Catholic philosophers Jacques Maritain and Étienne Gilson infused Martin's faith with a strong reformist bent that eventually defined his career, which he cheerfully embraced in Catholic terms as a vocation.
"I am not afraid to be called a politician," he often declared. "Next to preaching the word of God, there is nothing nobler than to serve one's fellow countrymen in government."
Robert Di Pede is Director of the Newman Centre
Click on the thumbnail below to watch Prof. Cere's PowerPoint video of Paul Martin Sr.
https://youtu.be/jRGqrTB8afo