A $25 million gift from the family foundation of Montreal businessman and philanthropist Aldo Bensadoun, BCom'64, LLD'12, who built the global retail shoe empire that bears his name, will pave the way for a new school of retail management at McGill.
"This is really a visionary gift to create the world-renowned school in retail management. And it speaks to the generosity of the donor and his vision," says Isabelle Bajeux-Besnainou, dean of McGill's Desautels Faculty of Management.
Bensadoun launched Aldo Shoes in Montreal in 1972, building it into a global retail powerhouse.
The proposed Bensadoun School of Retail Management will offer academic programs from the undergraduate to the PhD levels with input from global retailers, conduct research on the fast-changing sector, and feature a retail innovation lab to test out new ideas, technologies and products within an academic setting.
"Thank you to the Bensadoun Family Foundation for this visionary gift," said Principal Suzanne Fortier, BSc'72, PhD'76. "Over the course of his extraordinary career, Mr. Bensadoun has advanced both Quebec's prosperity and its social well-being. He epitomizes the qualities of McGill's students and alumni: an inquisitive mind, an unwavering dedication to one's goals, and a passion for making one's community a better place."
The school is slated to open in the fall of 2018, starting with a concentration in retail management in the Bachelor of Commerce program, then ramping up to the full-range of academic programs.
"I'm excited about the vision of the Bensadoun School of Retail Management to become a global center of excellence," says Aldo Bensadoun. "We will be able to provide the next generation of retailers with innovative solutions for the industry's transformation. As the consumer's behaviour evolves, success in retail will depend largely on the integration of connected disciplines such as big data, artificial intelligence and neuroscience, and that's what we'll provide for our students."
"Retail is a fascinating industry from a research perspective and also because of the changes happening now," says Bajeux-Besnainou. The industry is undergoing a huge transformation. Many brick and mortar spaces are closing as many consumers gravitate toward online shopping. Within this context, the involvement of retail practitioners is essential to identifying challenges and for assessing potential solutions.
The new school is meant to be "very interdisciplinary," says Bajeux-Besnainou, with a lot of research collaboration with other faculties and partners in the global retail sector. In particular, Bajeux-Besnainou foresees collaborations in the areas of neuroscience, with the behavioural side to retail, and artificial intelligence, as new technologies affect the industry in a big way.
"So it's really forward-looking."
The "highly digital" retail innovation lab will provide students with hands-on learning opportunities and the chance to learn to manage all levels of a retail operation from supply-chain management to promoting eco-conscious shopping habits.
Hands-on experience for students will also take the form of possible internships with retailers and consulting companies. "There will be several layers of experiential learning. But we really want the students to be part of the experiments within the lab," says Bajeux-Besnainou.
The lab is also envisaged as a space to try out different ideas and technologies in a variety of ways and with collaboration from global retailers, says Saibal Ray, vice-dean of faculty and research and a professor of operations management in the Desautels Faculty of Management.
Another big possibility is selling healthy food. McGill is home to many professors who are already doing research on how to influence healthy food choices by consumers, notes Bajeux-Besnainou.
If it's clear what is triggered in the brain when people are faced with healthy and unhealthy food choices, "can we somehow do something so that we are pushing you or nudging you towards more healthy behaviour," Ray says.
The plan is for the new school to be "very unique" and broader in scope than the two big names currently in the field, says Bajeux-Besnainou, about the Jay H. Baker Retailing Center at the Wharton School of the University of Pennsylvania, which places heavy emphasis on fashion retail, and the Oxford Institute of Retail Management, which focuses more on programs than research.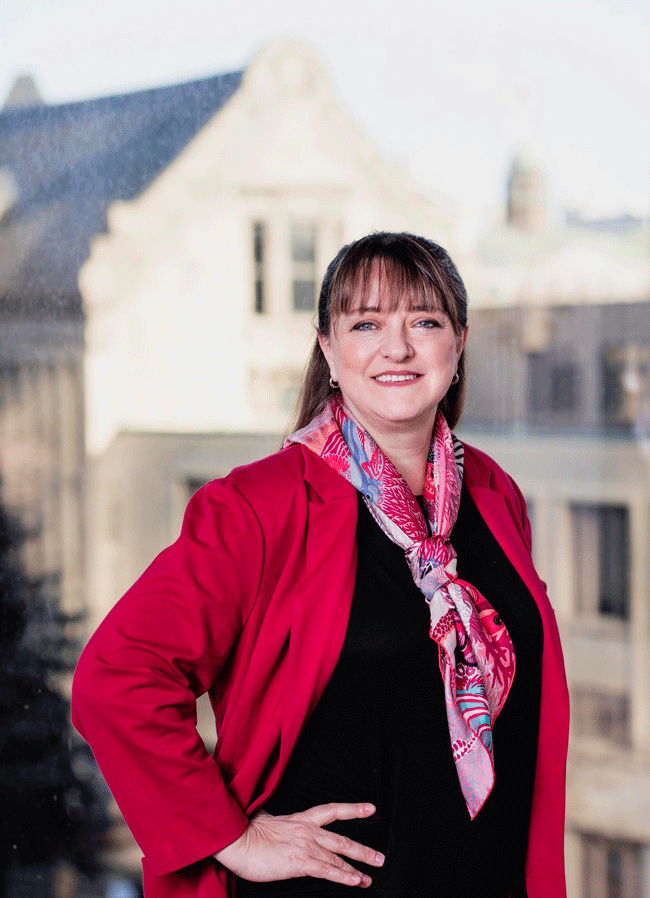 In addition to fashion retail, the focus at McGill will encompass a range of areas. "We want to include health and wellness, we want to include financial services and sustainability, and we want to be extremely broad in our definition of retail," she says.
"We think that our unique feature will be this broad definition of retail as well as the broad scope of the initiatives that we want in terms of research, teaching and collaboration with global retailers," adds Ray.
The retail industry accounts for roughly 13 per cent of the workforce in Canada, he says, and almost double that percentage in the United States. Today's retail industry is highly data driven. And the programs offered by the new school will also be data driven, Ray says, "in the sense that analytics and artificial intelligence will play a big role in the future of retailing and that will be a big part of the programs."
When you shop on Amazon, for example, you'll receive offers typically based on its analysis of your shopping habits, Ray says. You shop on a website, then suddenly you see all these ads on your Facebook page related to what you've been looking at.
"Many of these data analytics are now happening through artificial intelligence," which is very good at analyzing huge amounts of data to learn about consumers and their consumption behavior, he explains. You also have to consider what is the impact on society, he adds.
The other aspect to think about, adds Bajeux-Besnainou, is how can you use that to trigger more healthy forms of behaviour – in nutrition, for example.
The school will serve the McGill community, fostering collaborations across disciplines and drawing on the University's research strengths. The new school will benefit from the expertise of the many professors at Desautels whose research is already focused on retail management, says Bajeux-Besnainou. "We'll be hiring even more professors in this area with the future new school."
The University must first approve the new school through a process that includes consulting various faculties and areas at McGill.
The school will be international in scope, and hopes to attract students from around the world. More than 40 per cent of undergraduate students at Desautels come from abroad. At the graduate level, international students make up the majority, says Bajeux-Besnainou.
"The intent is really to have programs that will attract the best of the best from all over the world."
Aldo Bensadoun discusses the Bensadoun Family Foundation's transformative gift to McGill in the video below