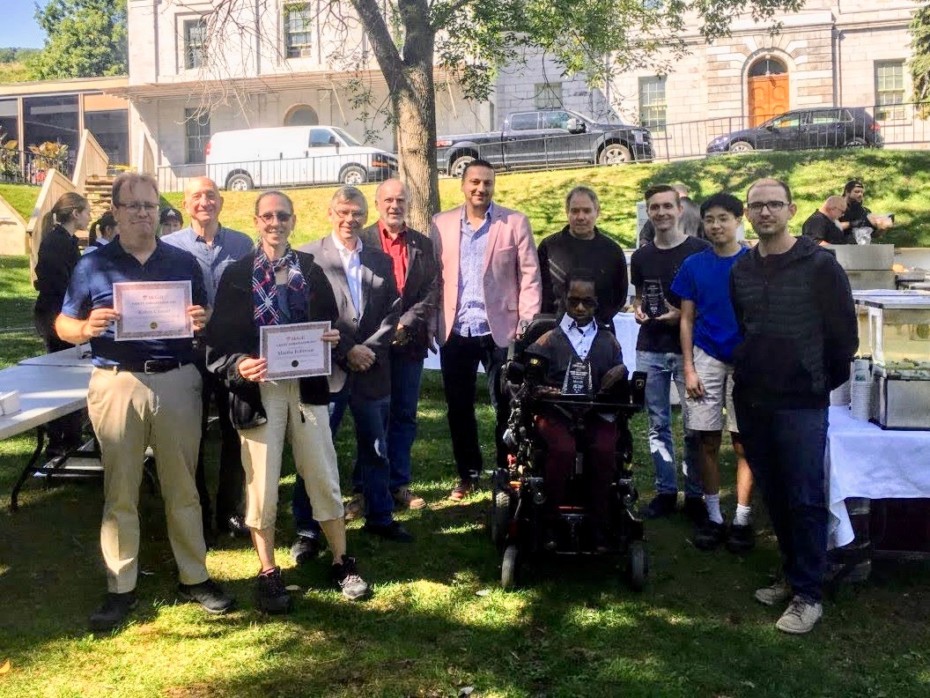 Each year, the Campus Public Safety teams recognize colleagues they consider to be safety champions by naming them Safety Ambassadors. These are individuals whose jobs are not necessarily related to safety, but who go out of their way to make their building, their department or the campus a safer place for everyone.
The 2019 Safety Ambassador Award recipients were announced at the 10th annual Security Services community barbecue, on September 13, 2019. They are:
Robin Canuel – Head Librarian, Humanities and Social Sciences Library (Nominated by Security Services)
"Security is always top of mind for Robin", said Robert Couvrette, Associate Vice-Principal, Facilities Management and Ancillary Services, in introducing the first recipient. "Robin works with Security Services to provide safety training to his staff and has established a great collaboration with the security agents working in the library."
Joseph Iantomasi – Assistant Storekeeper, Department of Biology (Nominated by Hazardous Waste Management)
"Safety and sustainability are at the forefront every day for Joseph," says the Hazardous Waste Management team. "He takes the time to inform us of safety concerns and to follow up. A very resourceful person, he is always there to help out."
Martha Robinson – Maintenance Supervisor, Facilities Management and Ancillary Services (Nominated by Parking and Transportation Services)
Martha works closely with Parking and Transportation Services to ensure that areas around buildings where there is a risk of falling ice and snow or where there has been flood or fire damage are cordoned off. "Her diligence and dedication has been essential in preventing accidents," says the Parking and Transportation Services team.
Dr. Alvin Shrier – Professor, Department of Physiology and Chair of the University Laboratory Safety Committee (Nominated by Environmental Health & Safety)
Alvin has been a steadfast supporter of safety over the years, not only for the past six years as Chair of the University Laboratory Safety Committee, but also, before that, as Chair of his departmental and faculty safety committees, as President of MAUT and as a Building Director.
The Office for Students with Disabilities (Nominated by Fire Prevention)
OSD is a great partner of the Fire Prevention team, offering their guidance and support in applying inclusive design principles into emergency fire evacuation procedures. Gift Tshuma, Access Services Advisor, accepted the award on behalf of OSD.
The Atmospheric and Oceanic Sciences Weather Forecasting Team (Nominated by Emergency Management and Preparedness)
The weather forecasting team has been an integral part of the University's emergency response planning for the spring Convocation ceremonies and for severe weather events for the past several years. "Each year, the team does an impeccable job of providing our emergency response teams with timely and accurate forecasts," says the Emergency Management and Preparedness team. Graduate students Yeechian Low and Christopher McCray accepted the award on behalf of the team.
Departmental Safety Committee Productivity Award
The ceremony is also the opportunity to recognize the efforts made by staff who make their contribution at the departmental level, as part of a Departmental Safety Committee.
"At McGill, we have approximately 800 labs, spread out in 20 buildings, managed by 40 different academic departments," said Wayne Wood, Director of Environmental Health and Safety. "That means that there are many safety issues to manage. And to do this we need the support, expertise and cooperation of many people."
These efforts are recognized with the Departmental Safety Committee Productivity Award. The committees are rated based on the results of their lab inspections and other aspects of safety compliance, and for implementing any safety projects or activities over the past year.
The 2019 Departmental Safety Committee Productivity Award went to the McGill University Genome Centre Departmental Safety Committee. Prof. David Langlais, accepted the award on behalf of the committee.