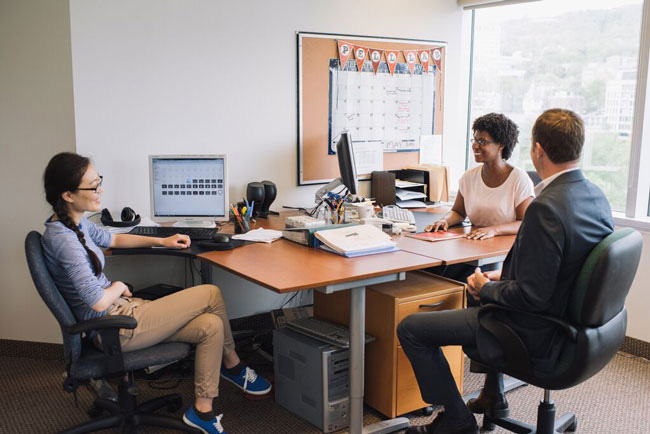 The R2R Program has achieved critical milestones in the last several weeks, and the University-wide implementation of Workday as McGill's human resource information system is confirmed for August 4, 2020.
Workday at McGill 
Workday is an integrated HR information system with a user-friendly interface.  It will replace our aging systems, including Banner HR, Minerva HR, and POPS, and will integrate many functions currently supported offline or through secondary systems – such as the management of staff absences through PurelyHR. The move to Workday will improve data integrity, reduce paper-based record keeping and other inefficiencies, and allow for more streamlined support and self-service for all members of our community.
Training is available
Every member of our community will have a Workday profile, though the extent of each person's engagement with the tool will vary according to their position.  A broad range of training opportunities will be available in the weeks leading up to August 4.
Training opportunities include independent eLearning modules, virtual classroom training sessions, recorded sessions, how-to videos, and other specialized job aids.  Opportunities will also be available for hands-on practice with Workday for select users, and R2R program members will be available to answer questions.  Training will be flexible, available remotely, targeted for individuals' roles, and focused on need-to-know information to keep the time investment as manageable as possible for all.
For frequent Workday users, such as HR, Academic Affairs and Finance professionals, training is already underway. Staff with supervisory responsibilities will receive training information at the end of June, whereas self-service users will receive it in July.
Support and looking ahead
In the lead up to 4 August, and extending well beyond this implementation date, a robust change network who are available to help units navigate the transition, and a team of Power Users who will have focused expertise in a wide range of Workday functions will support all staff. In addition to the resources available via the R2R website, help-desk support and practice tools will also be available.
We encourage all colleagues to take advantage of the resources and learning opportunities available over the course of the summer to ensure that we are all prepared for the changes Workday will bring to McGill and so that we can maximize the benefits this new tool will bring to the administration of our University.
Finally, we will meet our target Go-live date of summer 2020 in large part due to the talent and commitment of the R2R team members and the essential collaboration of local users and change leaders.  Their collective contribution to the Program, despite the challenges of the last few months, has ensured that we are able to achieve this important milestone for McGill on time and on budget. We thank you all.
Co-Sponsors of the R2R Program
Diana Dutton, Associate Vice-Principal (Human Resources)
Marc Denoncourt, Associate Vice-Principal (Information Technology) and Chief Information Officer
Cristiane Tinmouth, Associate Vice-Principal (Financial Services)
Leigh Yetter, Interim Executive Director, Analysis, Planning and Budget