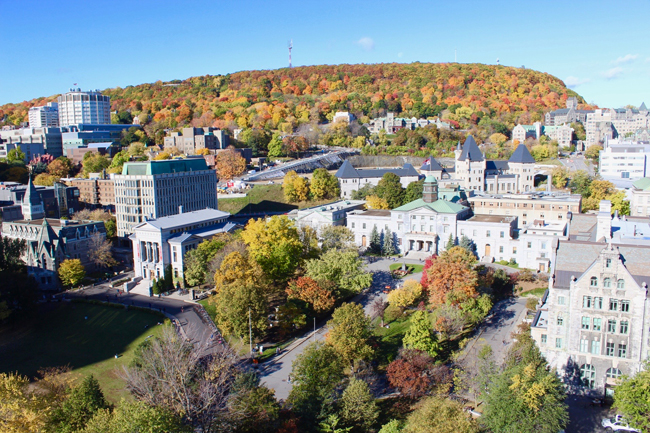 Fabrice Labeau, Deputy Provost (Student Life and Learning), sent the following message to the McGill community on October 27. La version française suit.
Dear members of the McGill community,
Yesterday evening, the Government of Quebec announced that the public health restrictions previously scheduled to end October 28 are now extended to November 23.
For McGill, the announcement means that we will continue to operate as we have been doing for the past few weeks. You can find an overview of what is open or closed, permitted or not permitted on the Operational Status page of the Coronavirus website. The page includes information about McGill's academic activities as well as operations.
We had all hoped that we would be able to resume some social activities by now. However, Quebec is still seeing 800 to 1,000 new cases of COVID-19 per day. While the number is not rising, it is also not decreasing significantly. As difficult as it is, we need to stay the course and follow public health guidelines. Premier Legault said that the Government would re-evaluate after two weeks and could ease restrictions at that time.
To protect your mental health during these isolating times, connect regularly (and safely) with your friends and family. Phone someone if you are tired of video calls, or take a walk outside with someone (maintain at least two metres of distance and wear a mask as an extra precaution). And don't be afraid to reach out to a professional if you are having trouble coping – we all need help sometimes.
A reminder of some resources you might find handy:
Stay safe and stay well.
Fabrice Labeau
Deputy Provost (Student Life and Learning)
_________________________________________________
Chers membres de la communauté mcgilloise,
Hier soir, le gouvernement du Québec a annoncé que les restrictions des autorités sanitaires, qui devaient prendre fin le 28 octobre, seront prolongées jusqu'au 23 novembre.
À McGill, cette annonce ne change rien à la façon dont nous fonctionnons depuis quelques semaines. Vous trouverez un aperçu des services ouverts et fermés, ainsi que des activités autorisées ou non, sur la page de la situation opérationnelle dans le site Web sur le coronavirus. Cette page donne des renseignements sur les activités d'enseignement et sur les autres services de McGill.
Nous aurions tous aimé pouvoir retrouver une certaine vie sociale. Toutefois, le Québec enregistre toujours entre 800 et 1 000 nouveaux cas de COVID-19 par jour, et bien que le nombre de cas n'augmente pas actuellement, il ne descend pas beaucoup non plus. La situation n'est pas facile, mais nous devons persévérer et suivre les directives de santé publique. Le premier ministre Legault a prévu une réévaluation de la situation dans deux semaines; les restrictions pourraient être assouplies à ce moment-là.    
Pour protéger votre santé mentale en cette période d'isolement, communiquez régulièrement (en toute sécurité) avec vos amis et vos proches. Vous êtes fatigués des appels vidéo? Appelez un ami ou allez vous promener avec lui (en gardant au moins deux mètres de distance en portant un masque par précaution).  Et n'hésitez pas à faire appel à un professionnel au besoin – nous avons tous besoin d'aide à un moment ou à un autre.
Voici des ressources qui pourraient vous être utiles :
Portez-vous bien et soyez prudents.
Cordialement,
Fabrice Labeau
Premier vice-principal exécutif adjoint (études et vie étudiante)