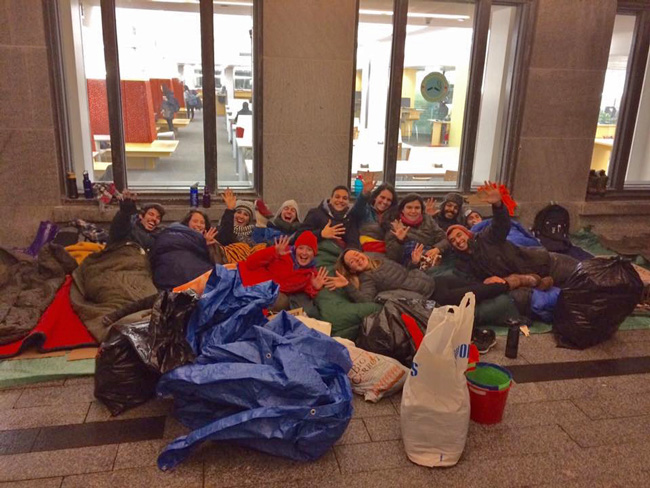 Students take to the streets to raise funds for the homeless
By Neale McDevitt
With a chilly rain falling on the city last night, many people felt particularly satisfied curling up in a warm bed. But for thousands of Montrealers a warm bed was not an option. Instead, they were satisfied with a bus shelter, a doorway or any other dry nook in which they could lay down their cardboard and sleeping bag and try to get some sleep.
"The biggest thing is how physically exhausting it is," says Meghan Bottomley. "Even if you get 5-6 hours of sleep, you're sleeping in the cold, on cement – it's really difficult. After a while you are so tired that you are completely out of it."
Bottomley isn't homeless. But the U2 political science and Canadian studies student has had a glimpse of life on the streets as she is participating in her second 5 Days for the Homeless fundraising campaign.
During 5 Days for the Homeless (running from March 13 – 18) students from across the country are forgoing most creature comforts to live on campus – without shelter – for the campaign. Participants can only eat food received through direct donations; have only a pillow and a sleeping bag; have no access to showers; and are not allowed to use cell phones or social media except to promote the campaign.
The annual campaign, which was founded by three students at the University of Alberta's School of Business in 2005, has raised $1,657,650 going into this year's drive.
Participants are also not allowed to have any income, even though they will be canvassing in front of the Roddick Gates (in orange t-shirts) throughout the week. All money raised will go directly to Montreal's Dans la rue, a grassroots, community-based organization that works with street kids and at-risk youth aged 12 to 25; and Chez Doris, a women's shelter that offers educational and recreational activities, social services and professional services for women in need. The team's goal is to raise $15,000.
In all, some 15 McGill students will take part in the campaign – while also attending classes. "Even if you hardly sleep the night before, everyone is required to go to class," says Bottomley, one of the executive directors of McGill's 5 Days team.
While this week's forecast is calling for cool temperatures and damp weather, it is a sight better than last year, Bottomley's first 5 Day campaign, which was held under cold, snowy conditions. "It was a bit of an eye-opener, for sure," says Bottomley.
Contending with cold weather is one thing, but dealing with indifferent people is quite another. Canvassing passersby for money can sometimes be a lesson in solitude. "Lots of people are generous. They smile at us, they give us money, they give us food. But many walk right by us, like we aren't even there," says Bottomley. "It's like we're invisible."
Of course, Bottomley understands that participating in the 5 Day campaign gives participants "only a glimpse" into the challenges faced by Montreal's less fortunate. "We're lucky because we return to our regular life at the end of the week. But homeless people don't have that light at the end of the tunnel," she says. "They live this every day."
The push is on for McGill's 5 Days for the Homeless team and Bottomley asks that people take the time to stop and toss a handful of change into one of their buckets at the Roddick Gates. People can also donate online. And, Bottomley adds, food is always welcome – "especially fresh fruit!" At the end of the campaign, the group will head out into the streets to give any surplus food to people in need.
Don't delay! Donate online
Find out more about the national 5 Days for the Homeless movement.
Follow the McGill team on Facebook