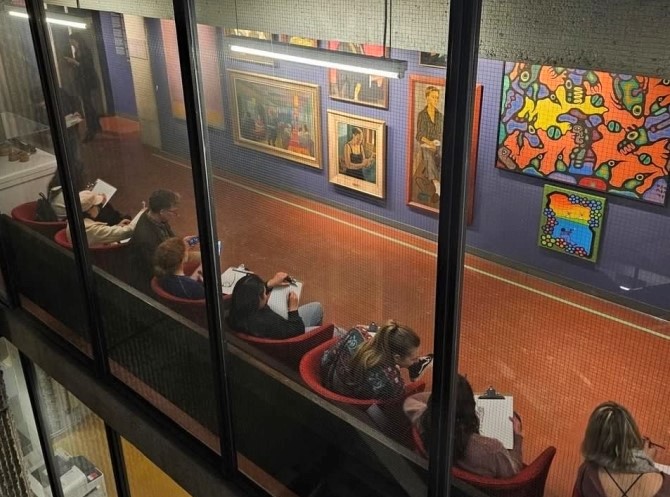 Sketching artworks in museums has long been a practice for art historians and often an exercise that we are given in our first undergraduate classes. Taking the time to really look at a work of art while you sketch, not only allows for a greater appreciation of it, it re-trains your eye and your brain. You start to see things you may have missed before – how the composition is arranged, how a single line traverses the canvas, how colours are used to create forms. All of this means complete absorption, which in turn means stress seems to melt away.
At the beginning of the pandemic, the McGill's Visual Arts Collection (VAC) started a weekly program called "De-Stress + Sketch" to help everyone de-stress by drawing works from the collection posted on our Instagram and emailed to followers. We quickly had hundreds of followers telling us how important the weekly activity had become in their lives; many would also send us their sketches, which we would share with the community.
The VAC ran De-Stress and Sketch online for 111 weeks between 2020 and 2022.
Nuit Blanche success
For Nuit Blanche 2023, now that we are once again seeing art in person, we invited Nuit Blanche participants to come draw the artworks on view in the Visible Storage Gallery on the fourth floor of the McLennan Library Building.
VAC staff and undergraduate student interns provided visitors with an introduction to the collection, which now includes more than 3,500 works of art, the majority of which are displayed in more than 90 buildings on McGill's three campuses. After this short presentation, we offered art supplies for each participant to make their own sketch of an artwork in the gallery space.
The event was a hit! From 8 p.m. until midnight the gallery space was filled with sketchers of all ages and levels. On Montreal's most art-filled night, the Visible Storage Gallery became an oasis of calm.  With peaceful piano music playing in the background, participants sketched their favourite artworks and shared them with each other. At the end of each session the VAC gave envelopes for participants to take their masterpieces home.
Public welcome to peruse – and sketch – collection
The VAC's Visible Storage Gallery includes a representative sample: a diverse collection of over 50 works of Canadian, Indigenous and international art, both historical and contemporary. Inspired by the trend of "visible storage" emerging in museums around the world, the gallery makes available key works that would otherwise be confined to the storage or displayed in less accessible spaces. These paintings, prints and sculptures include works by Group of Seven members Arthur Lismer and Edwin Holgate, as well as a painting by Anishinaabe artist Norval Morrisseau.
The Visible Storage Gallery is open to the public Monday through Friday 10 a.m. to 6 p.m. – Sketchers always welcome! Learn more.
Visit @McGill_VAC on Instagram.