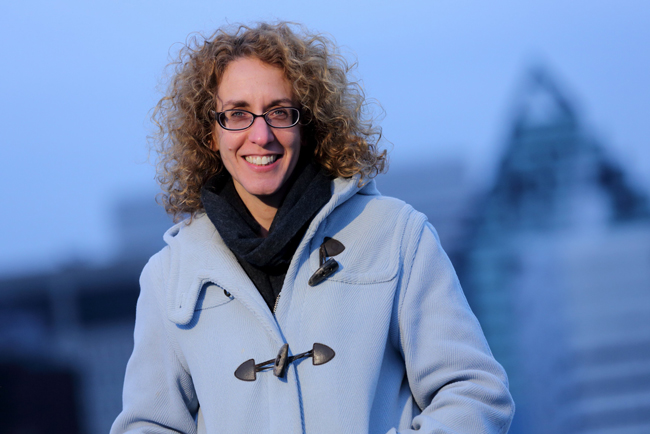 By Meaghan Thurston
McGill professor Vicky Kaspi, a world-renowned astrophysicist known for her cutting-edge work on neutron stars and pulsars, was awarded the Killam Prize today, one of the country's most prestigious awards for academic-career achievement. The $100,000 prize was granted for outstanding scholarship in the natural sciences. Five awards – one each in the categories of the humanities, social sciences, natural sciences, health sciences and engineering – are distributed every year by the Canada Council for the Arts.
Kaspi is McGill's Canada Research Chair in Observational Astrophysics, the Lorne Trottier Chair in Astrophysics and Cosmology, and the director of a recently created interdisciplinary institute on space research at McGill.
"With today's announcement, McGill thanks the Killam Trusts for their support of Canadian research and scholarship, and celebrates the outstanding accomplishments of a very impressive individual," said Principal and Vice-Chancellor Suzanne Fortier. "We hope this award will continue to shine a light on the cutting-edge research on neutron stars and pulsars taking place at McGill under Prof. Kaspi's leadership."
Kaspi has made major discoveries throughout her career in the study of rapidly spinning compact neutron stars called pulsars. Every second somewhere in the universe, a star explodes in a gigantic supernova. The most massive stars end their lives as black holes, but less massive stars end their lives as neutron stars, and some of these can become pulsars or magnetars, which are highly magnetized, and rotate at enormous speeds.
Kaspi is considered the world's leading researcher of magnetars, a hot topic in astrophysics which has shed light on how stars evolve and how they die in the supernova explosions that produce the pulsars. She has used data from the NASA RXTE and Swift satellites to explain the nature of these cosmic anomalies. Kaspi's group has also maintained for many years the world's only magnetar catalog, which serves as a highly used reference for all astronomers.
Kaspi also has major accomplishments in the study of radio pulsars. In 2008, her research group made news around the world by confirming a long-held prediction of Albert Einstein's theory of general relativity through observations of a binary-pulsar star system.
Kaspi's group also played a key role in the discovery the pulsar with the fastest known rotation rate.
Kaspi credits her research successes to her team. "I'm accepting the Killam Prize on behalf of the extremely talented, motivated, brilliant group of graduate students and postdocs in my research group," she said. "I am planning on showing my appreciation for their work by using a portion of the Killam funds to create a prize for the best PhD thesis produced for the recently launched institute for space research, to encourage outward-looking research that reaches to the observable limits of the Universe."
Kaspi joins not only the elite group of scholars in Canada who are Killam Prize winners, but becomes one of only 13 women to have received the award. "Obviously, I'm honoured, flattered and pleasantly shocked to have been selected to receive the Killam Prize," she said. "I would certainly encourage institutions throughout Canada to nominate women for this award, as there are many deserving female academics."
More articles on Vicky Kaspi in the McGill Reporter
Radio-burst discovery deepens astrophysics mystery (July 2014)
Vicky Kaspi wins Polanyi prize (February 2011)
Stargazer Wins Prix du Québec (January 2010)
Stars that make your head spin (Oct. 2009)
Taking the Pulse of the Universe (Oct. 2009)
Review: From Star Trek to Dark Trek (June 2009)