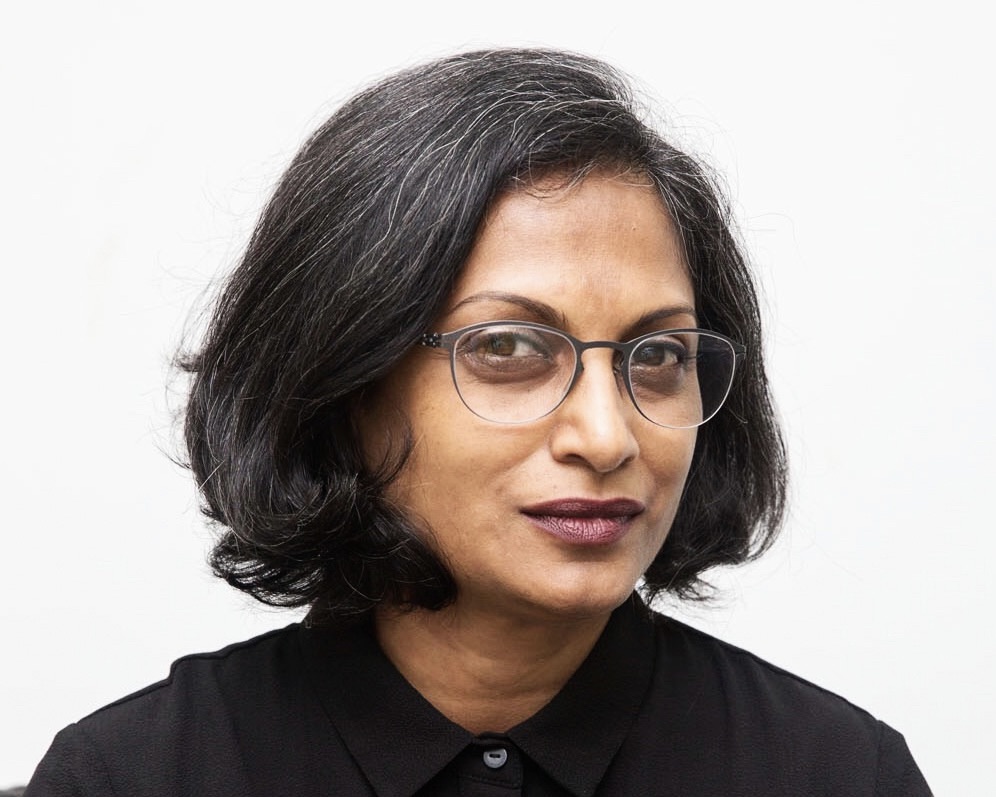 How can urban planners, architects, and engineers incorporate nature-based solutions to build resiliency and sustainability in our communities? The 9th annual Trottier Symposium on Sustainable Engineering, Energy, and Design, "Confronting Climate Change with Design for Resilience" which takes place virtually on September 13th, will explore this and other questions around sustainable engineering and design and climate-resilient living solutions.
In part two of our Q&A with the event's featured guests, The Reporter spoke with internationally renowned architect and educator, Marina Tabassum.
*****
Born and raised in Bangladesh, Tabassum founded Dhaka-based Marina Tabassum Architects in 2005. In her work, she seeks to establish a language of architecture that is contemporary yet reflectively rooted to place, always against an ecological rubric containing climate, context, culture, history. Her Bait Ur Rouf Mosque is distinguished by its lack of popular mosque iconography, its emphasis on space and light, and its capacity to function not only as a place of worship but also as a refuge for a dense neighborhood on Dhaka's periphery.
Tabassum has taught at Harvard University Graduate School of Design, Technical University, Delft, University of Texas, and Bengal Institute. She received an Honorary Doctorate from Technical University of Munich. In addition to Aga Khan Awards for Architecture, she has received many accolades including the Arnold W. Brunner Memorial Prize from the American Academy of Arts and Letters, the Gold Medal of the French Academy of Architecture and the Soane Medal in Architecture from the UK. Tabassum chairs Foundation for Architecture and Community Equity (FACE) and Prokritee (fair trade organization). She is a member of the Steering Committee of the Aga Khan Awards or Architecture.
You've described your approach to architecture as one that prioritizes using the wisdom of the land and that benefits entire communities. How have you been able to apply this in your work?
I am inspired by the values of vernacular building traditions that source material from the location, employ local labor and construction techniques, and above all, respond to the local climate. These traditions do not seek permanence but evolve and adapt to local culture through time. I call this wisdom of building sustainably. Through our work, we try to adhere to these values in order to root architecture to place.
Your design of the Bait Ur Rouf Mosque (winner of the 2016 Aga Khan Award for Architecture) is acclaimed for its striking use of natural light, its ability to "breathe," and its relationship to the local community in Dhaka. Can you describe your process and what you hoped to achieve with its design? 
The process began with research to understand "what is a mosque?'" and how it came into being. Mosques have a very simple program: a large space for congregational prayer. The design was inspired by the Islamic values that all men are equal and stand shoulder to shoulder in brotherhood to be in communion with God. Our attempt for the design was to ensure daylight on four corners and walls of the mosque so that there is a sense of equality instead of hierarchy. All our projects are a response to the local climate that ensures adequate air circulation to reduce the use of electricity. The Bait ur Rouf Mosque is a community mosque. As such, it was important to engage the community in the process. They donated funds in small amounts and also donated construction materials like cement, fans, and generators. The community calls it the "red mosque" and is very proud of the building.
How do you define resilience and how does one design/build/plan for it?
Resilience is about having the ability to adapt to challenging circumstances. My heroes of resilience are the people living in rural Bangladesh. They endure so many geographical and climatic challenges yet through negotiation, adaptation, and appropriation, they survive and thrive. Our designs, especially at a time of unpredictable climatic, economic, and social context, need to address flexibility and adaptation. Instead of tearing down buildings to make way for new, we ought to focus on repurposing and giving second lives to buildings.
What are essential principles for designing dwellings and communities that could be applied to regions facing significant impacts of climate change? How do you incorporate nature-inspired design towards building climate resiliency?
The key component of designing for the communities is to include them in the process. To hear them and to empower them to be able to lead. The climate adaptive changes need to be inspired from the local vernacular. There is a cultural and psychological connection to the vernacular house forms. The interventions need to take that into account while addressing climate preparedness. Choice of material also has a social component attached to it. So, design, details, and material must respect the social values that the communities adhere to.
What are some of the challenges you've faced in creating more sustainable structures / spaces?
The challenges are mostly our lack of knowledge and understanding of how the psychosocial network of the communities work. The perception of time, priorities, and life are very different in a rural context than in cities. As such, there is a learning through understanding and observation. Working with people requires time, dialogue, and being present on the ground.  
Where do you get your inspiration?
Inspirations are everywhere in our daily walk of life. The people we meet, the places we visit, the food, the music – everything has something to offer. We just need to be aware and be present in the moment to absorb what is being offered. We embody everything we absorb and it becomes a part of us. So, the line I draw today has more story in it than it did ten years ago.
How has the field of architecture changed throughout your career? What are your hopes for the future of the field?
I started my journey in architecture in the mid-nineties. The booming era of the construction industry in Dhaka had only begun. Architects were busy designing apartment buildings for the real estate market. I opted not to pursue that path and sought out projects that I found interesting and relevant to my understanding of design and architecture. The trajectory of resistance was not easy, but I knew it to be the right path for me. I find it promising to see that the world now recognizes such efforts. In architecture, the conversations around climate, inequity, and over-production are happening both in pedagogy and in practice. That gives much hope to witness the shift in values.
The Trottier Symposium on Sustainable Engineering, Energy, and Design will take place online Sept. 13 at 6:30 p.m. The event is free and will be hosted in English. Register here.