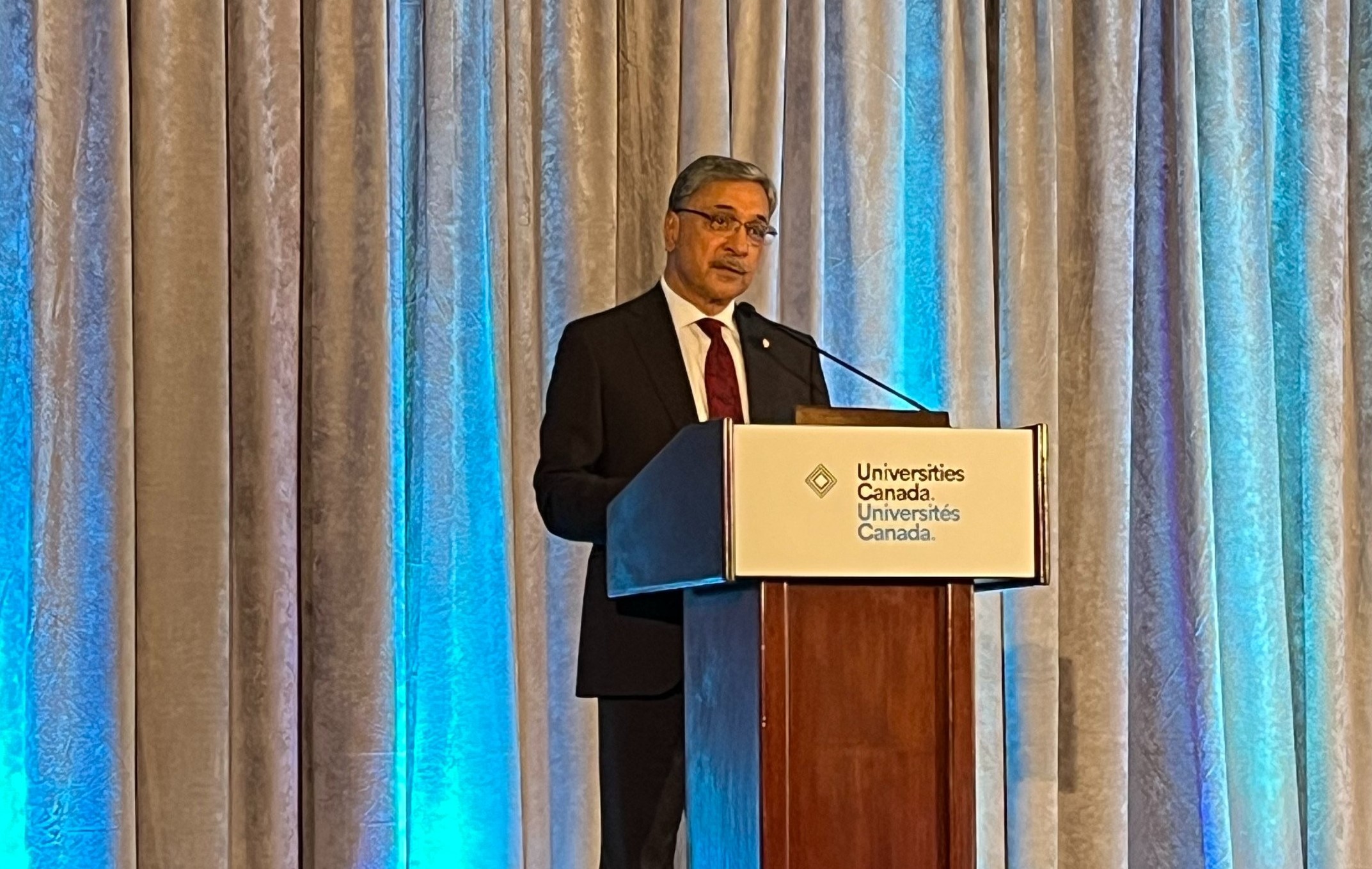 On October 25, McGill Principal Deep Saini began his two-year mandate as chair of the board of directors of Universities Canada. His appointment was approved at Universities Canada's fall membership meeting in Ottawa, where discussions centered around the role of universities in strengthening Canada's foundations and leading the country towards future success.
"Professor Saini brings valuable international and Canadian post-secondary leadership experience," said Philip Landon, interim president and CEO of Universities Canada. "His steadfast commitment to promoting higher education and innovation will serve the organization well, and I look forward to working with Professor Saini to maintain a strong university system and a strong Canada."
Universities Canada advocates for Canada's universities at home and abroad, advancing higher education, research, and innovation for the benefit of all Canadians.
National experience, international perspective
A career academic and accomplished researcher in plant biology, Saini brings a combination of national post-secondary experience with an international perspective. Saini has previously worked at five of Canada's universities, including the University of Toronto, the University of Waterloo and the Université de Montréal, and most recently served as president of Dalhousie University. Previously, he was vice-chancellor and president of the University of Canberra in Australia.
"Canada's universities are at the forefront of building a brighter future for Canada, where innovation, inclusivity, and excellence intersect to shape tomorrow's leaders and advance our capacity to tackle the world's most pressing issues," said Saini. "I look forward to working collaboratively with our member institutions and stakeholders to advance Canadian higher education and research, and, in so doing, contribute to the nation's economic and social wellbeing."
Saini succeeds past chair Meric Gertler, president of the University of Toronto.
Strength in unity
In his address, Saini extolled the strengths of Canadian universities, calling them "arbiters of truth," "engines of progress," and "significant drivers of economic prosperity."
Universities, said Saini, have both the capacity and the responsibility to address a wide range of challenges facing Canada and the world, from widening economic inequalities, global warming, and growing authoritarianism, to the rise of disinformation, political tribalism, and future pandemics.
But to do so, universities must unite in the spirit of collaboration and collegiality.
"Progress doesn't happen unless we all come together, combining our perspectives, ideas, knowledge, and abilities, to work on the problems that affect the future wellbeing of our country — and our global community," he said.
"Let us focus on enabling fruitful debate and breaking down barriers, to safeguarding and amplifying the truth, and celebrating diversity in all forms," Saini continued. "Let us continue to be an engine for upward social mobility and for more robust local communities."
"Finally, and importantly, let us continue to center the student experience and their needs, to instill in tomorrow's leaders an unshakable sense of civic responsibility and a lifelong passion for learning," Saini concluded. "Together, we can contribute to building a stronger, more united, and prosperous Canada, for one and for all."
Watch Deep Saini's Universities Canada address