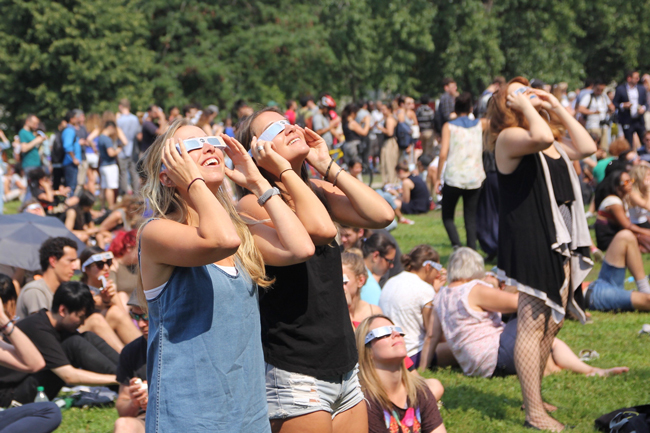 At a time when most mass gatherings seem to degenerate into ugliness and violence, several thousand people on Lower Campus – and millions around the world – spent the afternoon basking in the glory of the sun.
Neither rocks nor insults were hurled – although, many people were seen tossing their eclipse glasses to total strangers so they too could witness today's solar eclipse.
And while polarizing politics has effectively hived people into quarrelsome factions in so many parts of the world, McGill was imbued with a sense of unity, as an estimated 3,000 people from all walks of life, convened for what felt like a huge love-in.
All in the name of science.
AstroMcGill hosted the event, with teams of volunteers handing out free eclipse glasses, animating information kiosks and helping hundreds of people get close-up views of the sun through special solar telescopes.
People gathered with friends and family – including any number of dogs – to take in the spectacle. Cameras and viewing devices of all shapes and sizes were on display, from specialized telescopes to simple, homemade pinhole cameras made out of old cereal boxes. Some people lay on the side of Redpath Beach, glasses trained on the sky. Others used the event as a chance to meet and talk, pausing every few minutes to put on their glasses and check the moon's progress.
Right around the 2:38 mark, when the eclipse was at its peak and the moon covered about 58 per cent of the sun, the crowd – which had been remarkably silent until then – broke into spontaneous applause, as if to thank the cosmos for bringing us all together on this glorious day.
The path of the total solar eclipse, when the sun is 100 per cent covered by the moon, ran through the southern United States and the up into Oregon on the west coast. While Montreal only experienced a partial solar eclipse this year, the city will be under a total solar eclipse in 2024.
Click on the thumbnail to enlarge each picture.