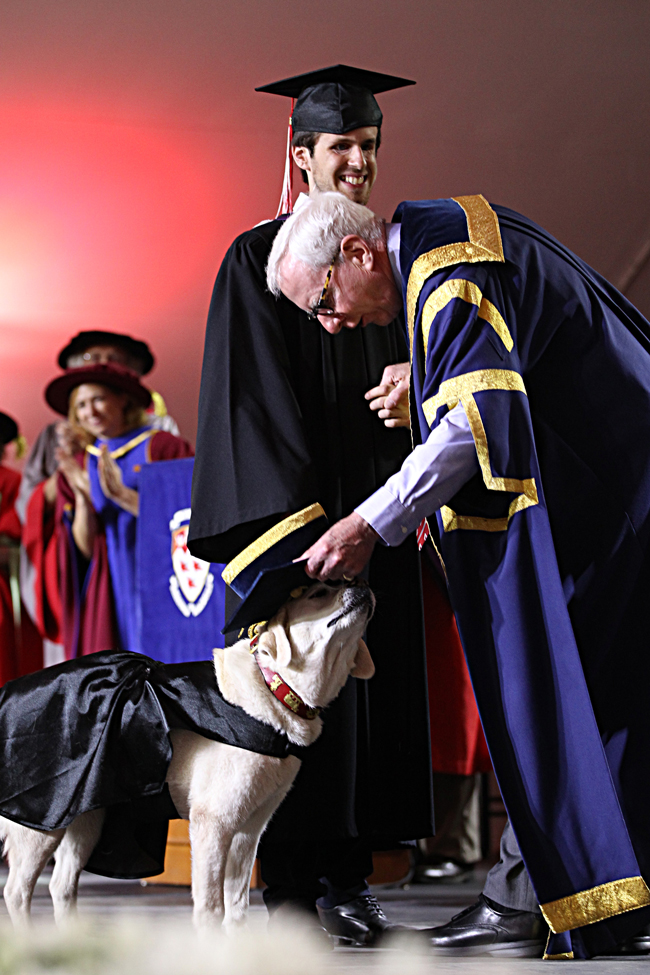 Desautels grad doesn't let handicap weigh down his lofty goals
By Neale McDevitt
Whatever you do, don't tell Thibault Trancart that he can't do something. Or better yet, go ahead and tell him – so he can prove you wrong.
On Thursday morning, the native of Geneva, Switzerland picked up his undergraduate degree in General Management during the Desautels Faculty of Management Convocation ceremony. But, unlike his fellow classmates, Trancart didn't walk across the stage alone – he was guided by Fiona, his service dog, who was decked out in a tailor-made graduation cape, and Richard Donovan, a Management professor Trancart calls "my mentor at McGill."
Trancart is the first blind person to graduate from Desautels.
At age two, Trancart had his left eye removed after developing retinoblastoma – a form of cancer that attacks the retina. Three years later, the cancer spread to his right eye. "We tried everything possible but the cancer kept coming back," he says. "By the time I was 14, a tumour had developed on the optic nerve very close to my brain. It was too dangerous so they removed it. It's a drastic solution, but it works.
"I lost my sight completely on Jan. 23, 2006."
Trancart says that the adjustment wasn't as difficult as many people thought it would be. In the year leading up to the removal of his eye, side effects from medication had caused his vision to deteriorate from almost 100 per cent to somewhere between 10–15 per cent. "By the time we decided to remove my right eye, I really couldn't see much anyway," he says. "I actually prefer being blind because being visually impaired gives you crazy headaches."
Unfortunately, some people around him had more trouble dealing with Trancart's blindness than he did. "In high school all I heard was 'you're blind so you can't do that, that or that," he says. "It just motivated me."
An avid downhill skier who first hit the slopes when he was three, Trancart had no plans to give up his long-time passion. Instead, he hooked up with a guide who skis behind him, shouting positions on a clock ("11 o'clock… one o'clock") for directions.
And to all the naysayers, make no mistake, this is no pedestrian jaunt down the bunny hill. The duo has topped out between 80–90 kilometres per hour. At that speed, says Trancart with a wry chuckle, things can get a little hairy because the wind makes it hard to hear instructions.
"I've been a skier with sight and without sight and, honestly, I love it even more being blind," says Trancart. "Just in terms of the sensations, it is so much better, so much more exciting. Sometimes on powder you feel like you're really flying.
"At first I thought I would be terrified but since I couldn't see anything below, I just said 'What the hell?' and went for it. Of course, you have to trust your guide 100 per cent and mine is amazing," he says. "If there's trouble, I know he'll get me out.
That isn't to say Trancart hasn't had his share of wipeouts. One particularly bad spill actually dislodged his prosthetic eye. Completely unfazed, Trancart plopped the stray eyeball into his pocket and finished his run.
Later this year Trancart will move back home to embark upon yet another adventure that will probably cause people of lesser ambition and spirit to shake their head. "I want to ski in the Winter 2018 Paralympics in South Korea," he says. So, for the next three years I am going to devote most of my time to training and competing."
Always prepared, always positive
"I don't know if Thibault's fearless, but he's about as close as anyone I know," says Management Professor Richard Donovan, who first met Trancart while teaching Intro to Information Systems and another course called Case Analysis and Presentations.
In the latter class, Trancart was picked as a member of the host team in McGill Management International Case Competition this past March.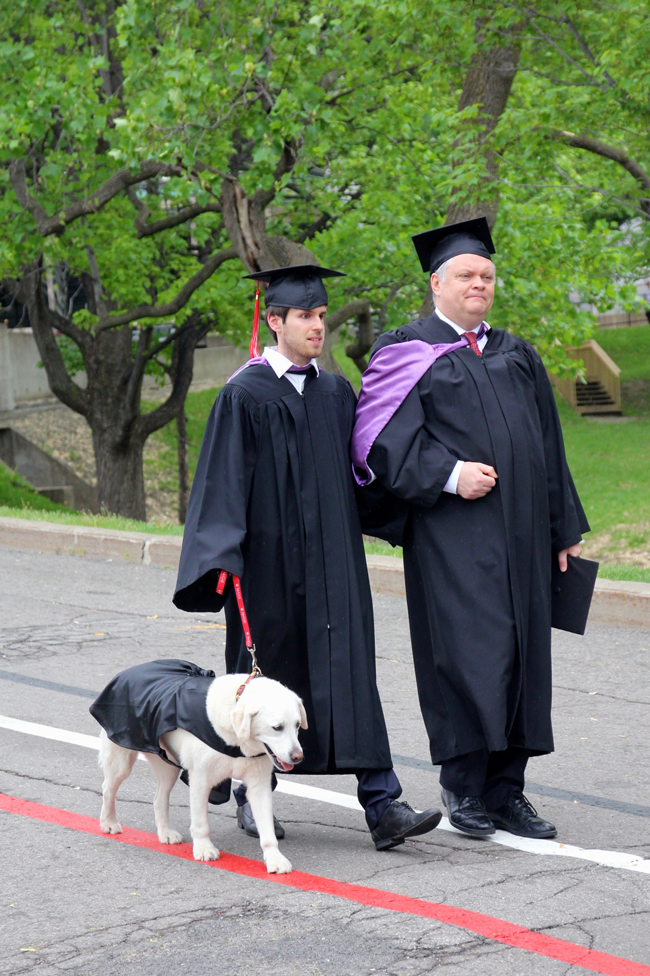 "His classmates love being on his team because his insights and analyses are quite strong and he always comes to meetings incredibly well prepared, " says Donovan, whom Trancart calls "my mentor." "And his presentation skills are very strong even though he has to memorize each slide."
The only aspect of Trancart's presentations that Donovan tweaked was having him fly solo without Fiona during his presentations. "Fiona is a character and a half, a real ham. She's from Rome and Thibault jokes about her 'Italian side' when she's not on the job," laughs Donovan, who has 'dog sat' Fiona at his house on two occasions. "We quickly realized that Fiona was a distraction to some audience members. So I would take her to the back of the class to let people focus on Thibault rather than the cute dog.
"I've had students who came with doctors' notes to get out of case presentations because they were too stressed," says Donovan, "but Thibault isn't afraid of anything."
But real courage isn't a lack of fear or doubt, it's the ability to face and overcome that fear and doubt. Rewind to the winter semester in Trancart's freshman year, specifically a math class and a macroeconomics class. "Both were really, really visual and I had a very hard time. I failed them both," he says. "McGill has had blind students graduate from other faculties, but never Management. A few people started suggesting I switch to something like poli sci or history – something that was more accessible. It began to feel like high school all over again…"
Enter Ruthanne Huising, another Desautels professor. "She had taken a real interest in me and told me that we would find a solution," says Trancart. "She spoke to some people and suddenly solutions started pouring in. When I started second year, I was a lot more prepared to face the various challenges. Everything has gone well since then.
"I'm graduating this year thanks to a handful of people, especially Richard Donovan and Ruthanne Huising," he says. "I couldn't have done it on my own."
Trancart worked closely with advisors from the Office for Students with Disabilities. As soon as he registered for classes, he would gather books and course packs and have them scanned as a pdf or word document. Trancart's laptop is equipped with software that will read aloud emails and documents. He also enlisted the help of note-takers for some of his classes.
Honorary Dog-torate
But through it all, no one has worked more closely with Trancart than Fiona, his service dog since he was 14.
"Fiona doesn't bring me to places – I know the routes. Her job is to make sure I don't trip over something in my path, or fall down stairs I can't see," Trancart says. "She keeps me safe – and that's a huge responsibility. We have a bond that is even stronger than the kind you have with your pets."
As with any worker, a service animal's career has a distinct shelf life and the 9-year-old Fiona is fast approaching retirement. In fact, as Trancart's walk across the Convocation stage symbolized an important transition in his life, so too did that short journey all but mark all the end of Fiona's days of service. "We'll go through the summer, but when I return to Geneva in September, Fiona will be retired," says Trancart.
Retired, but not returned to the organization that trained her – a fairly common fate for many former guide dogs. Instead, Fiona will live with Trancart in Geneva, where he will navigate his hometown streets on a cane and a keen memory and she will be able to explore the Italian extrovert side of herself 24/7. "After everything we've been through together – we've grown up together… There's no way I could give her back – I could never break that bond," he says.
That bond was evident during Thursday's ceremony. Together with Donovan, Trancart and Fiona walked the procession together leading from Redpath Hall to the Convocation tent. All three were decked out in their Convocation finery. "[Convocation and Chief Returning Officer] Pauline Frixione was instrumental in getting a cape for Fiona," says Donovan. "At the Faculty, we joke that she should probably get a degree too since she's been to more classes than some of the graduates."
Trancart was the last person to receive his degree. When Fiona – cape and all –appeared on the big screens inside the tent, the full house broke into spontaneous applause. When Professor Bruce Shore read Trancart's name and "Fiona his guide dog and most faithful companion," most of the crowd, including all of Trancart's fellow graduates and the entire platform party, rose in ovation.
True to her working form, Fiona didn't flinch at the yelling and thunderous applause and wagged her tail ever so slightly when Kip Cobbett, Chairman of McGill's Board of Governors, gave her the traditional tap on the head with his cap.
There would be plenty of time for that back home in Geneva. Right now she still had a job to do.
Watch Thibault Trancart accept his degree with Fiona