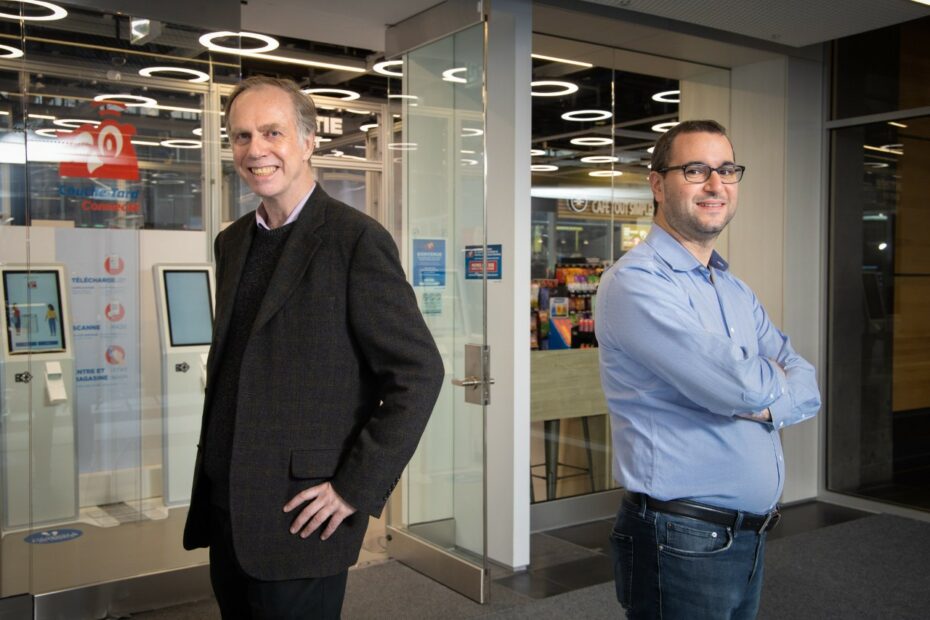 As mom-and-pop stores and multinational corporations alike confront historic challenges to their industry during the pandemic, they are looking outward for ideas and technologies that will put them on solid footing both now and in the future. A world-class university and a global retailer have joined forces to provide solutions as they unveil one of the first live laboratory stores in North America.
"The impact we aspire to make through this retail innovation lab goes far beyond headlines and ribbon cuttings," says Maxime Cohen, an associate professor at the Desautels Faculty of Management who serves as the co-director of the lab. "We aim to shape the future of retail in a critical time for the industry."
Inside a new kind of retail store
The opening of the retail innovation lab on McGill's downtown campus will introduce the public to a Couche-Tard convenience store that, from the outside, looks like the hundreds of other Couche-Tard locations throughout Quebec. Customers will be greeted by the brand's iconic winking owl on the store sign as they enter, and the store will keep its doors open for reduced hours as public health guidelines and government regulations evolve during the pandemic.
As soon as they step inside, however, customers with a discerning eye will immediately spot the differences between the average Couche-Tard store and this particular one. A designated Couche-Tard Connecté section of the store, which customers can choose to enter using an app, leverages frictionless technology to make autonomous, contactless checkout possible. Using sophisticated computer vision systems, the store will be able to recognize selected items in real-time and process payment directly through the app. Outside of the Connecté section, store cameras will track customer trajectories and dwell time in an aggregate and anonymized fashion in all areas of the store. In addition, customers can use a self-checkout counter that automatically detects items and adds them to the bill.
Funded by the Bensadoun Family Foundation and Bensadoun School of Retail Management Founders Circle, the lab's inaugural retail partnership is with Alimentation Couche-Tard and designed with a high degree of intentionality. "Every last detail has a purpose," says James Clark, a professor in the Department of Electrical and Computer Engineering who co-directs the lab alongside Maxime Cohen.
Testing the waters
Over the span of three years, the retail innovation lab will provide an unprecedented opportunity for McGill researchers and students across several disciplines to explore the central questions that occupy the time and energy of leaders in the retail industry. "Our goal is to provide data-driven insights to help retail leaders pivot and reimagine their operations in a post-COVID world," says Cohen.
As the retail innovation lab opens its doors for the first time, it will initiate the first inaugural class of the new Master of Management in Retailing (MMR) program into a more immersive classroom than they could have imagined. Working in tandem with BCom students and students from the department of Electrical and Computer Engineering, MMR students will "gain rare access to leading-edge technology and opportunities to test new ideas in a real environment," says Cohen.
The first research theme that student and faculty researchers will pursue at the retail innovation lab involves helping consumers to make healthier food and beverage choices through incentives like strategic pricing and display location, personalized mobile messaging, and social media contests. If all it takes to sell a healthier food option to a customer is moving an item to a higher shelf, retail innovation lab researchers will find out. They will use tools from experimental design, biostatistics, econometrics, and machine learning to analyze the effects of each type of influencing factor on consumer behaviour.
The second line of research focuses on personalization and privacy. "Our objective is to provide personalized recommendations to customers in a way that meets the highest standards of data privacy and confidentiality," says Clark. Using state-of-the-art artificial intelligence methods, data collected through cameras will improve demand forecasting and offer consumers recommendations to enhance the overall shopping experience. Longer term, the retail innovation lab may also explore the use of augmented reality to reduce customer friction and provide "gamified" shopping experiences.
While other brands have implemented frictionless technologies, the retail innovation lab will be the first to make the results of its research projects publicly available. "By studying interactions between people and technology and publishing our findings, we hope to play a pivotal role in helping retailers develop practices that benefit consumers, retailers, and society as a whole," Clark says. "We're excited to get started."
Watch a video about the new retail innovation lab