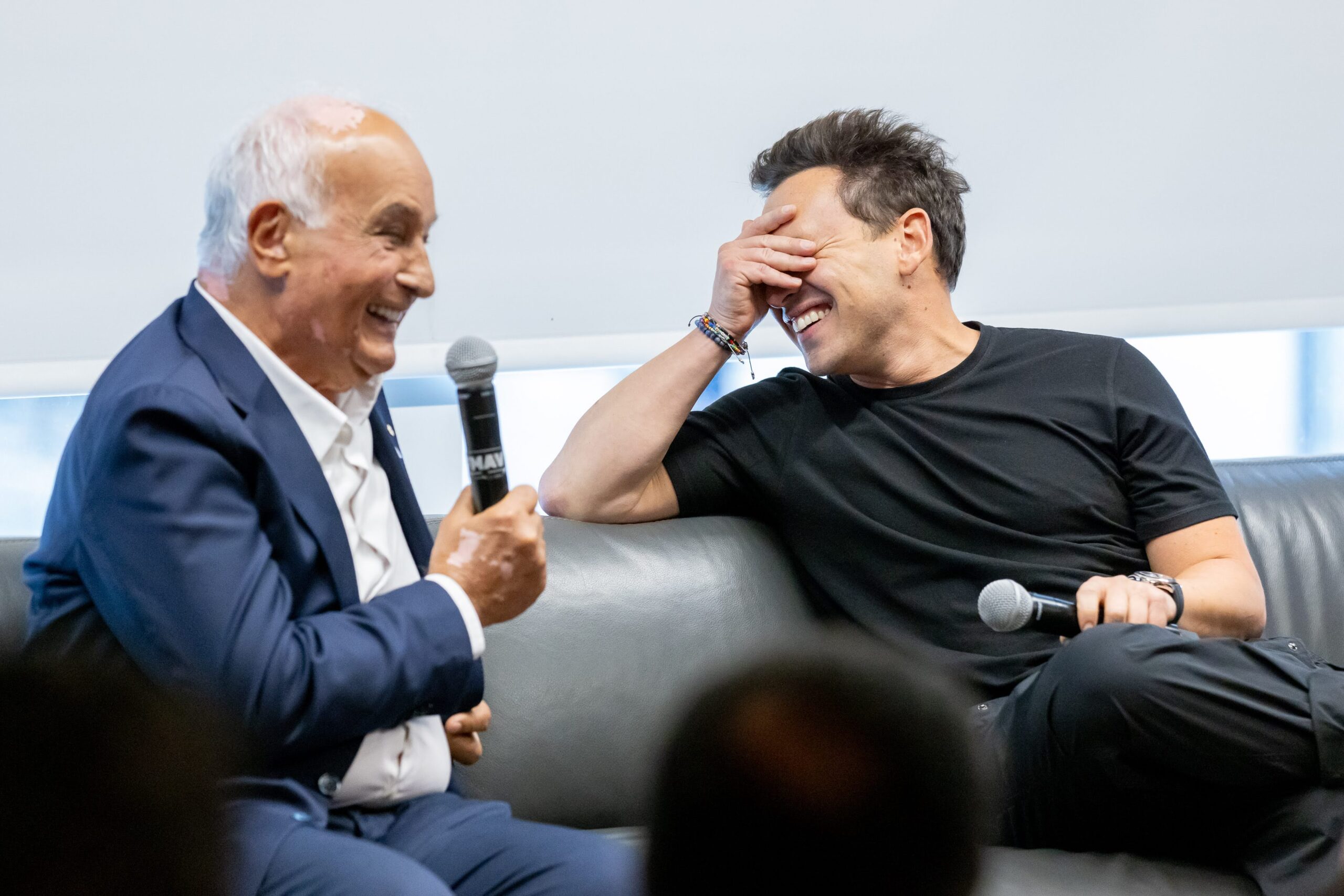 Entrepreneurial vision allows some people to see what the future could look like and shape what it will become. And as a precursor event to the Reshaping the Future of Retail conference, the Bensadoun School of Retail Management (BSRM) and KPMG hosted two retail visionaries who shared insights they've learned while building innovative ideas into retail success stories.
At a fireside chat, Harley Finkelstein and Aldo Bensadoun engaged in a wide-ranging discussion of the future of retail, the advice they'd give retail entrepreneurs, and the attractiveness of Montreal as a retail hub. Bensadoun (BCom'64, LLD'12), Founder and Executive Chairman of the ALDO Group, is a towering figure in BSRM's history, whose $25-million donation from the Bensadoun Family Foundation was the catalyst for its launch.
Finkelstein is President of Shopify, an Ottawa-founded e-commerce platform that serves millions of small and medium-sized enterprises around the world. The two retail titans shared their knowledge and expertise with a community of retail academics and practitioners, speaking to how the retail sector has changed – and where it could be headed next.
Technological evolution
Technology hasn't only reshaped retail sales by adding an e-commerce option, it has transformed the in-store experience too. The way that retailers reach consumers has changed profoundly since Aldo Bensadoun – more affectionately known as Mr. B – founded ALDO Group in 1972.
"Back then, you really had to learn details about customer behaviour," says Bensadoun. "But today, you can use technology to make that link between product and consumer. Suppose you have a couple going to a shopping centre. And one person is driving, and the other is looking at her phone. She can look at which brands are in that shopping center, and which stores she wants to visit."
And in that store, technology will have ensured operations align with consumer expectations.
"Everybody is talking about AI. But in fact, AI is just a good friend," says Bensadoun. "It is like a super-powered person that helps you put out the right amount of inventory, minimize mark downs, and find products that people are looking for."
Flexible retail options
And even though Finkelstein is president of an e-commerce platform, he views the in-store experience as integral to the future of retail.
"Most people assume I believe the future of retail is online. But I don't think it is online or offline," says Finkelstein, who studied at McGill before completing his law degree and MBA at the University of Ottawa.
"One of my favourite expressions is 'the customer is king.' And I believe the future of retail will be dictated by how customers want to make purchases. If they want to buy online, you better have a kick-ass online store. If they want to buy in store, you need a great in-store experience. At some point, retailers will just sell however their customers want to purchase. So, I believe that the future will be retail everywhere."
Montreal's entrepreneurial spirit
For Finkelstein, the City of Montreal itself has been a source of inspiration. Finkelstein recently moved back, and though he considered settling in Miami or New York, Montreal's entrepreneurial energy drew him in.
"Montreal inspires an entrepreneurial instinct," says Finkelstein. "It is a magnet for entrepreneurship, because we celebrate it. And we make role models out of the city's greatest entrepreneurs, like Aldo Bensadoun. This part of the city is really special. I just moved back after twenty years, and it is so blatantly obvious to me that this is one of the most entrepreneurial places on the planet."
Finkelstein recently shared his passion for entrepreneurship with McGill Desautels students through the Entrepreneurship and Innovation Initiative. He spoke to students in an entrepreneurship course and noted that it was both surreal and nostalgic to speak to students about entrepreneurship in a place where he'd once hustled to sell t-shirts.
For Bensadoun, the venturesome spirit is an important part of business success. But despite the image of the entrepreneur as a transcendent figure, it's not something you do alone.
"Your business is not just you; it is the team you form," says Bensadoun. "You need to be kind, and listen all the time. Because it takes all of you together to be successful. My advice to people that want to start a business is 'go for it.' Don't hesitate, but know you'll fail sometimes, and also win sometimes, if you're passionate about what you're doing."
Watch the video of the event below