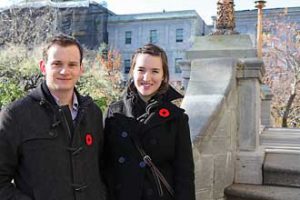 Organizers aiming for largest Canadian event ever
By Neale McDevitt
In some ways the upcoming TEDxMcGill event sounds a bit like speed dating – without the pressure of having to choose a partner at the end of the day. The concept is simple: gather 18 vibrant speakers from all walks of life – students, researchers, adventures and members of the community – and give them 12-18 minutes to expound upon something they feel passionate about. Add hundreds of enthusiastic and engaged audience members, stir and let the love shine in.
TEDx is the global offspring of TED (Technology Entertainment and Design), a series of worldwide conferences created 25 years ago to disseminate "ideas worth spreading." The list of past TED presenters is a veritable Who's Who of influential global leaders including U.S President Bill Clinton, Microsoft founder Bill Gates, theoretical physicist Stephen Hawking and anthropologist Jane Goodall.
Although TEDxMcGill 2010 doesn't feature any billionaires or world leaders on its roster, it boasts a diverse lineup that includes everyone from McGill's own management guru Henry Mintzberg to Brett Rogers, a filmmaker who is documenting his attempts to sail solo down North America's biggest rivers on homemade rafts.
And while each speaker brings something different to the table, all share one common trait. "These are people who, during the course of their lives or in their research have found something that has humbled them," said Jan Florjanczyk, the event's Executive Organizer and a Masters student in Computer Science. "We get them to explore that and the result is always illuminating."
The Nov. 20 event, to be held at Marché Bonsecours in Old Montreal, is looking to attract 600 participants, which will make it the biggest in Canadian history – not bad considering the inaugural TEDxMcGill was held last year.
It is only fitting that this student-run initiative also boasts a solid contingent of student presenters. "What makes TEDxMcGill really unique is that half the speakers are students," said Florjanczyk, who was a student speaker at last year's event.
This year, the selection committee received 70 applications from students and conducted 25 interviews before settling on the nine student presenters. "The quality of all the applications was really impressive," said Jocelyn Murphy, an International Development and Religion undergraduate and the TEDxMcGill speakers co-ordinator. "The selection process took much longer this year."
While many of the participants have experience presenting their material to an audience, TEDx takes the whole endeavour beyond simple lecture, providing speakers regular sessions with a team of coaches who help them refine their presentations.
"They have the content but we're looking for something that is engaging and personal," Murphy said. "We want to move the talks from mere presentation to real performance."
TEDxMcGill; Nov. 20 at Marché Bonsecours. For more information, including ticket information, go to http://tedxmcgill.com/.