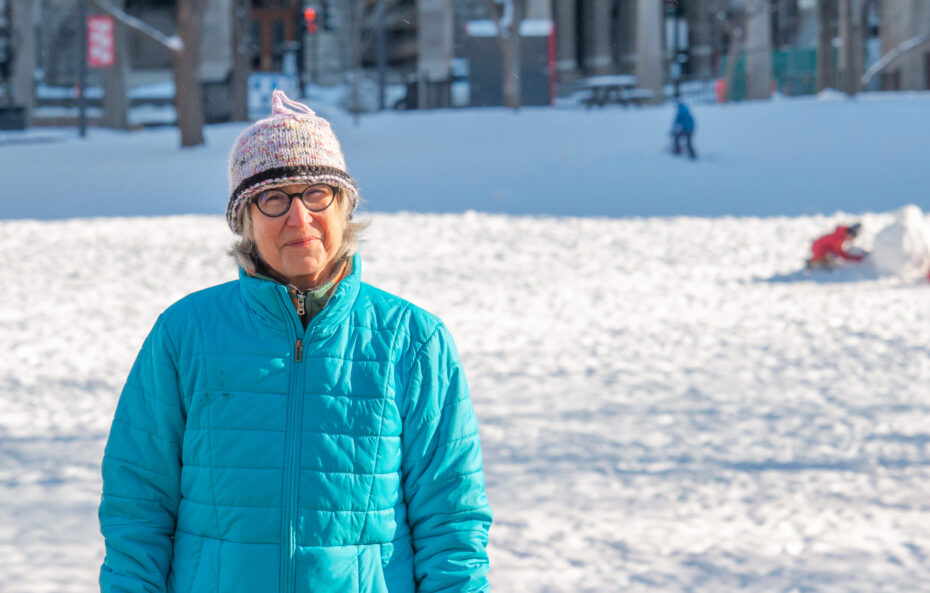 Charged with sharing the wonders of science and history of McGill with the public and tackling the barriers between museums and communities, Science Outreach Administrator Ingrid Birker has been involved in nearly too many sustainable projects on campus to count.
From teaching children to leading McGill's inaugural Climate Change Artist in Residence, there is nothing Birker won't try to bring the museum to the world outside of the Roddick Gates. Nearing her retirement, Birker shares her insight of the role of memory institutions in sustainability in a sit-down with the Office of Sustainability.
As the Science Outreach Administrator at the Redpath Museum, you have a unique opportunity to connect communities on campus. Tell us about some of the experiences you've had while in this position.
When my position was created in 2006, I remember [being told],"know our scientists do a really good job within the Roddick Gates, but … we have a duty to provide the public with a chance to hear about science. I want you to take all of the amazing science that happens here and bring it beyond the gates.'"Since then, we have built lots of different initiatives to do just that.
One of my first experiences working with McGill Office of Sustainability (MOOS) was through community gardening. We would all meet over lunchtime. And it was a great way for all the disparate groups of people working at McGill in the summer to meet and be together outside. Being in a garden lets you feel more energized because you are around living tissues which are breathing and growing and creating so much positive energy. You just can't help to feel good. Sustainable gardens at McGill is more than just gardening – it makes you feel good about the land and working at a downtown campus that cares about health, welfare and environmental stability. The project was about sustainable gardening but being there you got the sense it was the start of something really important.
You have been involved in several projects through the Sustainability Projects Fund (SPF). What was one of your favourites?
I think my favourite experience was SP014 which was called Water is Life. It was about building these normally very traditional exhibits about water but placing them out in the community instead of hiding them away in the museum.
This was my first experience working on a SPF [project], and immediately felt very different from other grant systems. When you get a grant from other agencies, it's usually administered remotely, and you just took the funding and completed the project. Working with MOOS was completely different. We talked frequently and worked on the project together. This taught me a new style of working with someone who isn't just an investor but is a stakeholder who cares about the result as much as you do.
It creates so much more beautiful and thoughtful collaboration – it can sometimes take a bit longer – but it's always been more than worth it. I think more than anything it allows people to feel like they are part of a story instead of just telling it.
Memory institutions like museums are some of the oldest public gathering places. How have you seen memory institutions change with the needs and interest of the community?
The past 20 years or so have brought a very distinctive change. Museums used to be very closed off with rigid purpose and have become much more of a community experience. We started to become much more community oriented. [Museums are] not just a place to borrow books and read posters, but maybe somewhere you could go to experience things as a family.
This cultural shift meant our purpose grew to after-hour social occasions, dates, and birthdays. I think it's a huge change, the museums and cultural institutions as a whole have come to terms with facilitating an experience that is more inclusive for different audiences.
Museums have historically been a place that are not always socially welcoming to everyone. Why are outreach positions like yours important in making memory institutions more inclusive spaces?
This is a tough one, and sometimes trying to find a solution without being thoughtful can sort of feel like social greenwashing. When you're acknowledging the land, for example, do you just add it to the bottom of your brochure, or do you actually go up to every visitor and engage with them about the traditional territory you are on?
And this point of connection with a visitor if you do make that effort… Who gets to hear it? It's a privilege to have easy access to a museum. In order to learn and see your history, you need to visit a certain building between specific times and pay a fee. This makes it harder to access knowledge that's supposed to be public. Sure, institutions are here to preserve our cultural and natural heritage, but we are also responsible for sharing this heritage with the community.
That's what outreach is for – it's to build connections in the community and help break down the silos within museums. That means you have to go out into the world and share with the community on their terms. You can't expect everyone to be able to come into our spaces, so by bringing the museum to the community, we can start to remove some of these barriers.
Why do you think it's important to include these memory institutions in conversations about sustainability?
I'm reminded of the Seventh Generation Haudenosaunee Principle, which is the philosophy that the decisions we make today should result in a sustainable world seven generations into the future. A memory institution's job is to hold the stories and objects of our cultures and preserve them. And looking forward, especially in sustainability, I don't think we can really change things without knowing and learning from the past. Yes, we are memory keepers, but if there is going to be a future with any kind of meaning, we have to think of where we are coming from, and who will learn from the actions we take now in the future.
If you had one message about sustainability at McGill, what would it be?
I think it would just be to be mindful. When you're learning – and we are always learning – take a moment to think on it.
Our society is very task-driven and doesn't always have time set aside for mindfulness. There's a lot of conditioning to produce something, but it's so important to pause and leave room for reflection. And that's what memory institutions should really be for: A place for reflection.
When you visit a museum and take the time to be mindful, you leave that building with more than you did when you entered. This moment of pause is where we integrate knowledge. You never know how much that extra time with the past can change the way you see the future.