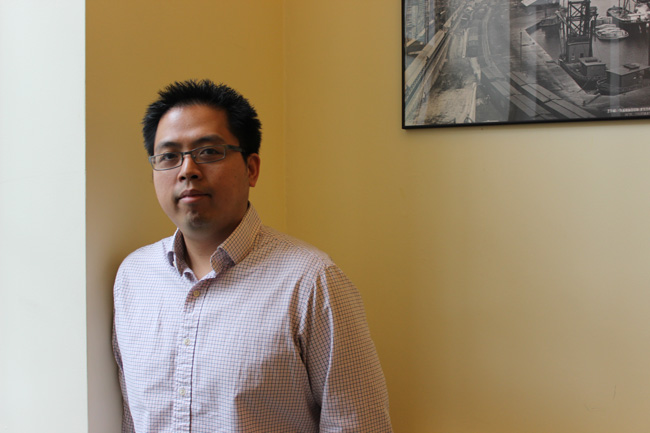 By Kathryn Jezer-Morton
One of McGill's strategic goals is to continue to grow its research funding from outside agencies, and David Nguyen is part of the team working tirelessly to realize this goal.
As a Senior Grants and Agreements Officer in the Office of Sponsored Research (OSR), Nguyen works on matching McGill researchers with large-scale grants and partnerships, usually involving multiple stakeholders on all sides. Increasingly, he is also taking proactive measures to match researchers with funding opportunities of which they might not otherwise be aware. "The basics of what I do is to make sure research teams – McGill researchers, industrial partners, and partners in general – are in the best position to apply to an interested granting program, ultimately leading to a successfully funded grant," explains Nguyen.
Thanks to federal funding through the Research Support Fund, Nguyen and his colleagues are better able to help McGill researchers access the granting programs that can accelerate their research.
A Montreal native, Nguyen got a Master's at Concordia University in Biology, and went on to work at FP Innovations on Montreal's West Island. After three years of working in industry, Nguyen took a job at the National Research Council of Canada. "I did a lot of grant writing for both employers. I found myself a lot better at the writing than at doing the benchwork, so I transitioned into more research management and administrative writing," he says.
Because of his background, Nguyen works frequently on applications bound for the Natural Sciences and Engineering Research Council of Canada (NSERC). "I like to think that my job is similar to the officers' at NSERC, in terms of knowing the program literature, and that to a certain extent, my job makes their lives a little easier," says Nguyen. "If I have done my job properly, when an application is submitted to NSERC from McGill, I will have facilitated the officers' role in passing the application on to NSERC reviewers."
Over the years, Nguyen's many interactions with NSERC officers have allowed him to build expertise in their programs. That additional level of skills – familiarity with NSERC's mission beyond their published material – comes from conversations over a long period of time with NSERC officers about what they are looking for in a successfully funded grant.
Despite his deep familiarity with the milieu in which he works, Nguyen sees plenty of challenge in his job. "The small universities are getting more proactive about applying for grants. Some universities are just developing their research offices for the first time. So the competition is definitely getting fiercer," says Nguyen, noting that the U5 – Canada's five largest research universities, McGill, U. of Toronto, UBC, U. of Alberta, and Université de Montréal – are now sharing market share with smaller universities.
The process of securing a major funding partnership is a "total team effort between my OSR colleagues and our McGill researchers," he says.
The Research Support Fund supports a portion of the costs associated with managing the research funded by the Canadian Institutes of Health Research, Natural Sciences and Engineering Research Council, and Social Sciences and Humanities Research Council, such as salaries for staff who provide administration support, training costs for workplace health and safety, maintenance of libraries and laboratories, and administrative costs associated with obtaining patents for inventions.