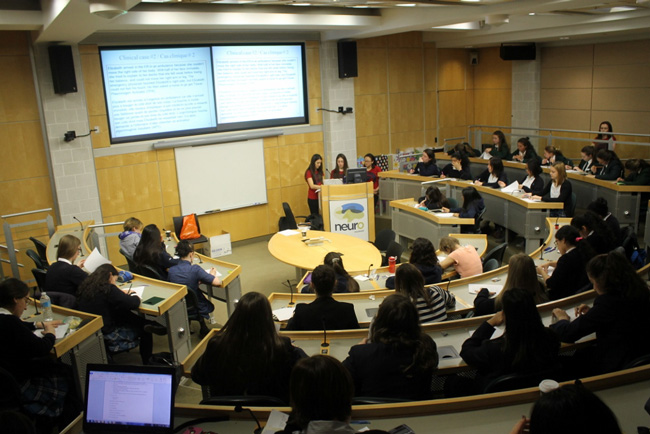 By Shawn Hayward
Fifty Montreal-area high school students put their neurons and synapses to work on March 15 answering questions on … neurons and synapses. The students were contestants in the Brain Bee, a day of neuroscience trivia and learning at the Montreal Neurological Institute and Hospital.
In the end Valeria Hernandez came out the winner, after a tense showdown with runner-up Mounya Duggal. Johanne Ngnu came in third place. All three finalists are students at Collège Sainte-Marcelline in Ville Saint Laurent. As winner, Hernandez will go on to the National Brain Bee at McMaster University in Hamilton, Ont.
The Brain Bee is a bilingual event where contestants answer questions about the brain and the nervous system, including such diverse topics as memory, sleep, emotion, perception, stress, aging, brain-imaging, neurology, genetics and brain disease. The competition begins with a written neuroanatomy quiz followed by a round of questions.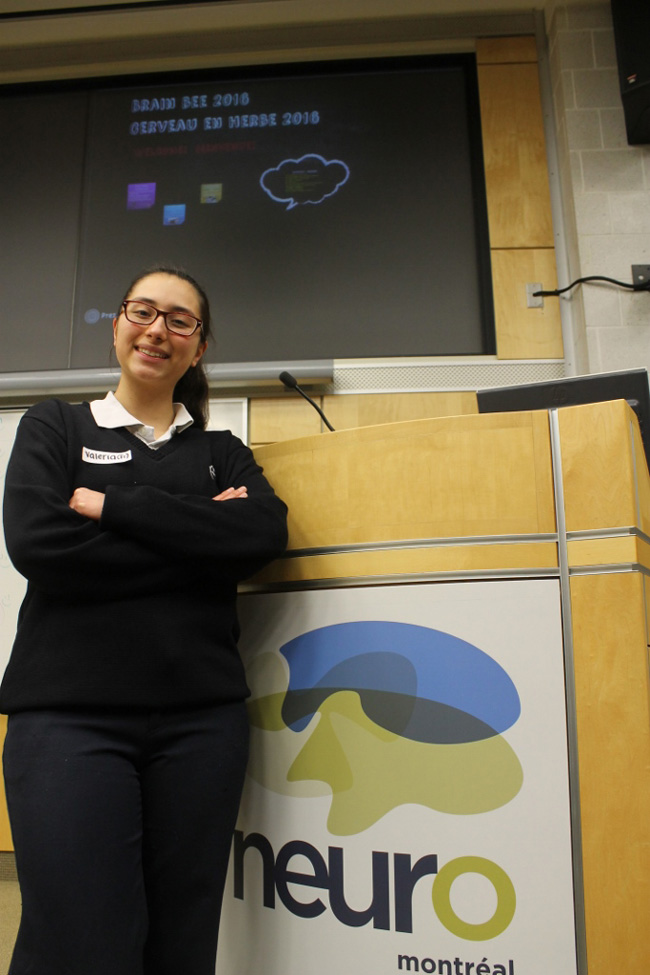 "It's a lot of fun and a good opportunity for the kids to come here and discover, trying their best to answer questions about neuroscience," says Hélène Vallières, VP of the Brain Bee Committee, a group of student volunteers who run the event. "Not everyone has the same chance to get into the medical or science fields, so it's great the school encourages them to explore this direction of study."
This year all 50 participants were female, coming from all-girls schools. Vallières says she was proud to see how far the field of neuroscience has come over the past half-century.
"It's really encouraging, especially since 50 years ago it was largely a male field. Now in medicine more than half of students are women. I think women have a different view of disease. So combining men and women will just make the practice better."
Second-year student Laura Lentini of Collège Villa Maria got interested in the Brain Bee last year during an all-science challenge. She told her teacher she found the chapter on neurology the most interesting and her teacher recommended she participate in the Brain Bee this year.
Lentini now plans to become a pediatric neurologist.
"The hardest aspects would have to be the neuroanatomy. To learn exactly where the parts are and to learn the function of each part," she says. "I also think it's the most fascinating because the brain actually does a lot more than we suspect."
The schools who participated in this year's Brain Bee were Collège Villa Maria, Miss Edgar's and Miss Cramp's School, École internationale de Montréal, The Study, Villa Sainte-Marcelline, Collège Sainte-Marcelline and École secondaire Robert-Gravel.