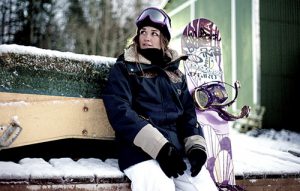 Web fundraising campaign underway to help pay for travel expenses
By Jim Hynes
To follow her dream, Alex Duckworth needs to follow the snow.
For the McGill student and member of the Canadian Halfpipe Snowboard Team, the dream is taking part in the Winter Olympics in Sochi, Russia, in February 2014 – a big enough challenge in its own right. But following the snow, in other words, travelling to places she can train and compete for as many months of the year as possible, is no easy feat either.
Duckworth, 24, a member of the halfpipe team since 2008, came to McGill in fall 2010 as a transfer from Acadia University. She chose McGill, she says, because she has family in Montreal and she wanted a big city university experience. What's more, she comes from a long line of McGillians: University alumni in her family include her half-sisters Tiffany (BEd'90, BScN'95) and Samantha (BMus'92), her sister, Anna (BA'06), her father, John Duckworth (BEng'61), her grandfather, Jack Duckworth (BA'27, MA'28) and her grandmother, Muriel Duckworth (BA'29, LLD'84), the noted Canadian pacifist, feminist and social activist.
A native of Kingsburg, Nova Scotia, a little town in Lunenburg County about an hour from Halifax, Duckworth has completed "about two semesters worth" of Liberal Arts (undeclared) course work at McGill. She's taking a break from her studies this year and maybe next as well, to continue training and competing on the World Cup circuit that might eventually allow her to earn a spot on the Canadian halfpipe team for Sochi. She'll be back though, she says. The only question is when that might be. Depending on how her snowboarding career works out in the next 12 months or so, she may only hit the books again post-Sochi, in Fall 2014.
"There's a good chance that (returning to McGill) will be after the next Olympics, but I don't want to write-off the possibly of coming back earlier, either," Duckworth says. "It's kind of nice to have a balance between a sport and something else going on in your life, especially with a sport that's so high-risk. Injuries can derail your plans sometimes so it's nice to have something else to devote your energy to if something happens."
In fact, it's a broken ankle suffered in October 2009 that is partly responsible for her winding up at McGill back in 2010. That mishap, which occurred while training on a skateboard, ultimately caused her to miss out on the Vancouver 2010 Games. With her season cut short, Duckworth narrowly failed to earn one of the four spots on the team and ended up serving as an alternate instead. Her Olympic dream was reduced to being the forerunner who tested out the halfpipe prior to the actual competition.
"Everything that happened in 2010…all of that plays a big role in my feelings about the next Games," says Duckworth, who currently places 93rd in the world according to the International Ski Federation (FIS) snowboard rankings and sits 50th on Ticket To Ride World Snowboard Tour rankings.
The injury bug bit Duckworth again in 2011 when she suffered a foot injury that cost her the end of the last competition season. To make up for more lost time on the snow, Duckworth spent 10 weeks during the latter part of our summer (their winter) training and competing in New Zealand. Now she's preparing for the upcoming season, and getting ready to head for Whistler, B.C., her home base during the Canadian winter, which brings us back to the challenge of travel and how to pay for it.
This year's World Cup season includes events in Finland, Utah, Colorado, Quebec, Russia, Spain and New Zealand. Unfortunately, Duckworth's National Sporting Organization lost its travel budget this year, leaving the burden of it on her and the sum she earns as a "senior carded" national athlete. The almost $9,000 she needs to travel represents almost exactly half of what the government provides her with annually.
"That's my focus right now, budgeting, figuring out exactly how much money I have and to what level can I take my snowboarding this year," she says.
As it stands now, Duckworth hopes to fly with a little help from her friends, and even total strangers. In September, she embarked on a campaign to raise the travel funds she needs with an organization call Pursuit, a web-based program that is accessible to any Canadian athlete looking to raise money. Visitors to Duckworth's Pursuit page can view a video bio of her and make a donation of anywhere from $25 to over $2,000 (the latter of which gets the donor an Handpresso portable espresso machine, an ice cream date with the diminutive "Ducky," as her friends and fellow boarders call her, and "permission to throw a pie in my face, if and when our paths intersect."). With 28 days left in the two-month campaign, Duckworth is more than halfway to her goal of $8,652.
"That's where I'm going to channel all my energy," Duckworth says. "By the end of November, I'd ideally like to exceed my goal, because I could definitely use all the money I can get at this point. I really can't say enough about Pursuit. If it gets the publicity it needs to really take off, I think it will be a huge player in sport funding globally."
Once her budget is set, Duckworth can start devoting all of her energy to getting good results in the halfpipe and slopestyle events she also competes in. The first World Cup event of the season takes place in Utah in December.
"Sochi is the ultimate goal," Duckworth says. "I'm really looking forward to the next 18 months and just working on improving my riding and breaking it all down and kind of seeing that all come together and peak during the Russia Games. I'll be about 26 then, which is a good age for me to be at a strong point. I'm excited."
You van view Alex Duckworth's Pursuit video and make a donation to her campaign here  and learn more about her snowboard career on her bio page on the Canada Snowboard website.