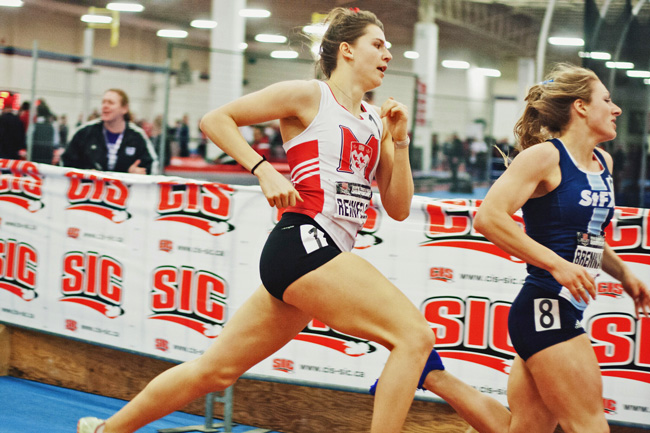 Being a McGill student is challenging all by itself – especially at this time of year with midterms, papers and various assignments looming large on the horizon. Imagine being a varsity athlete on top of that, with the added commitment to training and competing for the University. Recently, the Reporter spoke to some of our top student-athletes to find out what makes them tick. 
Helena Reinfels: Trial by fire
When talking about her first semester at McGill, Helena Reinfels chuckles. "There was a lot of frustration, a lot of questioning if I was doing the right thing and, definitely a lot of tears," says the geography senior, shaking her head with a wry smile. "My transcript is still suffering from that semester."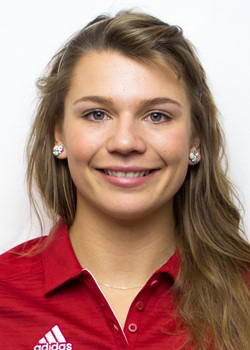 Unlike many first-year students, Reinfels wasn't just contending with the academic demands that come with attending McGill. The native of Puslinch, Ont. was also trying to balance her time in class with her time on the track as a member of the varsity track and field team.
"There was a huge learning curve," she says. "On more than one occasion, I asked myself if it was worth it all the time and effort and being exhausted all the time and falling asleep in lectures."
The challenges in the classroom impacted her performance on the track. "A happy runner is a good runner," she says. "And I wasn't very happy."
But, as a sprinter-turned-hurdler, Reinfels was used to hitting the occasional obstacle. Though she was knocked off balance, she fought to regain her stride and found her footing.
Reinfels learned how to better manage her time; analyze each upcoming semester to pre-emptively deal with those moments where track and school might collide; and – most importantly – make sure she got enough sleep.
"It's really a question of being extremely efficient with my time because there's not a lot of downtime in my life," she says. "If I have an hour between classes I have to use it well – even if it means sleeping because I know being well rested contributes as much as anything to the success I want to have both in the classroom and on the track."
Reinfels left the hard times in her wake and although she still admits to feeling overwhelmed at times, she is better able to manage the stress.
"It's a question of confidence for me," she says. "I don't do well in exams and early on I used to panic – go completely blank even though I was prepared for it.
"My mantra this year has been 'trust yourself,'" she says. "When I get to the exam I know I've put in the necessary time and effort. I know the subject. It's just like track. You get to the line and you know you've done the work, so when the gun goes off you trust your body. Your legs will carry you."
Last week at the Canadian Interuniversity Sport (CIS) national championships, Reinfels' legs carried her to a silver medal in the pentathlon, a grueling five-sport even that she only started competing in last year. "I came into the nationals ranked fourth and to win a silver in my last meet competing for McGill is great," she says. "I couldn't ask for a better ending."
Reinfels will graduate in December. The finish line is in sight. When asked to look back over her time at McGill and evaluate whether all the time, sweat and tears was worth it, she doesn't hesitate. "I ended my McGill track career with a silver medal at the nationals and come December I'll have my degree," says Reinfels. "Was it worth it? Every minute."
Olivia Sutter: Celebrating success, learning from failure
Olivia Sutter is one of those impossibly accomplished people. The fourth-year senior majoring in world religions and political science is a member of the McGill Martlets hockey team competing at the CIS national championships in Alberta this weekend. An Academic All-Canadian; a member of the Principal's Student-athlete Honour Roll; and acting president of the McGill Varsity Council, she has been recognized for combining excellence in sport, academics and community engagement. To top it off, when Sutter is not squeezing the most from herself on the ice or in the classroom, she's volunteering for community organizations like Héma-Québec, Sun Youth, the Alouettes Foundation for Leucan, the Best Buddies Program, or the Right to Play.
"I do have downtime," Sutter says with a laugh after it is suggested she must not sleep. "You definitely have to have some stress relief. But you can't do everything so you have to pick and choose."
For Sutter, there is no debate over what is that first choice. "For me, school is number one over hockey and if I don't have that in order everything else falls apart."
As with track's Helena Reinfels (profiled above), Sutter learned how to prioritize the hard way. "I did one year at Carlton before I came to McGill so I had an idea of what it takes to be a student-athlete in terms of commitment and time management," she says. "But I quickly learned that McGill was at a whole different level. I did not do very well in school that first year."
Sutter learned to deal with what sometimes seemed like an overwhelming schedule by breaking things down into smaller, more manageable tasks. "You want to have mindset that you are going to get as much out of each day as possible. Even if it is just chipping away at a 15-page paper or just focusing on one aspect of your game in practice," she says. "You want to isolate the things you want to work on and make sure you're improving them every single day."
She attributes much of her success to her Martlet teammates and the team's coaching staff – and not just at the rink.
"It is definitely easier when you have teammates who have all the same goals that you have. We support each other," she says. "If one person needs to get a lot of studying done, we will study with her to try and help keep her motivated
"And our coaches are great, very supportive. They are very interested in how we are doing in our courses," says Sutter.
On her busiest days, Sutter has 2-3 courses in the morning, followed by an hour session in the weightroom and another hour or so practice with the team. She often finishes her day with a Varsity Council meeting.
"I actually prefer being busy because it makes me stick to my schedule," she says with a laugh. "Sometimes when I have a day off, I have great plans of doing laundry and buying groceries but by the end of the day I haven't accomplished much."
The Martlets have an unwritten rule in which once a person walks through the dressing room doors, the outside world has to be left behind. "You want to come to the rink with a smile on your face no matter what is going on," says Sutter. "If something is bugging you, you always have your teammates to fall back on because everyone is going through the same thing."
Despite her many successes, Sutter says, like everyone, she has her rough patches. "There are times when you get a bad mark on an assignment or you fail a midterm and then you go and lose both games on the weekend. It feels like everything is falling apart," she says. "The important thing is to really celebrate the good moments and to learn from your mistakes."
[Editor's note: Last night, the UBC Thunderbirds skated to a hard fought 4-2 decision over McGill, the defending silver medalists, in a sudden-death quarter-final at the CIS women's hockey championships. McGill will face the St. Thomas University Tommies from Fredericton in a consolation semifinal today at 1 p.m. Eastern. Read the game story.]
Vincent Dufort: Embracing every challenge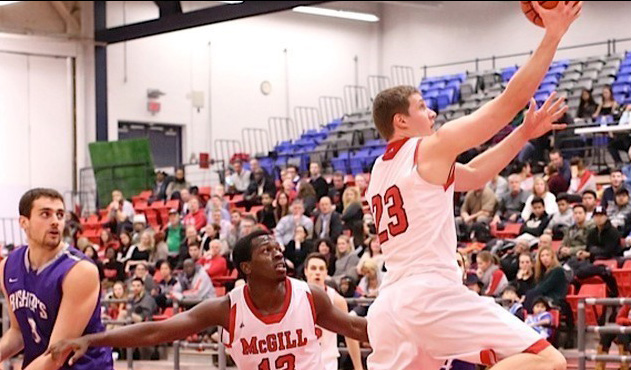 When Redmen shooting guard Vincent Dufort was named recipient of the Ken Shields Award in recognition of his excellence in basketball, academics and community involvement at the CIS Basketball Awards Gala on Wednesday night, no one was surprised, least of all his head coach, David DeAveiro.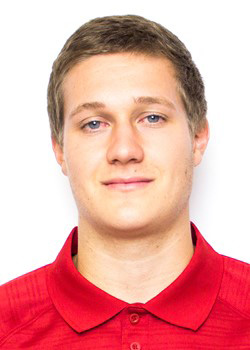 "Vince has done everything humanly possible that a player can possibly do for our program," said DeAveiro. "He's an amazing young man that we've asked to do almost everything for us and he embraces every challenge. We've asked him to fill in at various positions, including point-guard and he says 'Whatever you want me to do coach, I'll do it.' That's his attitude since he's been here. He's a great player and a true leader but more than that, he's also an unbelievable competitor."
A four-time all-star and the RSEQ MVP two years ago, Dufort excels off the hardcourt as well. The fifth-year physical education senior has a stellar 3.34 grade point average and is very active in the community. He has served three years on the McGill Varsity Council and assists in various community service initiatives, including an annual Christmas food drive for the Sun Youth organization that helps feed the needy.
Dufort says much of his success can be traced back to two sources – basketball and his parents. "My parents always been there to help and support me with anything that I need. They have taught me all of the important values that I believe in. I owe the world to them," he says. "Basketball teaches you so many things that you can use in life; leadership, teamwork, dedication, consistency. The list could go on and on. This McGill program does an amazing job of encouraging the development of all of those things."
Like so many of McGill's varsity athletes, Dufort has come by his success the old fashioned way – he's earned it. "We're in the gym every day of the week during the peak time of the year, sometimes twice or three times a day. Whether it's practice, weights, a shoot, or yoga and stretching, we're doing something to get better every day," he says.
"If you want to excel in basketball while being at a school like McGill, organization and sacrifice is key. You can't get away with living a normal student life. You have to organize your schedule so that you can stay on top of school and your sport, while also making sure you get enough sleep and have enough energy for everything," he says. "It's important to put 100 per cent into whatever you do, regardless of what it might be. Otherwise you're only cheating yourself and might not ever know what you able to accomplish."
Like so many first-year varsity athletes, Dufort looks back at his first year with a rueful shake of the head, saying how he remembers feeling "overwhelmed" by the workload as a freshman. Thanks to his love of hard work instilled in him by his parents – and the support of some senior players – he soldiered on.
Today, he tries to mentor newcomers to the squad. "I see some of the first years struggling with it at times but as seniors we tell them that we've all been through it," he says. "They know that if they ever need any help with anything they can come to us. Just like I had my seniors helping me out in my first year.
"Everyone learns how to cope with the stress in their own way. Personally, I like to use basketball to get away from all of the stress and kind of forget about the real world," says Dufort. "Of course if anything doesn't go my way either on the court or in class it stays in the back of my mind, but I always know that everything will be fine if I keep working hard."
[Editor's Note: Last night, the fourth-seeded Calgary Dinos rallied in the final 30 seconds to defeat No. 5 McGill 72-69 in a tense quarter-final battle at the CIS basketball championships. The loss eliminated McGill from medal contention as the Redmen will face host UBC, in a consolation semifinal today at 10 p.m. and a chance to contend for fifth place. Read the game story.]