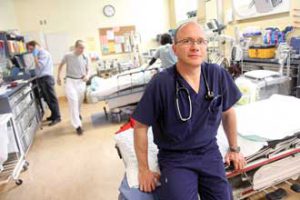 By Neale McDevitt
Clowns do it. Cooks do it. Judges do it. Jewelers do it. From time to time, everyone from accountants to zookeepers gets stressed-out by their job. Deadlines, quotas and demanding bosses – all can contribute to that uncomfortable feeling in a worker's stomach that can range from butterflies to dread.
While most of us are probably closer to the butterfly side of the spectrum, there are those who have to cope with pressure on a much larger scale. Here are three McGillians who, by their very job description, not only cope with big-time stress, but manage to thrive on it.
The Boy Scout
"There is no stress at McGill. Didn't you get the memo?" asked Wayne Wood, Associate Director, Environmental Health and Safety, with a chuckle.
While much of the 25-year McGill veteran's job borders on the mundane – dealing with government regulators and ensuring our labs meet safety standards – he also handles some of the University's hairiest situations.
"In 2003, we had a chemical explosion in Stewart Biology which was scary because we had a container of hot, concentrated acid explode as two of my people walked in. Luckily, their Hazmat suits saved them, but they went from being the clean-up team to needing to be cleaned up."
Borrowing from the Boy Scout credo, Wood says nothing combats stress better than solid planning. "From my end, you can never over-prepare," he said. "Even if the worst-case scenario doesn't occur, you're always better off planning for it."
Would Wood trade his job for something less intense? "No thanks," he says. "That would be death by monotony."
The Frontliner
Like Wood, Pierre Barbarie enjoys periods in which his job-related stress is fairly middling. As Associate Director, University Safety, Barbarie oversees McGill security, be it related to special events or the numerous construction sites dotting the downtown campus these days.
But, as the University's Incident Commander, Barbarie is the man on the frontline making the important decisions when the hazardous material hits the fan – at any hour of the day or night.
An explosion in a lab in the Otto Maas Chemistry Building last year is a good case in point. "It happened in off hours and as I was driving in I was gathering information. How big was the explosion? Was anyone hurt? Do we need to evacuate adjoining buildings?" said Barbarie. "My priority is always people – how do we safeguard others beyond the actual event?"
Surprisingly, dealing with crises isn't the toughest part of the job for Barbarie. "The most stressful part for me is having to pass along information to people higher up while I'm trying to deal with the situation. Everybody needs to know. Now."
The Adrenaline Junkie
Unlike both Wood and Barbarie, Jean-Marc Troquet deals with life-and-death situations on a regular basis. The head of the Montreal General Hospital's Emergency Department (ED) and a member of the Faculty of Medicine, Troquet thrives when things are at their craziest.
"Emergency Department doctors are adrenaline junkies. That's why we choose this speciality," he said via cell phone as he rushed from hospital to meeting room. "We like the rush of having to deal with the unknown and with having to make quick decisions sometimes with only partial information."
But Troquet says ED doctors sometimes have to reign in their sense of invincibility. "The difficulty is in admitting that there's too much to handle because everyone thinks they are a superhero," he said. "The best ED doctors are those who know their limits and when to ask for help. In the end, all that matters is the patient and not our egos."
Troquet says that the main source of stress for ED doctors isn't the work – they are trained to handle incredibly high-stress situations – it's the workload. "Our medical system is under tremendous pressure, and the brunt of it is taken by the ED," he said. "We have too many cases that simply don't belong in the ED and who are sometimes there for several days. The sheer volume of these cases is the hardest part of the job to deal with."