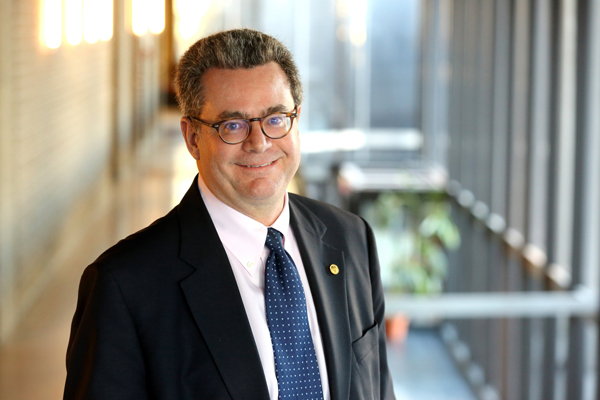 On September 3, Provost Christopher Manfredi issued the following message to the McGill community.
La version française suit. 
Dear members of the McGill community, 
Welcome to the 2020-2021 academic year! I hope that you have all enjoyed some time for renewal over the summer months.  
Although this Fall term will be unlike those past, our commitment to a respectful and inclusive campus has not wavered.  This includes the development of McGill's Plan for Addressing Anti-Black Racism, which include specific actions, targets, and timelines and will be accompanied by an allocation of resources to realize its goals. Addressing anti-Black racism is a matter of crucial importance, and I look forward to sharing the plan with you at the end of the month.  
As an institute of higher learning, we share a particular responsibility to engage with one another with respect, empathy, and openness to diversity of ideas, identity, and experience. To help us best fulfill this responsibility, I suggest everyone take a few minutes to review McGill's Policy on Harassment & Discrimination Prohibited by Law and Policy against Sexual Violence. Our Equity Team and Office for Sexual Violence Response Support & Education (OSVRSE) offer resources and programs that can strengthen our understanding of these Policies and measures to identify and challenge harassment, discrimination, and sexual violence. Confidential support services are also found through a range of resources.  
I also remind those of you joining McGill as new students, faculty or staff that each of us must complete McGill's Sexual Violence Education Program: It Takes All of Us. This must be done as soon as possible, if you have not already done so.  
It Takes All of Us is just one measure McGill has put in place to prevent and respond to campus sexual violence. It is complemented by the work of our OSVRSE, which supports survivors (who may be students, faculty or staff) and leads educational and training activities for our campuses. I further remind the community that reports of sexual violence are investigated by independent investigators who are mandated to carry out their work in a manner that is procedurally fair and trauma-informed.  
Thank you all for doing your part in upholding a respectful and inclusive campus community at McGill.  
Best of luck for the Fall 2020 term! 
Sincerely, 
Professor Christopher P. Manfredi  
Provost and Vice-Principal (Academic) 
 ___________________________________________
Chers membres de la communauté mcgilloise, 
Bon début d'année universitaire 2020-2021! J'espère que vous avez profité de l'été pour refaire le plein d'énergie.   
Même si la session de cet automne ne ressemblera en rien aux précédentes, nous demeurons déterminés à offrir un milieu respectueux et inclusif sur nos campus. C'est dans cette optique que nous travaillons au Plan de lutte contre le racisme anti-noir de l'Université McGill, qui renfermera des mesures, des objectifs et des échéanciers précis, et sera accompagné des ressources nécessaires à sa réalisation. Ce dossier est d'une importance cruciale, et c'est avec grand plaisir que je vous présenterai ce plan à la fin du mois. 
En tant qu'établissement d'enseignement supérieur, nous avons la responsabilité d'interagir les uns avec les autres avec respect, empathie et une ouverture à la diversité des idées, des identités et des expériences. À cette fin, je vous invite à prendre quelques minutes pour lire la Politique sur le harcèlement et la discrimination interdite par la loi et la Politique contre la violence sexuelle de l'Université McGill. Notre Service de l'équité et notre Bureau d'intervention, de prévention et d'éducation en matière de violence sexuelle offrent des ressources et des programmes qui peuvent améliorer notre compréhension de ces politiques et de ces mesures et, ainsi, nous aider à repérer et à combattre le harcèlement, la discrimination et la violence sexuelle. Vous pouvez également obtenir du soutien confidentiel par l'entremise de diverses ressources.  
J'aimerais également rappeler aux nouveaux étudiants, enseignants et employés de l'Université qu'ils doivent suivre le programme de sensibilisation à la violence sexuelle de McGill, Ça nous concerne toutes et tous, dès que possible, si ce n'est pas déjà fait.  
La formation Ça nous concerne toutes et tous n'est qu'une des mesures que l'Université a prises afin de prévenir et de contrer la violence sexuelle sur le campus. À cela s'ajoute le travail du Bureau d'intervention, de prévention et d'éducation en matière de violence sexuelle, qui apporte un soutien aux survivants (qu'il s'agisse d'étudiants, d'enseignants ou d'employés) et organise des activités de sensibilisation et de formation pour nos campus. Je tiens aussi à rappeler aux membres de la communauté que les signalements de violence sexuelle font l'objet d'une enquête menée par des enquêteurs indépendants qui doivent s'acquitter de leurs tâches de façon équitable sur le plan procédural et en tenant compte des traumatismes.  
Je vous remercie de nous aider à offrir un milieu respectueux et inclusif à l'ensemble de notre communauté mcgilloise.   
Je vous souhaite une excellente session! 
Cordialement, 
Professeur Christopher P. Manfredi  
Vice-principal exécutif et vice-principal aux études