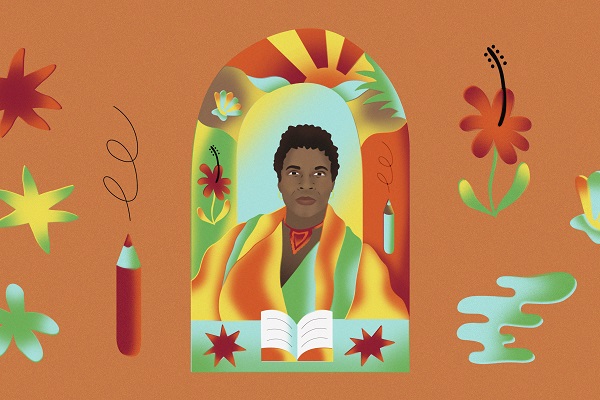 On Thursday, Oct. 5, from 6 to 7:30 p.m., Equity at McGill and the Department of English welcomes multi award-winning author Nalo Hopkinson to deliver the keynote address to mark McGill Queer History Month 2023.
The keynote address, titled "Creating Other Worlds, Telling Our Stories," will engage audience members to answer questions such as: What's the point of inventing worlds that don't exist? Shouldn't we as 2SLGBTQIA+ people focus on fixing the things that are killing us in this world? 
This year's Queer History Month theme, "Other Worlds," aims to inspire reflections on future utopias and how to process current realities through the perspectives of speculative fiction.
Fiction for social change
Hopkinson has described her writing as "full of the unreal, the futuristic, the unlikely, the impossible." Several of her works are inspired by the Afro-Caribbean culture and folklore of her childhood, and throughout her career she has cemented her position as a leading Black and queer voice in science fiction.
In 2021, Hopkinson became the first Black woman to win the Damon Knight Grand Master award, which recognized her lifetime of achievements in writing, mentorship, and teaching.
When asked about the role speculative fiction plays in framing our current realities, Hopkinson refers to fiction as an "empathy engine," a term coined by Ed Finn, Director of the Center for Science and the Imagination at Arizona State University.
"[Fiction] lets us feel, at a body-deep level, what it's like to live in someone else's experience," says Hopkinson. "We know what the world is like nowadays for 2SLGBTQIA+ persons."
"Speculative fiction is the fiction of social change," says Hopkinson. "Its storytellers can put their audiences into worlds the way those worlds could and should be, or it can take us to where our worlds might end up if things keep going the way they're going. It can imagine models for how anti-oppressive change might happen."
Facing an ever-changing reality
In a world where 2SLGBTQIA+ persons continue to face political and social obstacles, the importance of increasing visibility of 2SLGBTQIA+ communities and advancing education of Queer history is more important than ever.
"It is essential that we create opportunities to showcase the pride, talent and resilience of queer communities both on and beyond the McGill campuses," says Andrea Clegg, Equity Education Advisor at Equity at McGill, when asked about the importance of universities highlighting Queer History Month within its communities and on campus.
"This becomes increasingly imperative at a time when 2SLGBTQIA+ persons are increasingly under threat through campaigns and protests that seek to erase queerness, and in particular, trans identities," they add.
Hopkinson will be joined on stage by Amber Rose Johnson, PhD, who will be moderating the talk's Q&A period. Johnson, a McGill Third Century Postdoctoral Research Fellow, is a scholar and practitioner dedicated to Black study and specializing in contemporary experimental poetry and performance.
"In my own research, I am committed to exploring the ways that Black artists, writers, and thinkers use their creative practice to crack open stagnant ideas of who we are and move us closer to the rich potential of a radical otherwise," says Johnson. "Nalo Hopkinson is a trailblazer in that regard, and I'm thrilled to be a part of her visit to McGill's campus."
Hopkinson will also be leading a creative writing workshop at the McGill Equity Team Office at 11 a.m. on October 5.
"The creative writing workshop will help students to develop and expand their creative practices of world-making through acts of critical imagination," says Professor Erin Hurley, Chair of the Department of English. "Such creative acts – whether in the form of literature, film, media, or theatre – lie at the core of our Department and its purpose."
Consult the Queer History Month 2023 webpage for a full list of events.