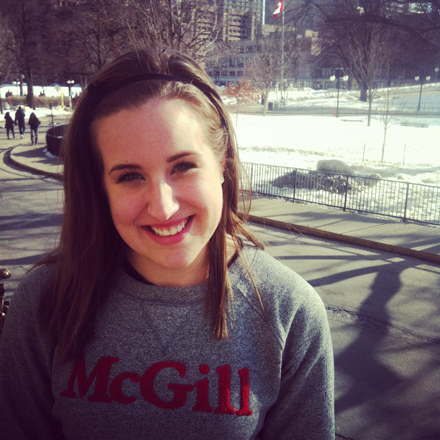 By Neale McDevitt
While Suzanne Fortier has been making headlines as she assumes her role as McGill's 17th Principal, she isn't the only campus leader beginning a new mandate this week. Elected in March, Katie Larson officially begins her tenure as Students' Society of McGill University (SSMU) President at the same time.
But while Sept. 5 marks Fortier's very first day as a member of the McGill administration, the same can't be said of Larson. "I feel like I've been doing this for a long time," Larson said.
And with good reason. Prior to her election in March, Larson had already put in three years as a SSMU Councilor, as both the president of the Music Undergraduate Student's Association (MUSA) and the VP External of the Faculty of Music.
"At first I didn't know that I had to sit on [the SSMU Council] and, honestly, I was a little apprehensive," said Larson. "But I really enjoyed planning the events and providing the services. There is something very rewarding about it, especially at the faculty level, because you're always interacting with people."
In the world of student politics, where the turnover is understandably frequent, three years of experience is an eternity. Not only did Larson's extended run as a faculty representative give her the confidence to run for the SSMU presidency, it also armed her with an understanding of how to push stubborn projects and initiatives to completion.
"When I was on MUSA, it took us three years to rewrite the constitution and get it through and since I was there all three years I got to see the entire process," said Larson. "But it's a different story with the SSMU where you have a completely different executive every year. Because there is no continuity it can be difficult to pick up the projects and keep them going."
Keep the ball rolling
This is why one of Larson's immediate priorities is to complete the review of the SSMU governance documents. "This is a project that [former SSMU President] Josh [Redel] was working on last year and we've picked it up and will see it through until completion," said Larson. "We're hoping to have our constitution ready for the Fall General Assembly. The last one was adopted back in 1999 so this is very exciting."
"The challenge on a day-to-day basis is to keep projects like this going because they will have a significant impact over the long term," she said.
As with many student leaders, Larson must contend with apathy – or at least the perceived apathy – of her constituents vis-à-vis their involvement in campus activities or, more specifically, the SSMU.
"Of course we ask and hope that more students take part in SSMU elections and referenda. But those numbers don't take into account the students who are heavily involved in clubs.
"If you're going to club meetings every week then you're involved in the SSMU all the time," said Larson.
Engaging more students
"Besides, the structure at McGill means we have a lot of students who are more involved with their faculty association or departmental association.
"We're engaging more students than people think," Larson continued. "I think it's great that we do have faculty associations that have such strong programming for the students, whether it is social or program-specific stuff.