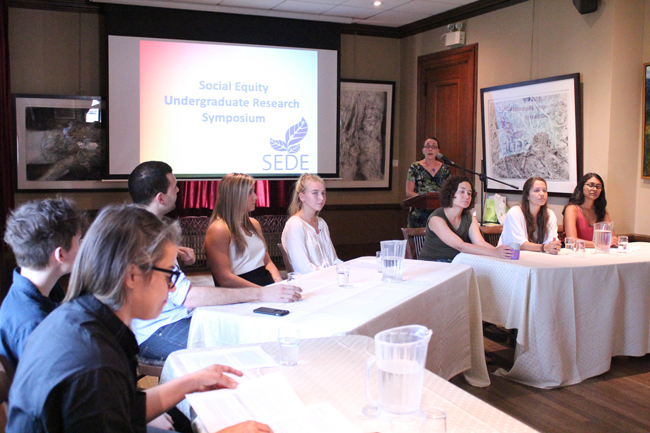 On Sept. 27, the Social Equity and Diversity Education Office (SEDE), in partnership with the Arts Undergraduate Research Internship Awards (ARIA) and the Science Undergraduate Research Awards (SURA), hosted a symposium for the first-ever Social Equity Undergraduate Research Awards (SEURA). The initiative was launched last year with the goal of bridging McGill's research with the diverse work on equity in the community and resulted with five students receiving funding for projects that focus on equity, social justice and diversity. At the Symposium, award-winners had the opportunity to share some of the research.
In SEDE's definition, social equity, diversity and social justice research attempts to deepen the understanding of the experiences specific to people with diverse backgrounds or identities, including how these experiences impact marginalization and oppression. It also attempts to examine the barriers that prevent all individuals in society to equally access opportunities to grow, fulfill their fundamental needs, and to fully contribute to organizations, with the understanding that equal access and opportunity requires different actions for everyone. Finally, it attempts to develop and assess strategies that can contribute to remove the aforementioned barriers, whether in society or in organizations.
Funded by the Office of the Provost and the Faculties of Arts and Science, the drive behind kick-starting these awards is the belief that "the university has a moral duty to take up research on equity, and it has the intellectual resources to do so," according to Angela Campbell, Associate Provost in Policies, Procedures, and Equity, who approached the SEDE office in order to initiate this project.
SEDE is dedicated to providing education and training to contribute to making a more respectful and inclusive campus, with special focus on how to connect with community to stimulate different learning experiences. While they support many different projects that have a focus on enriching student learning with community issues, SEURA is the first opportunity to provide funding to students themselves.
Providing funding for emerging researchers to pursue their own projects is, in a way, an exercise in equity itself. As Victor Chisholm, Undergraduate Officer for the Faculty of Science, pointed out, "these awards provide an opportunity for undergraduate students to pursue research that otherwise might not happen. For many students, securing funding means they can devote their summer to something they are passionate about, but couldn't otherwise afford to pursue if it meant giving up a summer job."
In her opening speech at the Symposium, moderator Professor Jessica Ruglis stressed the importance of student-centeredness in University equity efforts, claiming that undergraduates have "inherited views and methods that are not their own," and we should be facilitating spaces where they can intervene in and alter the research process to reflect their current realities. These awards are one way students can take more of a lead in investigating their subjects in a way that foregrounds accountability, and the symposium itself is an important platform for continued interdisciplinary exchange between the researchers themselves.
The undergraduate award beneficiaries come from diverse fields and equity figures into their research in different ways – whether embedded in the methodology, the ethics practiced with participants and the audience, or a consideration of the impact itself.
Madelyn Barton, a U4 Physiology student, spent the summer examining stress response systems in children who have experienced abuse, looking at biological risk markers of depression in the hopes of eventually contributing to better resource allocation to aid mentally ill individuals.
Nathalie Cook studies Psychology, and her work focused on judging the quality of different preschools in East Africa, and the effect this has on developmental difficulties of children who are enrolled.
Benji Northwehr's research is on transformative justice movements that are anti-carceral in their approach, and they are interested in how anti-sexual assault organizations go beyond the survivor-perpetrator relationship to address structural causes of in/justice.
Garima Karia uses her position at the intersections of History, Political Science, and Gender studies in order to amplify the overlooked narratives of female activists and political actors in Afro-Asia between 1945 and 1975, using her findings to inform her own identity as a woman of colour in diplomacy.
Finally, Paulina Elias, a U3 student of Linguistics and Psychology, focuses on language revitalization efforts through the documentation of Mayan language Chuj, spoken in Guatemala and Mexico, and is interested in how language is essential for the transmission of worldviews in Mayan communities.
The burgeoning researchers discussed what had been most rewarding about their research experience, including their positive mentorship opportunities, relationships with informants, connecting with different communities, and even with one's own identity. Northwehr prioritized informal materials such as zines and blogs as sources of data, mindful of the specific conditions of the marginalized positons of those at the centre of their research, explaining that their project allowed them to "bridge the gap between the theoretical and the empirical."
In Elias' work, she claims: "receiving the award opened my eyes to the fact that equity in the realm of language revitalization is about taking into consideration all aspects of culture and recognizing that everyone, regardless of background, should feel comfortable speaking and interacting in their own language and manner."
Supervising professors added how "grounding it is to be in conversation with young people, watching them grow into independent researchers," and appreciated how students' equity-centred approaches were able to "humanize" the research that was already underway.
Among some of the great questions that were discussed during the symposium, one major inquiry tended to loom larger than others when it comes to equity research projects at McGill. How can research truly be equitable when it is largely an inaccessible undertaking in itself? While there is no simple answer to this question, and indeed SEURA itself was initiated as a means to temper this, a major takeaway from the discussion asks what is being done with this research, informed as it is by the principles of equity, diversity and social justice. As one presenter noted: "equitable research involves how it is disseminated," and Ruglis argued that there must always be reflection on who exactly one's research is for.
While there has been a stronger push in the past decade for disseminating knowledge beyond the academy, there continue to be many barriers to access that are isolating to those who stand to gain the most from such knowledge sharing. Karia, reflecting on her project exploring narratives of women of colour in diplomacy, stated: "I have seen how far we have come, but also how much work there is still to be done."
Equitable research is not a given. Ensuring that diverse voices are not only represented in academic work, but also participate in producing such work, and have access to their findings should be a central tenet of McGill's vision. Creating opportunities for students to not only learn how equity can orient their own questions and methodologies, but also to take the reins in curating these projects, is an important step in the process. The Social Equity Undergraduate Research Awards, and the Symposium which offered a space for a reflection on its accomplishments, is a good example of how intellectual ventures can and should engage with an accountability of how that information is gathered and shared, and it is exciting to see what directions young researchers have already been able to take such dialogues.