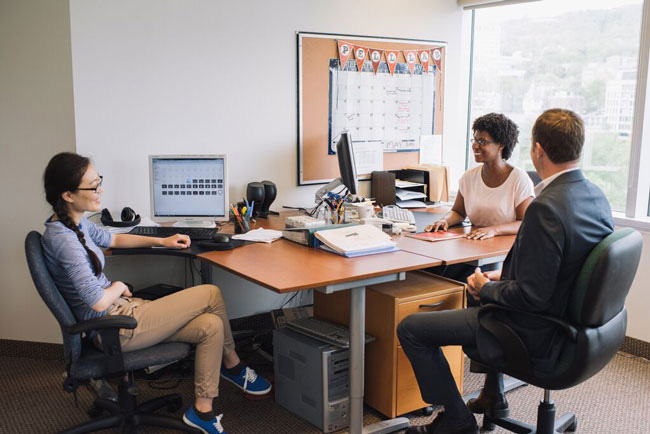 Coaching tools to help you get the most out of yourself and your team
Co-developed by Professor Henry Mintzberg and McGill grad Phil LeNir, CoachingOurselves is a tool for sparking employee discussion and growth. It's found success across Canada and around the world, and if you're a McGill employee, you can use it for free to grow, network, and help achieve your full professional potential.
What is CoachingOurselves?
Participants meet in small groups of four to six, for guided discussions on 80+ topics – these range from time/energy management and decision-making to negotiation and employee recognition. CoachingOurselves participants reflect together on their experiences and ways of working, and meet colleagues who share common interests, challenges and goals.
Topics and discussion points have been developed by some of the world's leading management thinkers like David Ulrich, Philip Kotler, John Seely Brown, Marshall Goldsmith, and McGill's own Henry Mintzberg.
"CoachingOurselves succeeds on two levels in a short timeframe: it provides managers an opportunity to acquire new knowledge applied to their own context which gives it deeper relevance and value," says Tara Shaughnessy, Director, Communication Services. "It also offers a space for making meaning as a group which creates real connections and resonance among employees from across the entire organization."
How to sign up
If you're looking to grow professionally, check out one of the upcoming CoachingOurselves Reflection Cafés, offered by McGill's HR Organizational Development team. They're free 90-minute guided discussions that bring together four to six people from across McGill to talk through a topic of interest.
"I have been facilitating CoachingOurselves Reflection Cafés at McGill for nearly three years now," says Brett Hooton, Director, Office of the Vice-Principal (Research and International Relations). "Every month I see first-hand how valuable the discussions are for staff who are continually asked to 'do more with less' and therefore need a venue to share ideas, acquire new skills, or just gain a new perspective on a challenging situation. Moreover, I get as much out of the experience as the participants. I always leave with ideas or new approaches that stick with me long after the discussion of a specific topic. And it is a wonderful way to meet colleagues from other parts of campus."
To sign up, log into the Staff Development registration site with your McGill username and password, and scroll down to the Reflection Cafés under "OD – Organizational Development module."
Self-directed team sessions
You may also be interested in self-directed group discussions, specially tailored to meet your team's needs. Choose one of six pre-prepared modules, or work with Angela Morse at Organizational Development to build a package that's right for your unit.
More information
Learn more about CoachingOurselves on McGill's HR website, or at CoachingOurselves International.