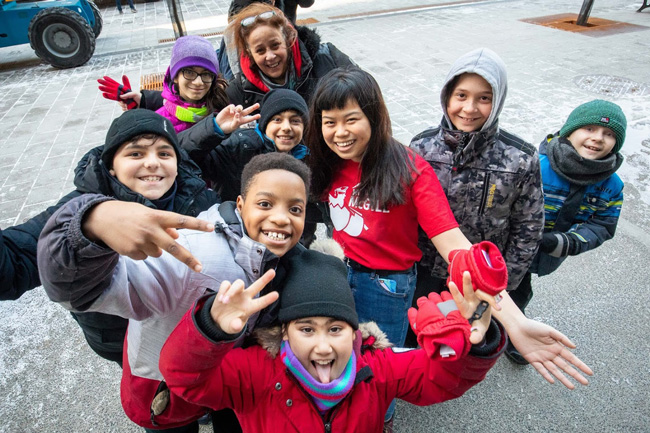 For the past seven years, the Community Engagement branch of the Social Equity and Diversity Education (SEDE) Office, in collaboration with participating school boards across Montreal, has hosted My Day at McGill: two days of activities and workshops for elementary school youth on campus. This initiative encourages access to education and acts as a bridge between McGill and the larger Montreal community, showing over 170 youth some of the opportunities their education could lead to.
Activities this year were hosted by students from Chemistry, Physics, Medicine, Nursing & Engineering. Staff from the McLennan Library also hosted an engaging tour and PhD (Social Work) student Ben Geboe represented First Peoples' House with activities introducing youth to Indigenous culture and history. Lunch was held at the School of Architecture & Urban Planning and healthy snacks were once again donated by McGill Student Housing and Hospitality.
One of the projects that youth could choose to participate in is Broad Science, an initiative started by McGill Neuroscience students and based at CKUT (90.3FM) campus radio. Through podcasting, Broad Science is "dedicated to making science inclusive, engaging, and intersectional…[and] aims to provide a platform that makes science accessible for everyone, empowers marginalized communities, and encourages socially-conscious scientific practice in the next generation of scientists."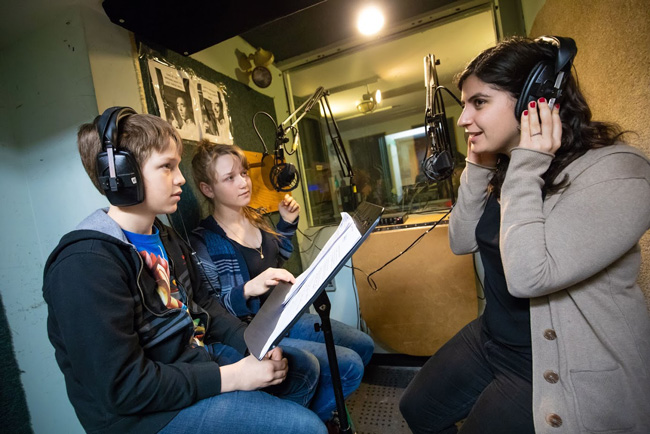 The beauty of the project lies in its capacity to introduce youth to the importance of science and to make science learning accessible, as well as affording scientists themselves the rare opportunity to do community outreach and to hone their science communication skills. According to founder Rackeb Tesfaye, currently a McGill PhD candidate in Neuroscience, many students have mentioned one reason they don't participate in outreach an science communication is not due to a lack of interest, but rather time away from their lab, which their supervisors might disapprove of. She emphasizes the need to promote more transparency and visibility of science in the public sphere, integrating this into upper level science students' education and responsibilities. This ethos of exchange, combined with a desire to diversify the voices that are represented in science communication, led to the birth of Broad Science, as a means of offering a venue for marginalized voices to "tell their own stories," and in turn, to demonstrate to kids that scientists come from all different backgrounds and genders.
Broad Science hosts full day workshops for kids to learn how to record and give interviews over radio, and how to talk to scientists about their work. During My Day at McGill, organizers matched youth  with a participating scientist from "Brain Reach," a non-profit community outreach program managed by graduate students in the Integrated Program in Neuroscience (IPN), at McGill. The kids had time to read over their profiles and come up with questions about their different fields, for example: "Do your parents support your decision to be a scientist?" and "What's it like to work in a lab all day?"
Edwin Wong, who is a Master's student in IPN researching Alzheimer's, was interviewed by a nine-year-old My Day at McGill student, and says this experience in communication is "like a different language…we should train scientists to be fluent in that accessible language." Alexia Ostrolenk, a PhD candidate researching Autism at U de M, pointed out that she didn't meet many scientists growing up, especially young women of colour, so it is important for her that young kids see what a scientist can look like.
The youth themselves showed a mix of excitement and nerves when they were getting ready to meet their scientists, and had the chance to practice holding the microphone and using the recorder before separating into groups to make the recordings that will eventually be aired on CKUT and compiled into the Broad Science podcast this month. After the interviews, one ten-year old student from a school in the Lester B. Pearson school board gushed that he "loved to be the one asking the questions for once."
Much like My Day @ McGill, Broad Science is rooted in the value of supporting more outreach between universities and the public. As the five scientists who were interviewed that morning explained, this initiative is not only an important learning opportunity for kids to engage with radio production and science communication, but is a learning opportunity for researchers themselves to engage a different kind of audience than those they interact with in the lab. In so doing, Broad Science is both diversifying the kinds of scientists that are represented in media as experts in their fields, highlighting women and people of colour, as well as diversifying the audience that is receiving and using those stories in their lives. This kind of equitable work is a compliment and a commemoration of McGill's reputation for excellent research and scientific learning, and can inspire the next generation of scientific inquiry by passing them the mic.
Learn more about Broad Science online