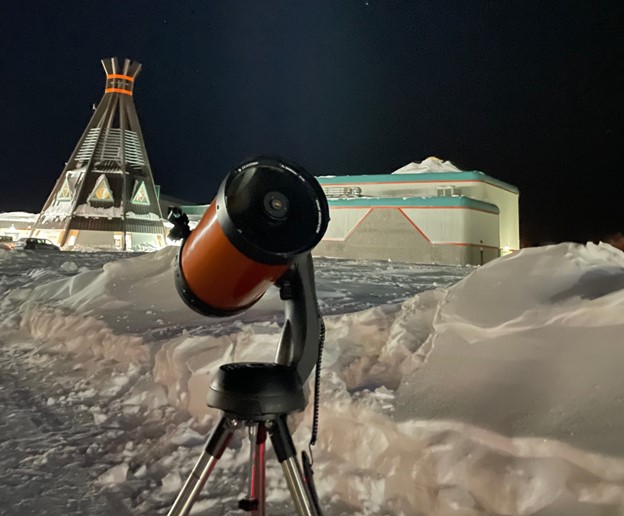 The geographical distance between Montreal and Chisasibi may be significant – over 1,000 kilometers by plane – but for students living in this Cree village on the shores of James Bay, the prospect of studying at McGill is not so distant.
Earlier this year, a group from the Trottier Space Institute and the Branches Program visited Chisasibi on a community outreach initiative to exchange with local students and offer insight into what it's like to attend university at McGill. As part of a new program called Outbound Explore, the team led a series of workshops and provided guidance on the university application process to some 150 people, including Cree students and students from other Indigenous communities in the region, as well as their teachers and parents.
"My hope is that this initiative plants new ideas about pursuing higher education in the minds of the students we encountered," said Kayla Moore, Indigenous Outreach Associate at Branches. "We think students will be more confident knowing that there is ample space for Indigenous people in academia, and I hope this helps inspire them to explore the vast range of possibilities available to them."
Challenges and opportunities
At the James Bay Eeyou School, a high school that serves about 500 students, events started with talking circles focused on the theme of university life, followed by an interactive workshop on the challenges and opportunities that come with transitioning to a new city and to university life and learning.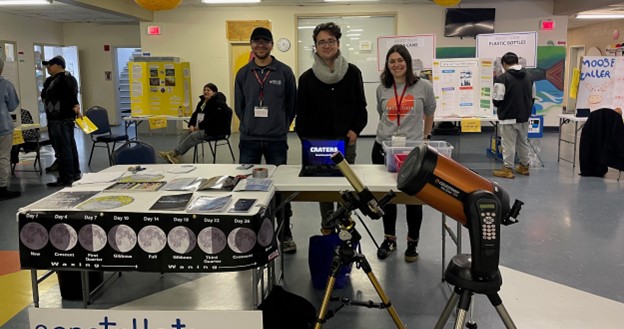 Alongside these discussions, students had the opportunity to take part in science-based workshops. One session invited students to experiment with lasers and prisms and to work collaboratively in small groups as they constructed their own telescopes. Other workshop topics included Indigenous Language Revitalization and Indigenous Art.
"We know from talking with the students that their primary gateway to physics and advanced science classes is through online, remote learning," said Noah Kakekaspan, a graduate student in physics and one of the workshop facilitators. "Our optics workshop gave them a chance to see science live in action. We used water bottles and prisms to observe how light is affected in different mediums, and we worked with them to build makeshift telescopes using only a couple of lenses."
The workshop was well-received, but it seemed to be especially motivating for some students in particular, said Kakekaspan, who is originally from the Fort Severn Cree First Nation in Ontario. "Several students stuck around to speak with us and ask questions after our workshop ended, and a few of them even got my email address to follow up and learn more about studying science at McGill."
Malika Rupert and Garrett Duff, two Secondary 5 students in Chisasibi, were already considering McGill before the team arrived. "Their visit made me even more excited to apply," said Duff. "I learned a lot from the activities, and I hope the team comes back soon."
Hands-on learning
Later in the week, members of the Trottier Space Institute participated in the Cree School Board's annual Regional Science Fair, offering hands-on, inquiry-based workshops on a range of different astronomy-related topics. One workshop demonstrated algorithmic thinking through beading, while others focused on moon craters and constellation mapping. Throughout the day and in the evenings, the team offered the opportunity to observe the sky through their telescopes in temperatures as low as -40 degrees Celsius.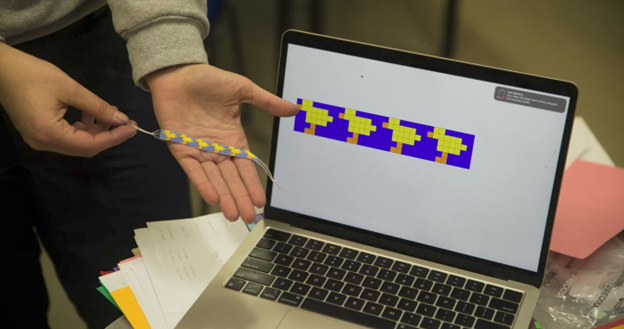 It's been difficult doing everything virtually during the pandemic, so it was amazing to finally have the opportunity for the students to meet and engage with people who are studying science at the university level," said Fiona Hoilett, an academic counselor at James Bay Eeyou School. "A lot of our students are interested in the sciences, but they haven't had a chance to get a full view of all their options. I think it was a really eye-opening experience for many of them."
"We spent an incredible few days in Chisasibi running our workshops and getting to know the community," said Carolina Cruz-Vinaccia, program administrator at the Trottier Space Institute. "We see initiatives like this as one way we can help inspire the next generation of scientists and astronomers, and we're looking forward to continuing to build our relationship with the community through this collaboration with Branches."
The program received so much positive feedback that the team returned later this spring to put on additional science and astronomy workshops as part of a local career fair. Anonymous Q&A sessions invited participants to jot down any question they had about astronomy on a post-it note, and the students posed dozens of them: Could you grab a piece of cloud? Could a back hole last forever? Does the universe ever end, and if not, what's beyond?
Tearing down barriers
The Branches Program, which is run out of the McGill Enrolment Services office, aims to motivate and empower youth to enroll in postsecondary education by reducing barriers and increasing access to higher education, said Veronica Amberg, Associate Director Partnerships and Access, Enrolment Services. "This was an amazing example of collaboration between McGill units and the Cree Community of Chisasibi, a partnership we hope to continue building in the future."
"This collaboration was a great opportunity to share the excitement of McGill Science and engage with students in person," said Jacky Farrell, Science Outreach Program Advisor for the Faculty of Science. "Outreach programs like this are crucial in bridging the gap between academia and the wider community, while also promoting diversity and inclusion in the field of science."
By all accounts, the collaboration is just getting started. "Students kept asking us when we were coming back," said Moore. "We hope this will turn into a long-term partnership with the Trottier Space Institute and that we can continue to offer these sorts of outreach programs in Chisasibi and other Indigenous communities in Quebec."