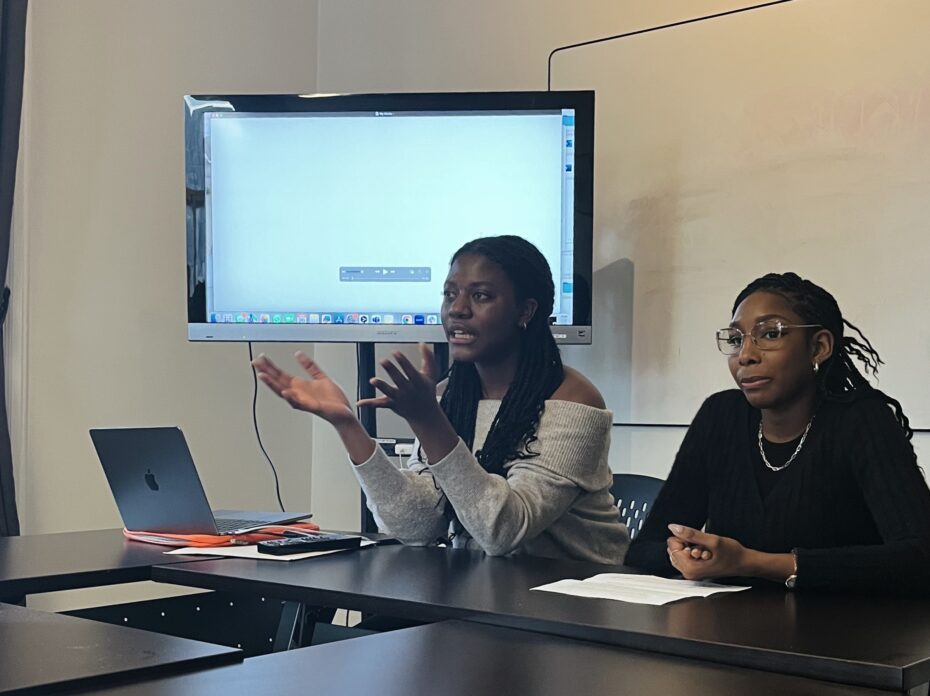 Applying to university can be a stressful time in any student's life. On top of academic considerations, prospective students often think about a school's culture and reputation. Do they know other students who have had a positive experience with the institution? Or family members who can share experiences of their own academic journey? For many Black youth, the answer may be 'no'.
Breaking down barriers
For some, McGill University presents an imposing façade, looming large over Montreal's educational landscape. Launched in 2021, Pick Your Path for Black Youth (PYPB) is a mentoring program designed to provide the kind of personal relationships that can help Black students see past that exterior.
The program offers networks of support for Black learners navigating their educational journey. For the duration of an academic year, Black high school and CÉGEP students are matched with Black McGill students or alumni with shared interests. The students attend workshops that support an informed transition to university life and meet with their mentor once every two weeks.
"It was so refreshing to meet such inspiring individuals who went through what I went through," said Emma Sheryl Nana, a CÉGEP student participating in PYPB this year. "Being able to exchange with them alleviated so many worries of mine. They all had different paths, and it allowed me to find mine!"
Helping participants see their goals as attainable
The 2022-2023 cycle of PYPB welcomed 25 students from high schools and CÉGEPs in Montreal, eight of whom were at the stage in their educational journey where they could apply to university. Following their participation in PYP for Black Youth, six students chose to apply to McGill, and all six were accepted.
To be clear, the students applied – and were accepted – on their own merit. But the relationships between the student participants and their mentors were vital in breaking down the walls that may have existed around the idea of getting into McGill University.
"I liked the meetings with the mentor because you met someone who has made it further in your goal," said Daniel Bergevin, who will begin his studies in Physical Therapy in McGill's Faculty of Medicine and Health Sciences this fall.
"For instance, [ …], my mentor was a med school student, which is a position I want to achieve. Meeting a mentor and understanding his emotions, background, and goals humanized people with your dream position making it seem much more attainable."
"I loved the experience of meeting someone in a field of interest that I was fascinated by," said Aïsha Nsiempba, another PYPB participant, who will be starting her studies in the Desautels Faculty of Management in the fall. "I developed a sisterhood with my mentor which is a relationship I cherish and will cherish for the rest of my life. It was more than finding a career path but also finding purpose and finding community. I am very grateful to have done this program."
McGill's commitment to address anti-Black racism
In 2020, McGill University formally recognized that it has both the responsibility and the opportunity to address the institutional barriers that have deprived Black persons of full access to opportunities – or that have limited their capacity to flourish – on McGill's campuses. The first step in what will be a long process was to create the Action Plan to Address Anti-Black Racism.
Those involved in developing the Action Plan found that many Black McGill students experience isolation. This, they found, was linked in part to the underrepresentation of Black faculty and Black administrative leadership within the University, but also to the underrepresentation of Black students at McGill. The 2021-2022 Annual Report on the Action Plan published the results of a student demographic survey, which showed that 4.4% of respondents self-identify as Black. The importance of community is a recurring theme throughout the Annual Report's findings. For Black students to choose McGill for their undergraduate studies, the University must be more than a world-class institution, the Report concludes.
Community building in action
Over the course of the year, Pick Your Path for Black Youth created a space for relationship building and connection.
"One of the things I liked most about my PYP experience was the connection I developed with my mentee," said PYPB mentor Shared Hiba Elhaj, a McGill medical student. "She expressed wanting to have someone in her life that was there for her without imposing expectations, and it felt like we built a relationship beyond mentoring for CÉGEP decisions. I also really liked all the PYP events where I got to connect with other mentors."
"[My mentor and I] got along really well and she was the best of help in my application process," said Emma Sheryl Nana. "She reassured me many times, hyped me up, shared her experience, gave me her tips and way more. Even beyond the application process, I knew I could go to her for any advice, and she'd be there."
This sense of community and comradery extended beyond academic support and allowed for students to envision themselves thriving in the future. At the beginning of the PYPB program, the students were asked to reflect on the question: what are the next steps in my educational path? By the program's close, they had already set foot on that journey.