At McGill University, the IMPRESS program is making waves in the lives of Indigenous students. IMPRESS, or the Indigenous Mentorship and Paid Research Experience for Summer Students, is a unique undergraduate program run by Branches, McGill's community outreach program in Enrolment Services that aims to promote academic initiatives and offer mentorship opportunities for underrepresented youth.
Data from the 2016 Canadian census underscores the disparities that persist between non-Indigenous and Indigenous populations in the pursuit of higher education, with 61 per cent of non-Indigenous individuals over the age of 25 having obtained post-secondary credentials, compared to 48 per cent of Indigenous individuals.
Creating a unique space for Indigenous students
Higher education can be an exciting journey, but it can also be a daunting one – for Indigenous students, the legacy of settler colonialism casts a long shadow. This is where programs like IMPRESS shine.
IMPRESS aims to create a unique space for Indigenous youth, empowering them to overcome barriers and flourish in their academic pursuits, all while fostering Indigenous perspectives and knowledge in the research community. Each summer, IMPRESS pairs undergraduate Indigenous students from across the country with McGill professors and graduate students to gain hands-on research experience, build their professional skillsets and find an Indigenous community on campus.
Gaining experience, building community
Gracie Diabo, an IMPRESS 2023 participant, describes her experience as a mix of project work and fun activities: "I gained a community, but also a general academic experience going into university."
Diabo, a Kahnawa'kehró:non student born and raised in Kahnawá:ke Mohawk territory, is a Loran Scholar in her first year at McGill studying software engineering. She was paired with Professor Jin Guo of the School of Computer Science for her IMPRESS project. Weekly meetings in the lab with graduate students and her mentor Celeste Groux provided her with valuable insights into the world of research and academia. "It was cool to be introduced to the world of research and to see it through the eyes of graduate students who were once in my shoes… I see that if they made it, so can I," Diabo says.
Diabo emphasizes that building connections helped her to feel welcome at McGill. Coming to IMPRESS straight from CEGEP, her feelings of imposter syndrome quickly transformed into a sense of belonging, as she found a support network among Indigenous students, staff, and professors. Her experience was also enriched thanks to the workshops and cultural activities. She adds that playing lacrosse, taking part of a beading workshop, and making pins for Orange Shirt Day were some of the highlights of her summer in IMPRESS.
IMPRESS program manager Lynnsey Chartrand describes her journey with the program as two-fold: A professional endeavour that is also deeply personal. Her father's family are Red River Métis, hailing from the South of Saskatchewan (Treaty 4). A challenging but fulfilling venture, Chartrand explains that the development and implementation of IMPRESS brings healing and growth for everyone involved.
"It's a bit of a magical experience, and it's certainly healing and meaningful to be able to engage with Indigenous students, to make space for ourselves, to be able to slow down and take time to partake in cultural activities," Chartrand emphasizes.
Mixing academics with cultural activities
IMPRESS doesn't just nurture academic growth; it weaves cultural activities into the fabric of the program. Chartrand highlighted the wilderness skills training in Kahnawá:ke as a standout experience.
As they huddled under a tarp to stay dry during a burn bowl crafting activity, Kowen Woo, a student from the University of Alberta, filled his bowl with water. "He stood really proudly before the group, lifted the bowl to his lips and with an air of challenge, he drank the water as if it were some kind of chalice," Chartrand recalls, laughing. "The group erupted in cheers, and it struck me as a moment of strong connection."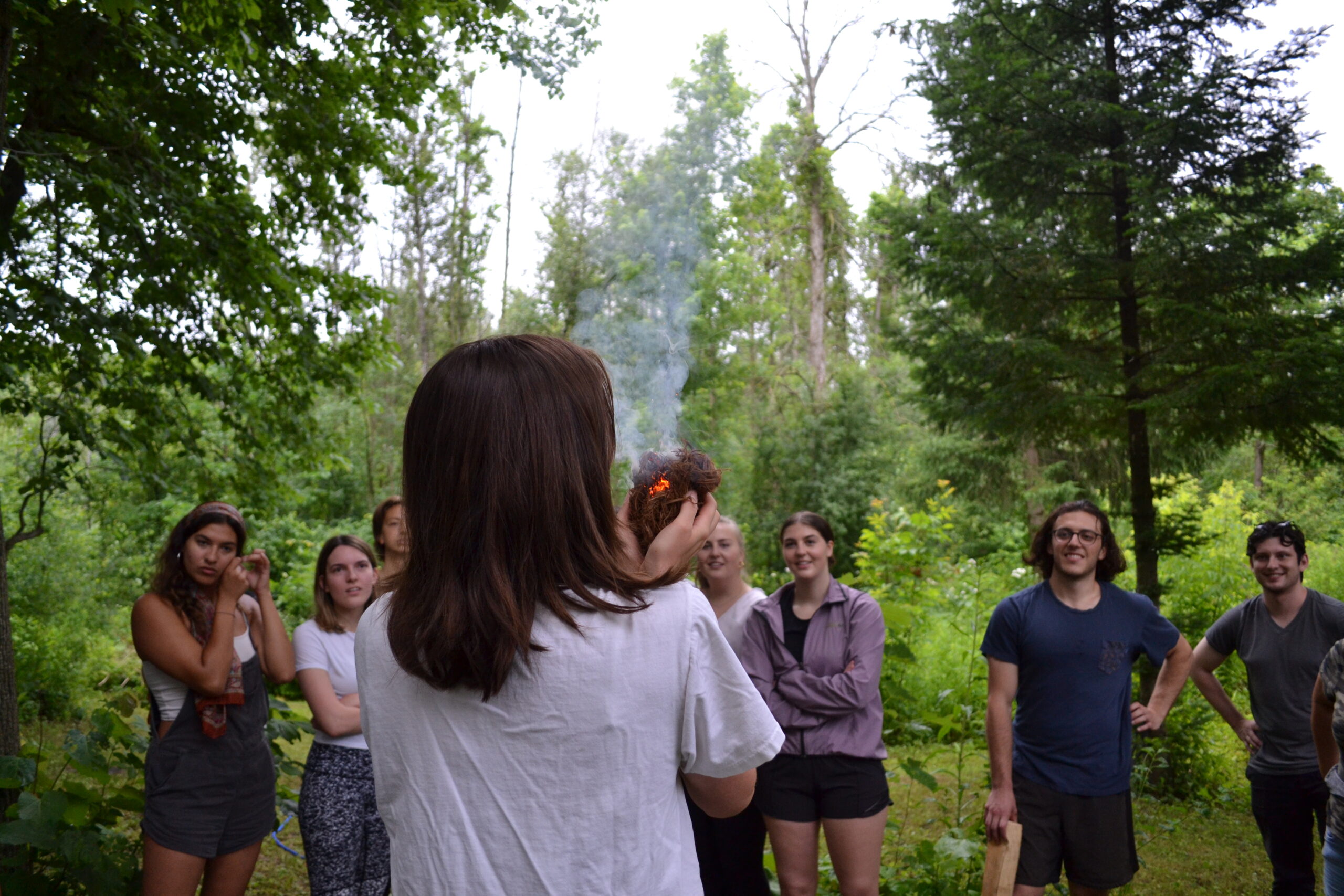 Beyond cultural connection, IMPRESS also allows students to become involved in the program in later years, enhancing the potential for continuity. Chartrand notes that many undergraduates who participated in 2022 and 2023 expressed interest in returning as mentors or becoming involved in program management.
One of these students – Dane Malenfant – is a Métis citizen with Métis Nation-Saskatchewan, born in North Battleford (Treaty 6) and raised in Regina (Treaty 4). Malenfant was part of the 2022 cohort of IMPRESS and returned the following year as a program assistant. He also hopes to become a mentor for the IMPRESS 2024 cohort.
Malenfant's path to a master's degree in computer science at McGill is a testament to the opportunities of Indigenous empowerment and mentorship offered within IMPRESS. In the summer of 2022, Malenfant was paired with Healthy Brains, Healthy Lives-funded researcher Blake Richards, and placed in the Learning in Neural Circuits Lab (LiNCLab), located at Mila – Quebec Artificial Intelligence Institute.
After his summer with IMPRESS, Malenfant took on a leadership role in other Branches programs, such as Pick Your Path Undergraduate (PYPU), which offers professional development opportunities for Indigenous students at McGill. The connections made in IMPRESS also allowed Dane take part in AI for Humanity at Mila, where he worked on an Indigenous language revitalization project with AI models.
Malenfant speaks passionately about IMPRESS, having conducted a scan of Indigenous programming in universities on Turtle Island – he found none to match IMPRESS's caliber and opportunities. "Many Indigenous students will have these intersectional disadvantages in the university setting, being the first in various ways, like the first in their family or their community to get a degree. IMPRESS helps you grow and improve your resume – it will spur opportunities that are otherwise systematically and structurally impossible to obtain in these large institutions," he adds.
Sustained support
The program's immersive nature often leaves students wanting more, which is where Branches comes into play. Branches supports students throughout their academic journey, ensuring that their growth and engagement continue, with PYPU and mentoring opportunities.
Looking to the future, Chartrand envisions IMPRESS growing and becoming a staple at McGill, with continued Indigenization and diversification of cultural activities. She emphasizes that IMPRESS's success reflects the capabilities of Indigenous students and the program's balanced approach, which supports their academic journey without overwhelming them. With IMPRESS's growing popularity within the University, Chartrand hopes for future collaborations that showcase the program's potential to expand beyond the walls of McGill.