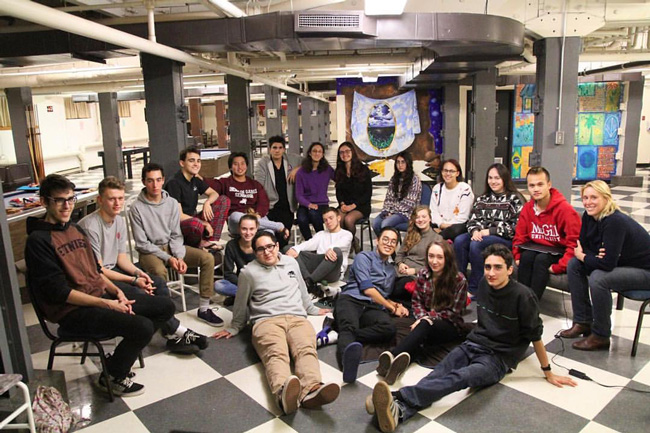 By Neale McDevitt
Last fall, a group of some 15 McGill students – all members of the Solin Hall Living and Learning Community – started a pilot project using Skype to tutor refugees living in Turkey. Specifically, the project helps prepare young Syrians to take the TOEFL exam, which measures ability to use English at the university level, in hope hopes of that they would be accepted to study at a Canadian university.
However, the success of the Skype project begged the question 'Once these Syrian students pass the TOEFL exam, what then?' While various sponsorship programs do exist, resources – especially in these austere times – are stretched extremely thin.
"With the Skype project going strong, we wanted to expand our efforts," says Anton Zyngier, a member of Students for Syria and the original Solin Hall group. "We knew that money is critical in situations like this, so we decided to start a crowdfunding campaign because every dollar raised helps a refugee get one step closer to starting a new life."
The McGill group has partnered with two organizations – the Syrian Kids Foundation (SKF) and the World University Services of Canada (WUSC) – with existing refugee sponsorship programs.
"Our goal is to raise $25,000, with the funds being split evenly between SKF and WUSC," says Zyngier, who says it takes about $12,000 to sponsor one refugee student to live and study in Canada for one year. "Our crowdfunding campaign began on March 23 and it will go until a week after finals, so around May 9. All the money we raise will go to support incoming Syrian students whom we have helped prepare for the TOEFL exam, including someone who will attend McGill."
Zyngier, who has been part of the Skype project since Day One, says he considers the Syrian students he tutors his friends. "It's a lot of work, for sure, but it's fun because they are really great people," he says. "In some ways they are more enthusiastic than most people I know."
Zyngier says sometimes his tutoring includes lessons that extend well beyond the textbook. "I have one [Syrian friend] who doesn't know how to make hamburgers and has made me promise to show him," he says with a chuckle.
The first-year Arts student says on top of the goal to raise $25,000, he hopes the initiative will get the support of all of McGill – students, staff and faculty. "It would be great to show the world that all of McGill was involved in this important cause," he says.
Learn more about the crowdfunding campaign and how you can support it.