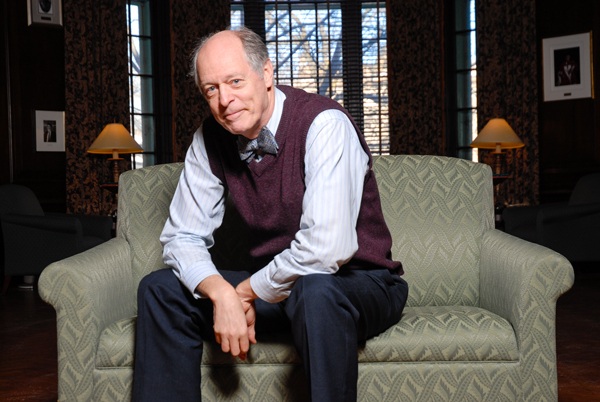 Iconic Law professor to receive McGill Medal
By Neale McDevitt
On May 28, Roderick Macdonald was awarded in absentia the McGill University Medal for Exceptional Academic Achievement, one of the University's highest honours. Macdonald received the McGill Medal as part of the Convocation ceremony for the Faculty of Law, where he taught thousands of students over the course of a distinguished career that spanned more than three decades.
In the winter of 2012, Roderick Macdonald, long one of the professorial pillars of McGill's Faculty of Law, stood in front of his Administrative Process undergraduate class, guitar in hand, and sang his goodbyes. For years, Macdonald had been known for pulling out his trusty guitar and serenading students in the last class – a celebration of their having taken another step down the path of life. Mission accomplished.
But this time was different. This time the celebration was tinged with poignancy because, diagnosed with throat cancer on his birthday in August 2010, Macdonald had let it be known that he was retiring at the end of the 2011-12 academic year. After more than 30 years at McGill, Macdonald was giving his farewell performance.
"Professor Macdonald gave us a lecture about the importance of doing what you love and of never losing sight of the human facet of the practice of law," says Eric Brousseau, a Law undergrad who will graduate in the same ceremony at which Macdonald will be presented with the McGill Medal. "He told us of his longstanding love of Phil Ochs's music and how he wanted to play a couple of his songs for us. In the meantime, a steady stream of former students and colleagues began to fill the back rows of the auditorium, having come to see Professor Macdonald in action one last time."
Macdonald played Ochs's There But For Fortune and When I'm Gone. According to Brousseau, there wasn't a dry eye in the house. "Nearly everyone had tears in their eyes," he says. "It was a heartfelt performance from a man who so clearly loved to teach. We were fortunate to share that special moment with him."
High praise from the High Court
Sharing. Decency. Brilliance. These are common threads that run through most conversations about Macdonald, be they with students, colleagues or legal heavyweights like Supreme Court Justice Rosalie Abella. "Above all, what we cherish is that he's a mensch. A good man," she told a standing room-only crowd in February at two-day symposium to honour Macdonald hosted by the Faculty of Law. "He's a preternaturally brilliant, prolific and inspiring one, but a mensch all the same."
"Professor Macdonald is always teaching, always sharing his knowledge, even when he is not aware of it. I felt like I learned something new from every conversation," says Rebecca Dawe, who completed her BCL/LLB degree at McGIll in the fall of 2013 and was a research assistant for Macdonald in 2011. "I also learned from observing his work ethic, and from observing the way he treats people with kindness."
In an increasingly cynical world, Macdonald is proof that nice guys do finish first. In addition to serving as Dean of the Faculty of Law from 1984-89, he has served on a wide variety of provincial, federal and international commissions, and been a consultant to the Royal Commission on Aboriginal Peoples and the World Bank in Ukraine. In November 2008, Macdonald was elected the 111th president of the Royal Society of Canada (RSC), the first law professor ever to hold the position.
Included among the prestigious awards he was won over the years are a Killam Prize (2007); the Sir William Dawson Medal for the Social Sciences by the Royal Society of Canada (2007); and the Canadian Bar Association's Ramon John Hnatyshyn Award for Law (2010).
In November 2012, Governor General David Johnston announced that the new reading room in Walter House, the Royal Society of Canada's headquarters in Ottawa, would be named the Macdonald Room in Macdonald's honour, following his tenure as the RSC's president. In December 2012, he was named Officer of the Order of Canada, one of Canada's highest civilian honours.
A mensch, yes, but an incredibly accomplished one.
When pressed, Macdonald will select a few highlights from his career ("Chairing the Access to Justice Committee for the Quebec Ministry of Justice, working to help bilingualize the administration of the Faculty, serving on the Canadian delegation to working group VU of the UN Commission on International Trade Law…") but, in typical fashion, he has derived the greatest pleasure from helping others blossom. "I am most proud of the contributions I have made to the development of my colleagues, and to their accomplishments as teachers and scholars," he says simply.
Moulder of minds, shaper of policies
Macdonald has always been a moulder of minds and a shaper of policies – he was one of the people who laid the legal groundwork for Canada's same-sex marriage laws, for example. But many will tell you his influence is felt throughout Chancellor Day Hall. "[Rod always says things like] 'Every human encounter in the Law Faculty is a teaching moment.' 'Everyone is a teacher and a learner.' 'A life unexamined is not worth living.' 'The lawyer is the architect of social structures.' These are (some of) the snippets of wisdom that, for three decades, have guided the mission and vision of McGill's Faculty of Law," says Daniel Jutras, Dean of Law. "Everything we do here, from teaching to scholarship to community engagement, is informed by Rod's legal imagination."
Ironically, for a man praised for his abilities as a teacher, Macdonald admits he follows very few formal tenets.
"I'm not sure I have a philosophy of teaching as such, although I know that I consider the most important feature of law teaching to be the personal interaction with students as individuals," he says. "The goal is to assist them in coming to know themselves better, and to provide them with intellectual and moral resources necessary to embark on their own personal voyages of self-discovery."
Like thousands of students before her, Dawe says Macdonald always achieved that goal.
"Professor Macdonald approaches everything from an interdisciplinary, global perspective, and draws on research in a variety of jurisdictions and fields – legal and otherwise. He thinks creatively, and makes connections that appear unlikely," she says. "Seeing this pushed me to broaden my own knowledge, exploring areas within law and outside law that I might have otherwise ignored, in hopes I could learn to make connections like he does. This affected my choice of courses, the extracurriculars and work I sought out, and my career plans.
"Most importantly though, his approach showed me how I could still connect my previous education and professional experience – my old life, so to speak – with my law studies. Up to that point I felt that I had to leave my old life behind, and it was proving to be a challenging transition. His broad, inclusive approach to research showed me that there was room for everything and everyone. If not for the time I spent working with Professor Macdonald, I am not sure I would have continued law school after that first year," says Dawe, who will be starting at Quebec's École du Barreau this August.
Mission accomplished.