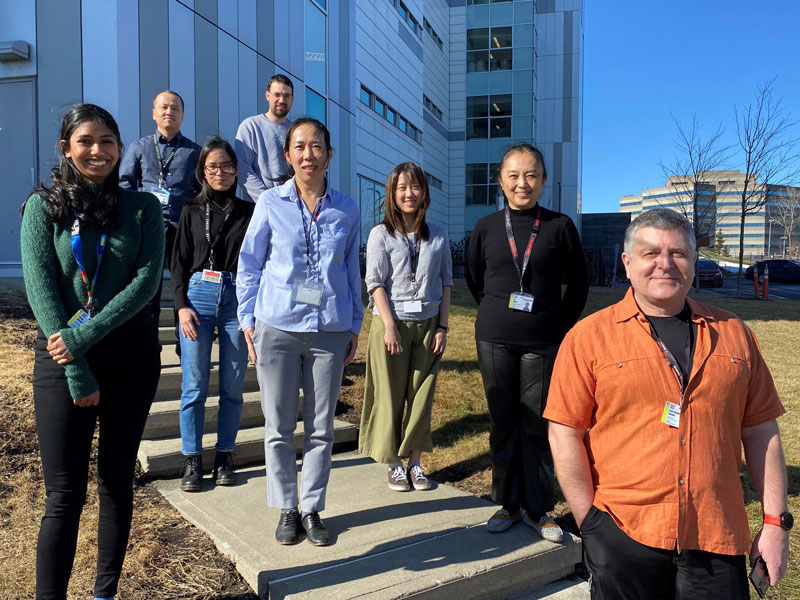 Québec Science magazine has a long-standing tradition. Each fall for 29 years now, a jury of scientists and journalists selects the 10 most remarkable Québec discoveries of the past year, and invites the public to vote for its favourite.
As announced by Québec Science earlier this week, the 2021 Discovery of the Year went to the work of Jean-Jacques Lebrun and his team to unveil of the genetic mechanisms at work in aggressive triple-negative breast cancer and the discovery of a promising targeted combination therapy.
Each day, 75 Canadian women are diagnosed with breast cancer, and 15 die from it. While there is no targeted treatment for triple-negative breast cancer, this could change thanks to the efforts of Lebrun, PhD, and Senior Scientist in the Cancer Research Program at the Research Institute of the McGill University Health Centre (RI-MUHC), and his team.
Highly aggressive form of breast cancer
What if we started from the beginning? That's the question Lebrun had in mind in tackling triple-negative breast cancer, one of the most aggressive forms of the disease. While it accounts for about 15 per cent of cases, it causes half of all deaths. "Currently the only treatments are chemotherapy and radiation, and they don't work well. The risk of metastasis and of recurrence is high," explains Lebrun, who is also a Professor of Medicine at McGill.
To uncover the Achilles heel of this cancer, Lebrun's team combed through tumours' entire genome to detect which genes play a predominant role in the tumour process. Growing cancer cells from triple-negative breast cancer patients and using CRISPR-Cas9 technology, a sort of "genetic scissors," the team proceeded to "turn off" each of the 20,000 genes one by one. The cancer cells were then transplanted into the mammary glands of mice. As the cells multiplied, the investigators were able to determine the ability of each gene to slow or halt tumour development.
The team identified two major signalling pathways, or "networks" of genes that modify cell behaviour. One of them, the mTOR pathway, is known to be deregulated in several cancers and to promote abnormal proliferation. The other, the Hippo pathway, is rather protective: in normal circumstances, it safeguards cells from tumour progression.
"Tangible hope"
The scientists then tested drugs that could potentially target these pathways. They found two that were effective: torin 1, a second-generation drug known to block the mTOR pathway, and verteporfin, a drug generally used for retinal disease that can activate the Hippo pathway. After testing them on cancer cells from hundreds of patients with different subtypes of triple-negative cancers, the scientists found that the drugs' effect was greater when they were administered together than their individual effects combined, and that they succeeded in eradicating the tumour.
These results, which have been published in Nature Communications, are the result of five years of work. The next step is to set up clinical trials, a task Lebrun is now undertaking.
"Cancer affects each of us in one way or another. The interest our readers take in advances in the field of oncology is noticeable each year. This discovery is especially encouraging because it comes with a tangible hope of treatment," says Marine Corniou, associate editor-in-chief of Québec Science.
Concrete solution
"It's an honour to win this award with a discovery in basic research. To date, very few studies have used genome-wide, in-vivo CRISPR genetic screening as we did," says Lebrun. "Our study highlights how powerful and robust this technology is to develop innovative and clinically relevant therapeutic modalities for cancer treatment. We know that many drugs fail in the clinical phase, but I'm optimistic because we started from the mechanism to develop a concrete solution."
"On behalf of the entire community of the Research Institute of the McGill University Health Centre, I wish to congratulate Dr. Lebrun and his team on this hopeful discovery. We are proud to provide researchers like Dr. Lebrun with an environment that combines biomedical research and clinical medicine. As the largest hospital-based research institute in Quebec, the RI-MUHC accelerates the translation of basic discoveries into public health, thereby contributing to improving the health of children and adults throughout their lives," says Dr. Rhian Touyz, Executive Director and Chief Scientific Officer of the RI-MUHC.