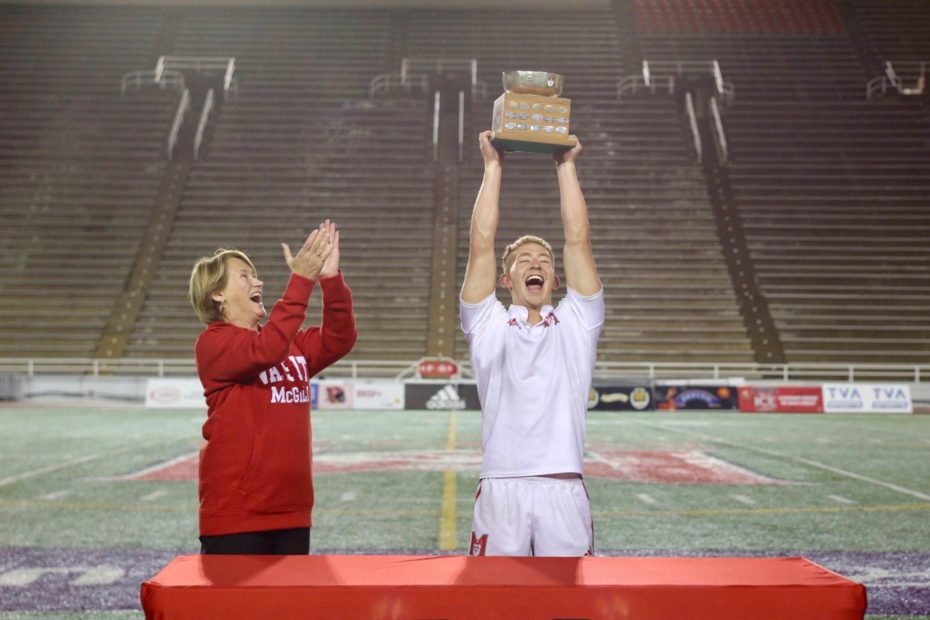 Andreas Dionisopoulos scored a pair of tries – and had two others erased on penalties – as the McGill's men's rugby team hammered Harvard 47-15 in the 38th annual Covo Cup Classic, played before a record crowd of 1,560 at Percival Molson Memorial Stadium, Saturday. The Cup was presented by McGill principal and vice-chancellor Suzanne Fortier to team captain Jessen Gibbs, a software engineering senior from White Rock, B.C.
Despite a light drizzle throughout most of the game, the event surpassed the school's previous rugby attendance high set on Nov. 13, 2015, when a crowd of 997 watched McGill edge the Montreal Carabins 10-9 in the RSEQ conference championship game at Molson Stadium.
McGill has now won eight straight Cup victories over the prestigious Ivy League school from Cambridge, Mass., and owns a 24-14 lifetime record in the almost annual competition which was initiated in 1974 to mark the centennial of the 1874 meeting, the first ever rugby-football game played in North America between two collegiate clubs.
McGill, which led 26-3 at halftime, tallied four first-half tries and added three more in the second stanza. "We've had a little more practice time on the field than Harvard had and it showed a bit," said McGill head coach Ian Baillie. "Our structures and patterns were more crisp because we've had the opportunity to play once already where they haven't. Lots of real good rugby plays – but still lots to work on. I was really happy with how aggressively we played, particularly our defending. We had a couple of lulls but in an 80-minute game, they do happen. We responded well out of them. I didn't like that we lulled right at the end but the first time that we did, we quickly got our composure and discipline back and focused on handling the game again after Harvard had taken it away from us for a few minutes."
Playing from the No.8 position, Dionisopoulos, a domineering 6-foot-1, 226-pound microbiology sophomore from Montreal, scored a scrum try in the 14th minute to give his side a 12-0 lead then added another major in the 60th minute, upping the score to 33-8 – just minutes after Harvard had notched one – to erase any hopes of a Crimson comeback. "Dion was very good, he was our player of the day for certain," noted Baillie. "His attack and defence was very strong, His command of the scrum and his control gave us all that set-piece platform to work off of."
Winger Jack Tucker, a mechanical engineering freshman from Toronto, scored eight points, converting four of his five attempts. Other tries for McGill were scored by senior Josh Wordern, sophomore Thomas Richards, junior Benjamin Russell, rookie Jacob Robb and sophomore Owen Cumming. Rounding out the McGill scoring was freshman Ian McDowell of Dorval, Que., who went 2-for-2 on his convert attempts.
"The Covo Cup is a big deal to the players," added Baillie. "They picked up on the energy from our alumni and the importance and history of this event and the significance of it. You could tell at the end when they hoisted the Cup, their reaction to it showed how big a deal this was for them. It was a fantastic crowd too and the players had that extra push because of it, they fed off each other. This event will do an awful lot for promotion of the game and the sport."
Leading the scoring for Harvard was Ryan Santos, a fly-half from The Philippines, who tallied five points. He was awarded a first-half penalty goal and connected from 33 yards out to narrow the gap to 14-3 in the 39th minute. Santos, who converted a try by Gavin Prentice, also missed a conversion on a try by Sebastian Schwartz.
McGill, which defeated RMC 19-5 in their preseason opener last week in Kingston, Ont., is now 2-0 overall and will turn their focus on the RSEQ conference opener at Concordia on Saturday, Sept. 14 at 3 pm.
GAME NOTES: The trophy is named in memory of the late Peter Covo, a former multi-sport athlete at McGill, who went on to become a professor and rugby coach at the University but perished in a tragic car accident in 1973. His two sons, David and Ken Covo, were both in attendance at this contest, as was Chris Herten-Greaven, who refereed the first Covo Cup game, a 6-3 McGill victory, in 1974.