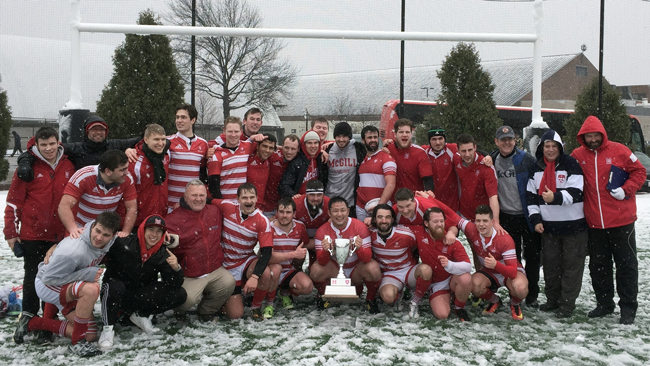 Daniel Benaroche of Montreal scored 12 points as the visiting McGill men's rugby team rallied from an early seven-point deficit to outwit, outlast and outplay Harvard 45-12 in the Covo Cup challenge game, played in wintery conditions more befitting a game of Survivor, at Mignone Field, in Cambridge, Mass., on Saturday.
It was the first confrontation between these teams in four years but the fifth straight Cup victory for McGill, which improved to 20-15 lifetime in the almost annual competition which was initiated in 1974 to mark the centennial of the first meeting between the two storied clubs in 1874. The trophy is named in memory of the late Peter Covo, a former multi-sport athlete at McGill, who went on to become a professor and rugby coach at the University.
"It was freezing weather with blowing snow throughout," said McGill head coach Eric Van Sickle after the game. "My hands are slowly thawing out but it was much worse for the players than the people on the sidelines (who had more clothing and huddled together for warmth)."
Benaroche, a civil engineering junior, tallied a pair of tries and converted one of his majors. The 5-foot-11, 200-pound front row player snapped a 12-12 saw-off in the 51st minute to put the Redmen ahead 19-12. He also tallied a try and converted it in the final minute of play.
The match started out in blizzard-like conditions with a bitter battle for field position on a cold, windy and snowy afternoon. McGill opened the scoring in just the sixth minute mark when Jamie Wilson, an investment management senior from London, England, touched down in the endzone for a 5-0 lead but Harvard roared back to take a 12-5 lead into halftime.
The remainder of the second half was dominated by McGill with six unanswered tries, scored by Nick Bent of Ottawa, Benaroche, Munir Yalin, a native of Istanbul, Alex Pantis of Beaconsfield, Que., Zack Hazan of Montreal and Benaroche.
Funding for most of the trip was provided by a number of McGill Redmen rugby alumni, including three of whom were in attendance at the game, namely Wayne Calizza, Frank Edward Fleming and Brian Simms.
It was a happy conclusion to a successful McGill season that finished at 8-2 overall, including a 6-1 first-place finish in the RSEQ conference last fall.