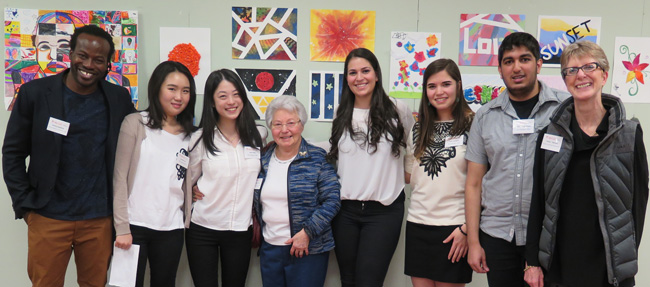 Education students learn to teach art through partnership with Montreal-area community centres 
By Stephen Lalla
Student teachers with McGill's Faculty of Education learned about engaging youth in arts-based initiatives in local community centres through Dr. Fiona J. Benson's hands-on special topics course EDEC 300: Art In-Community: Learning from Doing Pop-Up Art with Youth.
For this unique course the faculty's Department of Integrated Studies partnered with five Montreal-area YMCAs, the Tyndale St-Georges Community Centre, and Maison-des-Jeunes L'Escalier de Lachine to offer workshops on a cornucopia of art approaches and methods for their youth participants ranging in age from 12 to 18.
At workshops that began in the autumn of 2015, the McGill student teachers engaged with Montreal-area youth in non-formal learning contexts, experimenting with various art forms and mediums. The department's Artist-in-Residence Jimmy Baptiste added his creative expertise to the course, which culminated in a Pop-Up YouthART Event that was celebrated in the Education Library art-space on Thursday April 21.
"I have learned that it is their journey as artists that I need to encourage, and not necessarily my own vision of what constitutes art," recounted McGill student teacher Parvesh Chainani, who was leading workshops at the Notre-Dame-de-Grâce YMCA on Hampton Avenue. "When a teacher encourages free expression – the results can be uplifting."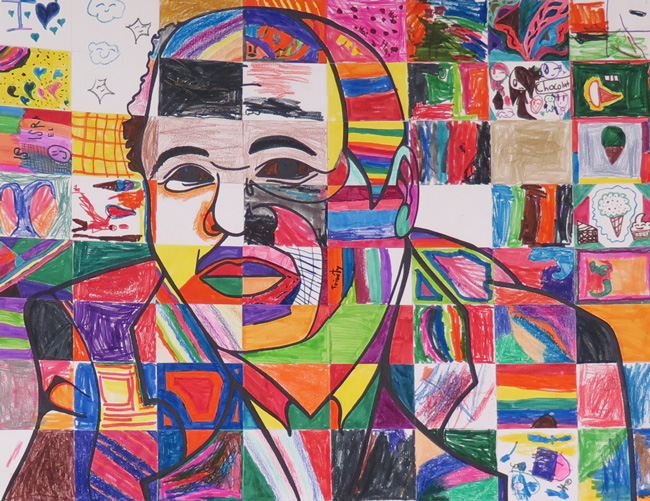 The image above is just one example of one of the many outstanding works of art produced by the youth participants and comes from a workshop held at the Tyndale St-Georges Community Centre. The collage in question depicts legendary jazz pianist and composer Oliver Jones, a native of the Centre's Little Burgundy neighbourhood.
During the Pop-Up YouthART Event student teacher and workshop facilitator Galit Sandaev recounted how rewarding it was to observe the teamwork and concentration of the youthful artists as their collage was being constructed, – and to share in their pride of accomplishment. She went on to say, "I learned the importance of adapting to new environments and seeing high expectations in my ability to teach in a completely new light. I now understand that 'informal' teaching takes as much energy, creativity and expertise as any aspect of 'formal' classroom teaching."
During the Pop-up YouthART celebration, Professor Benson talked about her pride in the accomplishments of the student teachers and the youth with whom they worked. "All of us took a huge leap of faith when we embarked on this journey together. Here today, surrounded by the rich display of artwork from the youth participants and listening to the words of the student teachers, we see what can come from trusting ourselves, from learning one from the other, from being open-minded and open-hearted, from creating environments where curiosity can flourish and from achieving all that and so much more through the medium of art". My students have come to understand and blur the lines between what constitutes effective 'formal' and 'non-formal' teaching. I have every hope that they will carry this and other important insights into their future classrooms."
It seems fitting to end with the words of Jane Ding, one of the student teachers, who says, "As teachers we can quickly get into our comfort zone which is like a bubble that limits us from being open and experiencing new things. Experiencing and moving through 'discomfort' and bursting that comfort bubble has helped me to grow enormously as a teacher. I am less fearful of the unfamiliar now and look forward to future challenges as a new teacher because I know I can succeed and help my students succeed."
Get more information about Faculty of Education initiatives that address art as a pedagogical tool