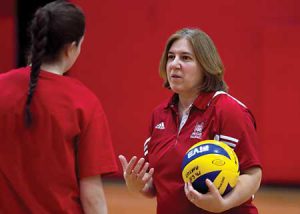 Winningest coach in McGill history also a former Olympian
By Jim Hynes
You'd be hard-pressed to find anyone in Quebec with more volleyball experience than Rachèle Béliveau. The winningest coach in McGill sports history and the only former Olympian amongst current McGill coaches, Béliveau has done it all in her more than 30-year volleyball career.
The Jeux du Quebec, Canada Games, provincial and national titles at the university level, World Championships and Olympic Games – you name it and Béliveau has been there and done that.
The native of Sherbrooke, Que. took up the sport at the age of 12. By the time her playing career came to a close at the tail end of the 1980s, she'd played on the Canadian junior national team, the Olympic squad that finished eighth at the 1984 Los Angeles Summer Games, and the national team from 1983-86. Béliveau also competed with the Canadian team at the 1986 World Championships.
After her competitive playing career was over, Béliveau completed a Master's of Physical Education degree at Université de Sherbrooke. So when McGill was looking for a full-time coach to start its women's volleyball program in 1991, she certainly had the profile and track record for the position. She won the job and his been here ever since, some 835 or so games later. Her overall McGill career coaching record coming into this year was 418-381-2.
"Every year brings a different challenge," Beliveau said. "You work with the same core of people for a period of time, but it's never the same. You have to learn about your team, and the teams you play against. It changes every year, so time goes by very quickly. I don't see my days go by."
Gym is comfort zone
But after all those years, players and games, Béliveau is still passionate about coaching and volleyball.
"The gym is where I'm comfortable. I've always been in a gym and as soon as I step into one I know what to do."
Béliveau still brings the competitive edge that brought her to the top of Canadian volleyball to her job as the Martlets coach. Translation: she wants to win.
"We're trying to excel. That means doing everything we can within the McGill context to succeed. Like the other sports here, we have our recruiting challenges because of the University's admissions requirements. And the students have a lot of work to do once they're here, so we need a really good balance," Béliveau said.
That balancing act seems to be working. Despite sitting only third in their four-team Quebec division with a 9-7 record, this year's Martlets broke into the CIS Top Ten rankings the week of Jan. 18, a testament to just how strong their own league is. First place Laval currently ranks third in the nation, while Université de Montréal ranks fifth. Seven of the Top 10 spots are currently occupied by teams from Western Canada, meaning, next to the West, Quebec is the best.
High hopes
Eliminated by perennial powerhouse Laval in the league semi-finals last season, the Martlets hope to fare better this year. And they've shown that they can. They beat Laval back in November and defeated current No. 8 Saint-Mary's in the Martlet Invitational tournament back in October.
"That's why playing exhibitions and tournaments, which we do a lot of, is so important," Béliveau said. "If you know you can beat these teams ranked number two or three in the country, it's good for your confidence."
The Marlets have four league games to play before this year's playoff semi-finals begin Feb. 11. They play UdeM twice, including tomorrow night (Jan. 28) at Love Competition Hall. They also play Sherbrooke Jan. 29 and end their season at home against Laval Feb. 5. The CIS Championships take place March 3-5 at Université Laval's Centre PEPS.