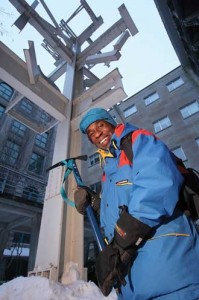 Globetrotting, mountain climbing Brit finds right fit at McGill
By Jim Hynes
Ernest Ogunleye has been around the world and very nearly to the top of it. And the view from that lofty perch instilled in him an appreciation for what would end up being his career.
These days, Ogunleye is more likely to use his mountaineering gear, the pants and jacket if not the ice pick, on local ski slopes. But there was a time not so many years ago when he put it to the ultimate test.
It all started when the native of London, England, was seven years old and became interested in the outdoors as a Scout. "I remember very vividly my mother buying me my first rucksack," Ogunleye says. "It sort of all took off from there."
Ogunleye climbed close to home at first, scaling peaks of various heights across the U.K. and later Italy and Germany, much of it while pursuing a Political Science degree at Birmingham City University.
He later gained his professional HR designation (Chartered MCIPD) and completed an MSc in Human Resource Management and Business at Aston University.
While he was a Scout, Ogunleye began what would be a long relationship with the Duke of Edinburgh's Award International Association, a program that encourages youth to be active and to set and achieve goals in exciting ways. Founded by Prince Philip, the Duke of Edinburgh, in 1956, it currently operates in 126 countries around the world. Ogunleye is the proud holder of both the Duke of Edinburgh's Award Gold Award and the Queen's Scout Award.
In 1993, at age 23, Ogunleye came across an ad in the Association's journal looking for volunteers for the British Everest 40 Anniversary Expedition to Nepal. This climb commemorating Sir Edmund Hillary's historic 1953 achievement also sought to put the first British female mountaineer (Rebecca Stephens) on
the summit of Everest. The expedition also raised funds for the Himalayan Trust, established by Hillary and Sherpa Tenzing Norgay in 1960 to assist disadvantaged Sherpa communities in the Everest region of Nepal.
Ogunleye applied for and was accepted into the expedition, serving a sub-group support team that helped establish and operate the base camp at 5,360 metres (17,600 ft). Various support teams there worked to establish radio communications, provided medical support, liaised with local governments, and constantly inventoried equipment.
"When you're at 20,000 feet, you don't want to find that a critical piece of gear isn't working," says Ogunleye, the holder of a Mountain Leader Award, a British mountaineering qualification.
As a warm-up for the big show, the team climbed nearby Island Peak to a height of 6,096 metres (20,000 ft) but did not quite reach the top. Island Peak, now known in Nepal as Imja Tse, stands at a height of 6,189 metres (20,305 ft). Everest, the highest mountain in the world, stands at a colossal 8,848 metres (29,029 ft).
"It just dwarfs everything," Ogunleye says. "It's incredible. And the only way to achieve success in climbing it is a pyramid formation: two or three people at the summit with a cast of hundreds who support them from below. And that's like human resources: If those support pieces aren't in place, and people aren't doing what they are supposed to, if you haven't got the right people in the right functions, it's not going to work out."
After the successful expedition (two people from the team summitted), Ogunleye joined the Duke of Edinburgh's Award International Association as an International Field Officer (and later a training officer and human resources consultant), a job that took him around the world. He eventually visited some 49 countries and four territories.
Ogunleye moved to Toronto with his wife, a Montreal native, in 2003, then came to McGill in August 2007, first working as a Human Resources Advisor in the Faculty of Engineering.
"It sounds a little cheesy but I did look at McGill's mission statement, and it appealed to me. The cosmopolitan nature of McGill was a really good mix too. I felt at home almost right away."
When he looks back down the path that led him here, though, Ogunleye also has to crane his neck and look up, waaaaaaaaay up.
"My experience at Everest crystallized things for me," he says. "People don't often achieve big things by themselves. If you don't have the structure or support to do good work, it becomes an obstacle to
getting things done. We had a few setbacks, it didn't always run smoothly, but essentially the goal was achieved. It was logistics and human resources that did that."