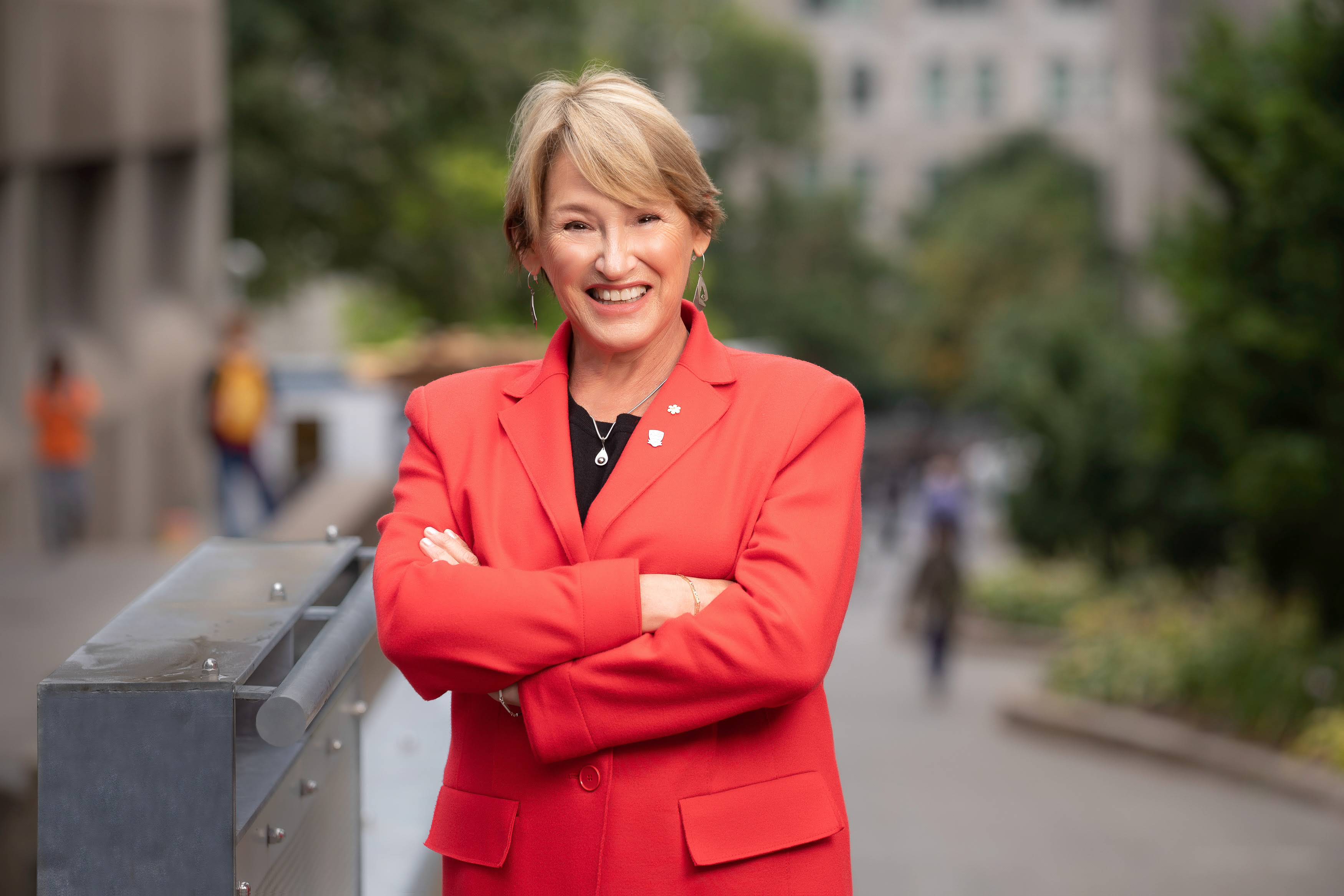 In a message to the McGill community today, Professor Suzanne Fortier announced she will be stepping down from her second term as Principal and Vice-Chancellor of McGill University, effective August 31, 2022.
In accordance with the Statutes of McGill University, an Advisory Committee will be formed to identify and recommend candidates for Principal Fortier's successor in the months ahead. McGill's Board of Governors is ultimately responsible for approving the appointment of the next Principal and Vice-Chancellor.
A distinguished scientist, teacher and academic leader, Professor Fortier began her tenure as the University's 17th Principal and Vice-Chancellor in September 2013. She was reappointed to a second term, which began on July 1, 2018.
"Entering the University's third century provides a unique opportunity for renewal and for setting new directions and ambitious goals," said Principal Fortier in her message. "After close to a decade in this role, I believe it is an ideal time to pass the baton to a new leader who will shape the future of our University."
Throughout her tenure as Principal of McGill, Principal Fortier's leadership has been exemplary in times of both celebration and hardship, shaping the University's international profile in the lead-up to its 2021 Bicentennial, and guiding the community through the unprecedented challenges of the COVID-19 pandemic.
In his own message to the McGill community, Ram Panda, the Chair of McGill's Board of Governors, praised the Principal's performance: "Professor Fortier's leadership has been exemplary throughout her tenure. Her work has always been grounded in McGill's Mission and Principles and we are fortunate that she has been leading our institution so diligently and effectively since 2013, and notably during this unprecedented and challenging time of COVID-19. It gives me great comfort to know that she will continue to help steer the course out of what we all hope will be the end of the pandemic."
She began her role as Principal by engaging the McGill community in a series of consultations, which she used to inform the five priorities that have been the backbone of her vision to build "a more open, connected, and purposeful university."
Professor Fortier is a vocal proponent for the creation of rich learning environments that engage McGill students in actively putting their knowledge to work. A major initiative, the McGill Commitment, has increased the number of outside-the-classroom active learning opportunities, such as research internships, co-op placements, international exchanges and community engagement projects.
Under the Principal's leadership, the University has continued to advance its record of research excellence by nurturing an environment that encourages curiosity and game-changing questions in all areas of research and scholarship, from public policy, to music, sustainability and the study of the human brain.
A native of St-Timothée, Québec, Professor Fortier graduated from McGill with a BSc (1972) and a PhD in Crystallography (1976). Prior to her appointment as Principal, she served as President of the Natural Sciences and Engineering Research Council of Canada (NSERC), and Vice-Principal (Academic) and Vice-Principal (Research) at Queen's University, where she was a Professor in the Department of Chemistry and in the School of Computing.
"It has been and will continue to be an extraordinary privilege to serve my alma mater and its great community," said Principal Fortier in her message, "and I will remain forever a loyal supporter of McGill."
From now until the end of August, she added, "I will remain focused on building on the strong foundation of McGill University, embedded in its Mission and Principles.  And I will continue to help steer our University safely to harbour, through what I hope will be the tail end of the COVID storm, so that my successor can sail in calmer waters towards a bright future for McGill."