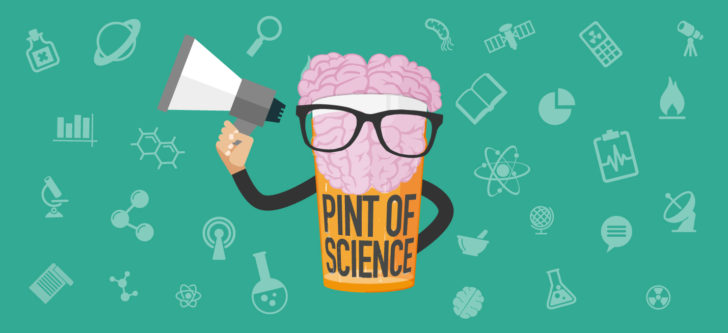 Go to one of a dozen Montreal bars from May 20 – 22, and you might encounter discussions not normally heard in a pub setting.
For example, if you're in Ye Olde Orchard downtown on May 21, instead embarking on the annual dissection of the Habs, you might hear Dan O'Reilly, a PhD student in McGill's Department of Chemistry, discuss using synthetic DNA to provide treatment for diseases and even to remove a faulty gene altogether.
That same night, one block over at Brutopia, instead of talking Trump, Trudeau or Game of Thrones, you could learn about the complexity of human eating behaviours from Daiva Nielsen, Assistant Professor in the School of Human Nutrition.
Welcome to Pints of Science, an international festival designed to get researchers out of their labs and universities and into a public setting where they can talk to people about their work. "It's a really cool way to bring together people with curious minds," says Amy McKean, Montreal's English events coordinator for Pints of Science.
"The idea is to break down the barriers that people have when they are talking to scientists and to make science more accessible," says McKean, who, when not talking to researchers and booking bars, is doing her Masters in Mechanical Engineering at McGill.
McKean, and her team of 20 volunteers, is responsible for programming the English side of Montreal's Pint of Science. "We have 36 speakers in six bars on the English side, with similar numbers for the French side," she says.
This year's festival will be held in more than 24 countries and almost 300 cities around the world, including 25 Canadian cities. It's come a long way since its inception in 2012, the sudsy brainchild of Dr. Michael Motskin and Dr. Praveen Paul, two research scientists at Imperial College London in the UK.
Alexandra Gellé, a doctoral student in chemistry at McGill is the director of the Canadian chapter of Pint of Science and is charged with overseeing the national efforts.
This year, the festival will explore seven themes:
Beautiful Mind: neuroscience, psychology and psychiatry
Atoms to Galaxies: physics, chemistry, maths, astronomy
Our Body: medicine, human biology, health
Planet Earth: geosciences, plant sciences, zoology
Tech Me Out: biotechnology, robotics, computers
Our Society: law, history, politics, policy, languages
Creative Reactions: art and science come together
Each event will feature a pair of speakers discussing their work. Following each presentation, the floor will be open so that audience members can ask questions. Between speakers, activities are planned, such as trivia challenges and demonstrations from groups like McGill Chemistry Outreach Group. "We want to engage the audience as much as possible," says McKean. "Each event will be fun, casual and informative – I even had one researcher ask me if they could bring a robot to their event."
Speakers include grad students, postdocs and Principal Investigators from McGill and other Montreal institutions, as well as researchers from industry.
Entrance is free but seats must be reserved on the events page. Some events are already at capacity so reserve your spots early.