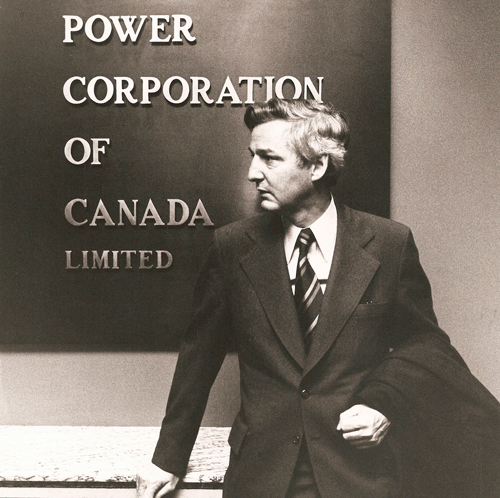 By Victor Swoboda
As founder and chairman of Power Corporation, Paul Desmarais, who died on October 8 at the age of 86, was known to the public as a business mogul and philanthropist. But to Montreal's universities, especially to McGill, he was above all a friend – if by that we mean people who sympathize with each other's goals and offer support when it's needed. In those respects, McGill can say that Desmarais was a friend indeed.
This week, Power Corp. announced that there will be a public memorial to Desmarais at Notre Dame Basilica, 110 Notre-Dame W., on Dec. 3 at 3 p.m. All are welcome.
Simply in philanthropic terms, Desmarais and his children – sons Paul Jr. (BComm 77), and André, and daughter Louise – have contributed enormously over the course of three decades to McGill and to its teaching hospitals.
Substantial gifts were made to the Faculty of Medicine's Oncology Centre, to the Faculty of Law, to the Faculty of Arts Middle East international program, to the Macdonald Campus's entrepreneurial programs, and to the Desautels Faculty of Management, where the Power Corporation Professor of Management was established in 2010 thanks to the Desmarais family's $2-million pledge.
Among McGill's teaching hospitals, the Montreal Neurological Institute and Hospital – the Neuro – has particularly benefited from Desmarais pledges to its annual fund, to the Brain Tumour Research Centre Campaign and to the North Wing expansion, which houses cutting-edge brain-imaging equipment.
"Mr. Desmarais's engagement and commitment to McGill was doubly significant because he was not an alumnus, but clearly someone who was passionate about the great work done at McGill," said Marc Weinstein, Vice-Principal of Development and Alumni Relations. "He led by example."
Weinstein estimated that Desmarais's contributions to McGill over the past nine years alone surpassed $8.5 million.
"Paul Desmarais was an outstanding philanthropist to McGill but also to so many institutions across the country," Governor General David Johnston said in an interview with the McGill Reporter a few days after his October trip to China. As McGill's Principal from 1979 to 1994, Johnston enjoyed a friendship with Desmarais that extended to his final days and continues through his two sons. "He and his family would help set the tone for what others would do, both in the English and French communities."
Johnston characterized the Desmarais family members as very proud of their French-Canadian roots who at the same time spoke for all of Canada.
"Paul was outstanding in his understanding of Canada and his ability to bridge differences, to stand strong for a united Canada. He demonstrated that Canada lives with its diversity very well."
Equally outspoken, Johnston noted, was Desmarais the internationalist, a businessman who first boldly ventured into China during its turbulent 1970s Cultural Revolution.
"No one worked harder, I think, on Canada-China relations and Canadian international business than Paul did. He saw opportunities for Canada in every corner of the world. Paul was special by always choosing the different path, the more difficult path. To some extent his businesses involved that great market in the United States, but he always reached beyond, not simply to China but to Europe and other parts of the world."
As outward-looking as he was, Desmarais was also farseeing.
"He was a man with a great sense of the long term and of sustaining interest in any particular area until it was mastered."
If other businesspeople wondered how Desmarais was able to pick investment opportunities that turned out well, he himself did not pretend to have a crystal ball.
"I have seen enough changes in my life to know that to predict the future with certainty is impossible," said Desmarais in his speech on the occasion of receiving an honorary doctor of laws degree at McGill convocation in 1992. Relating how he graduated from the University of Ottawa soon after the end of the Second World War, Desmarais noted that "over the next 40 years, much of what was to happen would be very different from what we had thought would happen… We must look to the future with hope. Hope is the most essential ingredient of all important undertakings."
He told the graduates of 1992 that they were about to face the challenges of competition and co-operation: "Competition is a fact of our lives that we all learn at an early age."
Desmarais learned about competition in his early 20s when he famously took over his father's ailing bus company in their hometown of Sudbury, Ontario.
"I think there were five competing bus lines in Sudbury," recalled Johnston, another Sudbury boy. "They used to race one another to the bus stop to pick up passengers before the other one could catch up! That's competition in the extreme."
Sudbury was also where Desmarais apparently learned about co-operation.
"He had to persuade the president of International Nickel to be supportive of the bus line's purchase of three buses or the line would be put into receivership," said Johnston. "The president's initial reaction was that he was not prepared to help. Paul made it clear that the 11 o'clock shift might not arrive that night if his bus line didn't have the buses. That caused the president to change his position…"
After Johnston first heard that story, he asked Desmarais if it was true.
"He said, 'Part of it is. You decide which part.' "
Desmarais was able to laugh with other people and laugh at himself, recalled Johnston.
"Perhaps the most important thing I can say about him is that the values he had that were so attractive to so many Canadians have descended to his children and his grandchildren."
The Desmarais connection to McGill remains. Paul Jr. was a member of McGill's Board of Governors from 1987 to 1991, and serves as a permanent member of the Faculty of Management's International Advisory Board. André Desmarais's son, Olivier, graduated from McGill in 2005.
Victor Swoboda was formerly editor of the McGill News and Director of Communications at The Neuro.