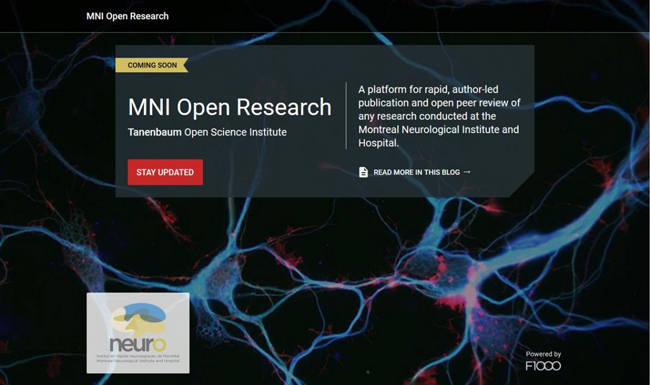 Neuro to launch open research publishing platform with F1000
A new partnership between The Neuro and F1000 will create a publishing platform for researchers that will speed the progress of neuroscience discovery.
The Montreal Neurological Institute and Hospital of McGill University (The Neuro) is partnering with F1000, a provider of support services for researchers, institutes and funders, to create a new open research publishing platform called MNI Open Research.
MNI Open Research will allow Neuro researchers to publish research outputs within days of submission. Through this platform, invited peer-review will take place on an open basis, ensuring transparency. All data involved in studies will be published, including null results, so that researchers from other institutions can avoid wasting time on experiments that have already proven fruitless.
By providing a quick and open publishing option, MNI Open Research will lead to greater collaboration between researchers, more sharing of data and faster development of new therapies.
The partnership is another step in The Neuro's goal of becoming an open science institution. In December, The Neuro launched the Tanenbaum Open Science Institute (TOSI), an initiative that will facilitate the sharing of neuroscience findings worldwide to accelerate the discovery of better treatments for neurological diseases. The publishing of research results, including negative results, without restriction, is a founding pillar of TOSI.
By launching MNI Open Research, The Neuro joins Wellcome, the Bill & Melinda Gates Foundation and the UCL Great Ormond Street Institute of Child Health in creating open research publishing platforms with the collaboration of F1000. The platforms are based on the publishing model first used on F1000Research.
"Modern neuroscience requires a large amount of meaningful data, and the best way to get that is through collaboration among multiple researchers and institutions," says Dr. Guy Rouleau, Director of The Neuro. "By creating MNI Open Research, The Neuro is maximizing the positive impact our work can have on patient outcomes, and helping set an example for other organizations that open science is the way of the future."
Dr Rebecca Lawrence, Managing Director of F1000, says: "The MNI have shown true leadership in open science and we are delighted that they have chosen to partner with F1000 on their journey to become an open science institute. The MNI states that the objective of this is to expand the impact of its research and accelerate the discovery of ground-breaking therapies. We hope that MNI Open Research will play a big part in meeting this objective."
About F1000
F1000 provides a suite of services to support researchers in discovering literature, and then writing and communicating their own work. F1000Prime helps with literature discovery. F1000Workspace makes it easier to write and share articles; F1000Research provides an author-driven approach to the publication of research results in an immediate and transparent way. F1000 also works with funders and research institutions to ensure their grantees can publish the outputs of their funding in more rapid and open ways.
Get more information about F1000
Source: Montreal Neurological Institute