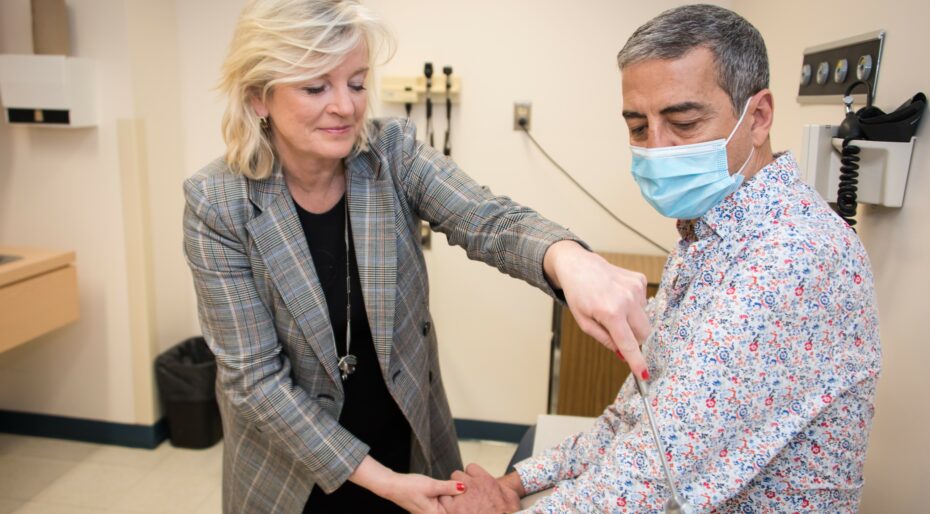 This week is Brain Awareness Week, an international initiative to increase public awareness about neuroscience research which seeks to better understand and treat conditions like ALS, Alzheimer's Disease, stroke and migraine. The American Brain Foundation estimates that there are 600 neurological diseases affecting one in six people worldwide.
Every new medication that makes it onto a prescription pad at your doctor's office had to go through a clinical trial first to assess its safety and efficacy. Yet, there is one essential element in the clinical trial process that goes unmentioned when discussing advances in research – and that's the patients themselves. Without their participation, progress in treating neurological diseases would come to a halt.
Partners in the process
Neurological conditions have a heavy burden of disease, and many conditions are degenerative. Individuals living with these diagnoses may have a strong motivation to help test novel treatments.  "I very much believe in the work that researchers do. It contributes to our own hope as patients," explains Ana [Editor's note: to protect the privacy of patients, pseudonyms have been used] who was diagnosed over 15 years ago with relapsing-remitting Multiple Sclerosis (MS), when she was 24.
Ana was prescribed medication that allowed her to remain active, practicing karate, tennis and hiking for several years, until her MS progressed. At that point, her neurologist at The Neuro (Montreal Neurological Institute-Hospital) proposed that she take part in a clinical trial testing a new medication. "I felt I had to do something. This is an illness that affects a lot of young people and taking part in a trial seemed like a good way to help further science."
Thanks to patients, the treatment landscape has changed considerably in the past decade. "There are more approved treatments for neurological diseases than ever before," asserts Dr. Angela Genge, the executive director of the Clinical Research Unit at The Neuro (CRU), one of the largest neurological research centres in Canada, conducting over 115 clinical trials each year. "We are studying investigational treatments that would be the first approved therapies for a number of rare diseases. And we are also studying ways to lessen the burden of disease for patients, for example with new oral formulations for therapies that were previously given by IV infusion." 
At the heart of clinical research
Patients are essential partners at the CRU. "We are grateful for people choosing to give their time to help advance research. We really couldn't do what we do without them," believes Dr. Genge. "They are incredible people. Many will participate in clinical trials despite having limited time left and knowing that they won't see the benefit themselves."
A lack of new treatment options and the hope of contributing to a breakthrough therapy prompted Kevin, who was diagnosed with Parkinson's Disease (PD) at 60, to take part in a trial. "There hasn't been a new drug to treat Parkinson's in decades. But technology keeps advancing. Researchers are going to come up with something that can stop the progression of the disease, like they have for cancer," he states. The owner of a financial services firm and an avid sportsman who competed in triathlons, Kevin doesn't want to let PD slow him down. "If a new treatment works, and you're in that clinical trial, you have access to that treatment right away. That is definitely a plus. If not, you might have to wait years," he says. 
Working with Open Science
Clinical trials are just the last in a long series of steps needed for a new treatment to be approved (see image 1). Before any treatments can be developed, extensive research is needed into mechanisms underlying the progression of the disease.  Patients can contribute to this crucial early stage by taking part in observational studies and biobanking initiatives, where no drug is being tested.
Initiatives at the CRU such as the CAPTURE ALS and DEMySTIFI (Data Extraction in Multiple Sclerosis To Inform Future Interventions) capture patient biosamples and clinical data. These types of initiatives allow researchers around the world to test new hypotheses with a much larger pool of patients – which is key, particularly for rare disease. These initiatives collaborate with The Neuro's C-BIG Repository, one of the largest biorepositories for neurological disorders in the world.
From start to finish, developing and conducting all the phases of a clinical trial takes years. While not all trials will yield an approved treatment, all research helps advance our understanding of a disease and its possible treatment pathways, if only by ruling out certain avenues of study and reorienting research.
For Ana, whenever her neurologist proposes a new trial, she is ready to participate. "Without research we are left with the status quo, and for me the status quo is not an option," she insists.
For more about clinical trials at the CRU, visit cru.mcgill.ca.
For more on the participating in clinical trials in Canada, consult Health Canada and the It Starts With Me.
_____
Les patients-participants : une force motrice dans la recherche clinique
Les personnes vivant avec des maladies neurologiques se rendent à l'Unité de recherche clinique du Neuro pour retrouver espoir et faire avancer la science
 Par Sophie Lorenzo, agente de communication, Unité de recherche clinique du Neuro
 Cette semaine est la semaine « Cerveau en tête », une initiative internationale visant à sensibiliser le public à propos de la recherche en neurosciences. Cette dernière vise à mieux comprendre et traiter des conditions telles que la SLA, la maladie d'Alzheimer, les accidents vasculaires cérébraux et la migraine. L'American Brain Foundation estime qu'il existe 600 maladies neurologiques affectant une personne sur six dans le monde.
Chaque nouveau médicament qui se retrouve sur un carnet d'ordonnances au cabinet de votre médecin a dû d'abord passer par un essai clinique pour être évalué en matière d'innocuité et d'efficacité. Pourtant, il y a un élément essentiel dans le processus d'essai clinique qui est rarement mentionné lorsqu'on discute des progrès de la recherche. Cet élément, ce sont les patients. Sans leur participation, les avancées dans le traitement des maladies neurologiques s'arrêteraient.
Partenaires du processus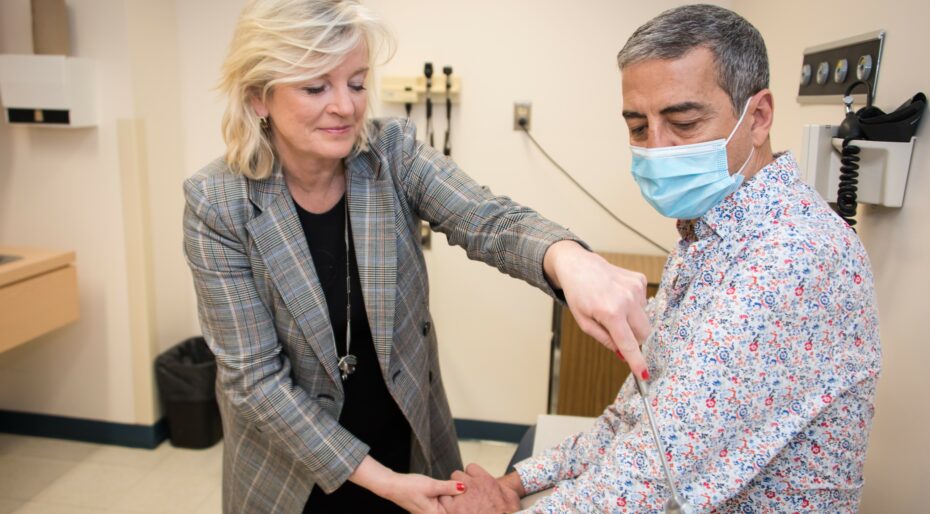 Le fardeau des maladies est très lourd dans le cas des troubles neurologiques, dont plusieurs sont des maladies dégénératives. Les personnes vivant avec ces diagnostics peuvent ressentir une forte motivation pour aider à tester de nouveaux traitements. « Je crois beaucoup au travail des chercheurs. Cela contribue à notre propre espoir en tant que patients », explique Ana*, qui a reçu un diagnostic de sclérose en plaques (SP) récurrente-rémittente il y a plus de 15 ans, alors qu'elle avait 24 ans.
Ana s'est vu prescrire des médicaments qui lui ont permis de rester active, de pratiquer le karaté, le tennis et la randonnée pendant plusieurs années, jusqu'à ce que sa SP progresse. C'est alors que son neurologue au Neuro (Institut-Hôpital neurologique de Montréal) lui a proposé de participer à un essai clinique testant un nouveau médicament. « J'ai senti que je devais faire quelque chose. C'est une maladie qui touche beaucoup de jeunes et participer à un essai semblait être un bon moyen de faire avancer la science. »
Grâce aux patients, l'éventail des traitements a considérablement changé au cours de la dernière décennie. « Il existe plus de traitements approuvés pour les maladies neurologiques que jamais auparavant », affirme Angela Genge, MD, directrice exécutive de l'Unité de recherche clinique du Neuro (URC), l'un des plus grands centres de recherche neurologique au Canada, menant plus de 115 essais cliniques chaque année. « Nous étudions des traitements expérimentaux qui pourraient être les premiers traitements approuvés pour un certain nombre de maladies rares. Et nous étudions également des moyens d'alléger le fardeau de la maladie pour les patients, par exemple avec de nouvelles formulations orales pour des thérapies qui étaient administrées par perfusion IV auparavant. »
Au coeur de la recherche clinique
Les patients sont des partenaires essentiels à l'URC. « Nous sommes reconnaissants aux personnes qui choisissent de donner de leur temps pour faire avancer la recherche. Nous ne pourrions vraiment pas faire ce que nous faisons sans eux », estime la Dre Genge. "Ce sont des gens incroyables. Beaucoup participent à des essais cliniques bien qu'il leur reste peu de temps et qu'ils savent qu'ils n'en verront pas les avantages eux-mêmes. »
Le manque de nouvelles options de traitement et l'espoir de contribuer à une thérapie révolutionnaire ont incité Kevin*, qui a reçu un diagnostic de maladie de Parkinson (MP) à 60 ans, à participer à un essai. "Il n'y a pas eu de nouveau médicament pour traiter la maladie de Parkinson depuis des décennies. Mais la technologie ne cesse de progresser. Les chercheurs vont trouver quelque chose qui peut arrêter la progression de la maladie, comme ils l'ont fait pour le cancer », déclare-t-il. Propriétaire d'une société de services financiers et sportif passionné qui a participé à des triathlons, Kevin ne veut pas laisser la MP le ralentir. « Si un nouveau traitement fonctionne et que vous participez à cet essai clinique, vous avez immédiatement accès à ce traitement. C'est définitivement un plus. Sinon, vous devrez peut-être attendre des années », dit-il.
Travailler avec la science ouverte
Les essais cliniques ne sont que la dernière d'une longue série d'étapes nécessaires à l'approbation d'un nouveau traitement (voir image 1). Avant que des traitements puissent être développés, des recherches approfondies sont nécessaires sur les mécanismes sous-jacents à la progression de la maladie. Les patients peuvent contribuer à ce stade précoce en participant à des études d'observation et à des initiatives de biobanque, où aucun médicament n'est testé.
Les initiatives en cours à l'URC telles que CAPTURE SLA et DEMySTIFI (Extraction de données relatives à la SP pour orienter les interventions futures) regroupent des échantillons biologiques de patients ainsi que des données cliniques.  Ces types d'initiatives permettent aux chercheurs du monde entier de tester de nouvelles hypothèses en puisant dans les données d'un groupe beaucoup plus large de patients — ce qui est essentiel, en particulier pour les maladies rares. Ces initiatives travaillent en concert avec le référentiel C-BIG du Neuro, l'un des plus grandes biobanques pour les troubles neurologiques au monde.
Du début à la fin, le développement et la conduite de toutes les phases d'un essai clinique prennent des années à mener à terme. Bien que tous les essais ne déboucheront pas sur un traitement approuvé, toutes les recherches contribuent à faire progresser notre compréhension d'une maladie et de ses voies de traitement possibles, ne serait-ce qu'en écartant certaines pistes d'étude et en réorientant la recherche.
Pour Ana, chaque fois que son neurologue lui propose un nouvel essai, elle est partante. "Sans recherche, nous nous retrouvons avec le statu quo, et pour moi le statu quo n'est pas une option", insiste-t-elle.
Pour en savoir plus sur les essais cliniques à l'URC, visitez cru.mcgill.ca.
Pour plus de détails sur la participation aux essais cliniques au Canada, consultez Santé Canada et Ça commence avec moi.
*Afin de protéger la vie privée des patients, des pseudonymes ont été utilisés.