On June 8, The Neuro (Montreal Neurological Institute-Hospital) is launching the Clinical Biospecimen Imaging and Genetic (C-BIG) Repository, one of the largest biorepositories of neurological disorders in the world, as an open access resource for the global scientific community. The C-BIG Repository includes biological samples and clinical, imaging and genetics data from 3,000 de-identified participants. In alignment with Open Science principles, this repository will enable the global biomedical community to better investigate the biology of neurological diseases and disorders and help accelerate the development of effective treatments.
New and unique tools to study neurological disease and test new therapies
"We are excited to open the C-BIG Repository to the world because it gives researchers and clinicians access to entirely new and unique tools to study neurological disease," says Dr. Jason Karamchandani, Scientific Director of the C-BIG Repository. "These tools, which include rare patient specimens and patient-derived cell lines, are open access and will help researchers to study diseases in novel ways, and identify new targets for disease-specific and personalized therapies."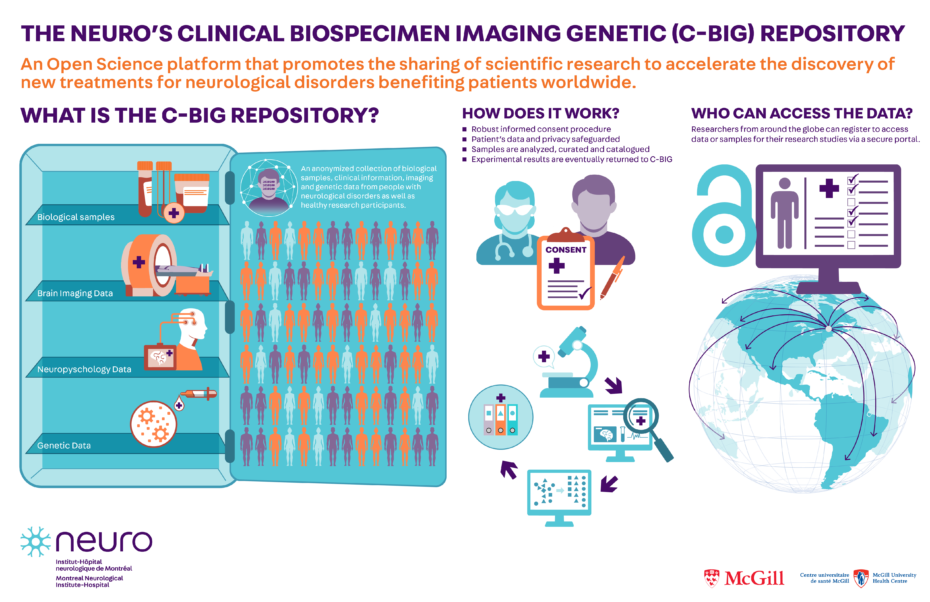 One of the largest, highly-curated biorepositories of neurological disorders in the world
Three thousand de-identified participants consented to give their biological samples and data through a robust ethical framework and consent process. The largest collections currently being made available are from people with Parkinson's disease, Amyotrophic Lateral Sclerosis (ALS), neuromuscular diseases, with growing collections in multiple sclerosis, autism and fronto-temporal lobar dementia.
Researchers also have access to a large collection of novel induced pluripotent stem cells (iPSCs) lines with specific genetic mutations from patients with Parkinson's disease and ALS. "In collaboration with The Neuro's Open Early Drug Discovery Unit, we are leveraging breakthroughs in both stem cell technology and CRISPR gene-editing technology to transform tissue samples into disease-specific cell lines, which serve as a human disease model to study neurological diseases with distinct advantages over generic cell lines and animal models," adds Dr. Karamchandani.
Powerful search tool for researchers and clinicians
The C-BIG Repository is distinct and powerful in that researchers can query data and samples by precise fields such as age, diagnosis, sample-type, imaging sequence type. Users can construct extremely complex queries. For example, a researcher may want to find neuropsychiatric results for patients with Parkinson's or ALS who are over 60 years old and who have been tested genetically and who have had MR imaging.
The C-BIG Repository is part of The Neuro's Tanenbaum Open Science Institute
"There is an urgency for our patients – there have been no major breakthroughs in treating neurological diseases for many years," says Dr. Guy Rouleau, Director of The Neuro and co-founder of the Tanenbaum Open Science Institute. "At The Neuro, we practice Open Science to deploy scientific research for the benefit of patients, families, and society. We are eager to share the C-BIG repository resources and tools with the global research community, in particular with teams and countries that don't have access to these technologies and cannot currently generate these tools and data themselves. Neurological diseases are so complex we need to have a collective effort if we want to make scientific discoveries that contribute to human health.
Patients – our greatest partners
The participation of patients and their families in the C-BIG Repository is enabling the global research community to tackle the significant burden of brain diseases facing us all today. "Patients are our greatest collaborators. They seek excellent care and they also want to contribute to research aimed at better understanding their disease and to help their families and communities in the years to come," says Dr. Karamchandani.
Ingrid Kovitch is one of these patients. "With little control over my rare disease, I was inspired to take an active role in my care and contribute to the greater good by offering biological samples, genetic data and my clinical story to The Neuro's C-BIG Repository. My hope is that Open Science will speed up discovery in time to help with my own disease. And if not, in time for my four children. Knowing that I have contributed – in my own way – to advancing scientific knowledge that will deliver cures to patients and their families gives me tremendous solace," says Ingrid Kovitch, a Neuro Open Science Advocate.
Highlights of the C-BIG Repository: 
Open Science

Open access to multi-modal data from patients and healthy participants

Large and growing patient cohorts

Data from 3,000 de-identified participants

includes genetic data from more than 1,000 patients

One of the largest Parkinson's disease datasets with research-specific imaging
Patients from Quebec and around the world continue to contribute
New and unique tools to study neurological diseases currently unavailable anywhere else

Wide range of patient and healthy control samples
Novel cell lines with genetic mutations, as well as isogenetic control lines generated using CRISPR gene-editing technology

Robust ethical framework

The repository's robust ethical framework empowers people to take part in research whilst safeguarding the dignity, rights and privacy of all participants.
This pioneering framework is now a model for other organizations and repositories.

Governance

The C-BIG Repository is governed by a board composed of members from the broader scientific community including external and internal experts in ethics, neuroscience and Open Science, as well as patient representative(s).
Researchers and clinicians can access the portal here: https://cbigr-open.loris.ca
If you want to contribute to the C-BIG Repository, contact the team: cbig_support.mni@mcgill.ca
For more information: https://www.mcgill.ca/neuro/open-science/c-big-repository
The C-BIG Repository: an Institution-Level Open Science Platform was published in the journal Neuroinformatics