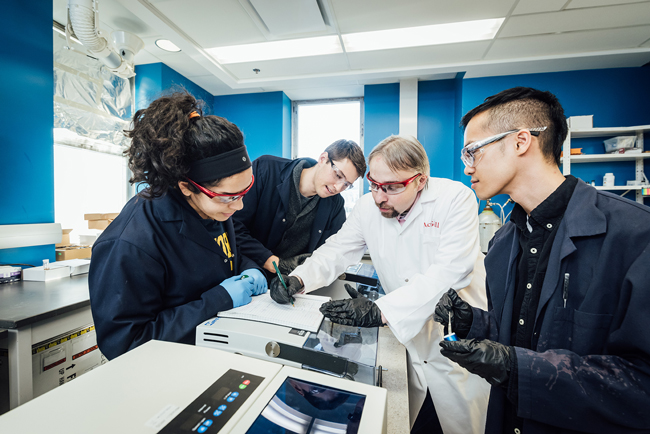 By Meaghan Thurston
All the tools and technology in the world are nothing without the talent to use them to their full potential. Thanks to a huge investment from the Natural Sciences and Engineering Research Council's (NSERC) Discovery Grants Program, McGill can engage its enormous research capacity in long-term, fundamental science and engineering programs. With the associated funding from the Research Tools and Instruments Grants Program, McGill's researchers can also purchase equipment needed for world-leading discovery, innovation and training.
Minister of Science, Kirsty Duncan, announced the 2017 results of the NSERC Discovery Grants Program today in Victoria, British Columbia — a total investment of $515 million in support for fundamental research, over $35 million of which will go to McGill's researchers in the full range of science and engineering disciplines, from biology and chemistry to advanced materials engineering and astrophysics. McGill ranked third nationally in terms of total money granted, behind the University of Toronto and the University of British Columbia.
"NSERC's Discovery Grants Program reflects the Government of Canada's commitment to fundamental science and the discovery of new knowledge," said Martha Crago, Vice-Principal, Research and Innovation. "Thanks to significant federal investments such as these, McGill is generating new insights through basic scientific inquiry, for example, about the observed structure of the universe, the application of molecular genetic data in studies of plant evolution, and in the emerging fields of AI and machine learning. Congratulations to all of our researchers whose work continues to push the boundaries of knowledge."
NSERC's largest annual investment, the Discovery Grant Program assists researchers by offering financial support though scholarships, fellowships, research supplements, and equipment grants. One hundred and sixty one McGill researchers are the recipients of Discovery Grants and Research Tools and Instruments Grants in this round. In addition, NSERC granted to McGill thirty-seven scholarships and eight postdoctoral fellowships. These scholarships and fellowships help launch a new generation of scientists and engineers in the early stages of their research careers.
Included in the total McGill investment is $2.4 million for resources to selected researchers to accelerate progress and maximize the impact of their promising research proposals through the Discovery Accelerator Supplements Program. Professor Tomislav Friščić is one such researcher selected to receive a Discovery Grant as well as a Discovery Accelerator Supplement, together totalling $650,000. Friščić's lab researches solid-state, solvent-free and near solvent-free reactions for the purpose of cleaner and more energy-efficient synthesis.
"The Government of Canada is committed to investing in fundamental research and engineering that will improve and enrich our country's knowledge economy," said Minister Duncan. "We believe in encouraging scientists' cutting-edge ideas that will lead Canada to greater social and economic growth. I am particularly proud of the support offered to postgraduate students and postdoctoral fellows who, thanks to today's investment, will be exposed to advanced training experiences that will prepare them for the jobs and opportunities of tomorrow."